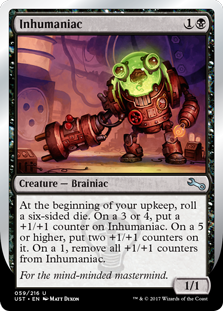 Inhumaniac
Creature — Brainiac
At the beginning of your upkeep, roll a six-sided die. On a 3 or 4, put a +1/+1 counter on Inhumaniac. On a 5 or higher, put two +1/+1 counters on it. On a 1, remove all +1/+1 counters from Inhumaniac.
Inhumaniac Discussion
2 years ago
Updated "7 by 9" list with the cards changed out.
5 Countdown numbers (13)
4 Countdown numbers (14)
1-3 Countdown numbers (5)
Recusion (6)
Protection (7)
Destruction (7)
Card draw (8)
Mana rocks (6)
2 years ago
Going by the "7 by 9" rule is a bit hard for this deck as most of it relies on the numbers of the cards. But here's a breakdown as close as I could get for it. There's only really 5 categories of effects. While the other 3 just break down the number of countdown numbers of random cards.
5 Countdown numbers (13)
4 Countdown numbers (13)
1-3 Countdown numbers (6)
Recusion (6)
Protection (8)
Destruction (6)
Card draw (8)
Mana rocks (6)