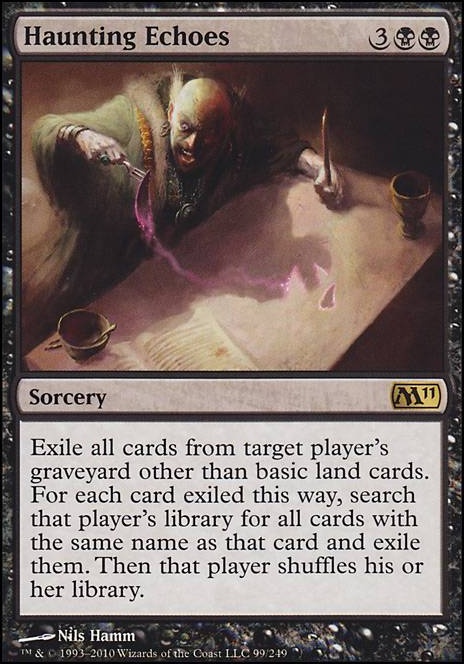 Legality
| | |
| --- | --- |
| Format | Legality |
| Pre-release | Legal |
| Noble | Legal |
| Leviathan | Legal |
| Magic Duels | Legal |
| Canadian Highlander | Legal |
| Vintage | Legal |
| Modern | Legal |
| Penny Dreadful | Legal |
| Vanguard | Legal |
| Legacy | Legal |
| Archenemy | Legal |
| Planechase | Legal |
| Duel Commander | Legal |
| Unformat | Legal |
| Casual | Legal |
| Commander / EDH | Legal |
Haunting Echoes
Sorcery
Exile all cards from target player's graveyard other than basic land cards. For each card exiled this way, search that player's library for all cards with the same name as that card and exile them. Then that player shuffles his or her library.
Have (11)
TheAlmostHero , corys , mziter501 ,

G

e

m

i

n

i

S

p

a

r

t

a

n

X

, joshw335 , CAPT.Shock , geazykagar , ChainerDragon65 , Unlife ,

A

s

h

y

, silvereh
Want (0)
Haunting Echoes Discussion
4 days ago
Hey there! so you splashed blue in the end, I hope you find it more consistent. I can see you want to keep your combo in the deck, but you're going to have to work around it so it's either your only win condition or you add in different winning cards . Your deck is a mill deck, so you should limit the amount of creatures you have to about 10. Additionally, you NEED to reduce your deck to 60 cards. I'll tell you in my opinion which ones you need to drop. And lastly, I'd recommend switching to Modern, Legacy is just too expensive to consider playing. If you do switch to Modern, you won't be able to play Ponder or Dark Ritual or Hymn to Tourach. But I think you'll have more fun playing in Modern.
1 week ago
Good concept. I feel like the side board should build a better defense against different deck types. Maybe something for decks that like cards in their graveyards. Ravenous Trap or Scavenger Grounds maybe. And you don't really have anything to defend against whatever they do get on the board. Haunting Echoes might be a good choice too for end game.
3 weeks ago
If this is for casual, I suggest maybe a one-of Traumatize. It really hurts to be hit by one, especially if followed up with Haunting Echoes
3 months ago
Basically, there is no manaramp in either blue or black in Modern. I'd consider adding Bojuka Bog and Mortuary Mire as non-basic lands. Things that make people sacrifice is a good way around hexproof and indestructible. Geth's Verdict is good for that. Also, wraths get around hexproof. Bontu's Last Reckoning, for example, would do the trick. Glaring Spotlight also does the job, though it's not very versatile.
You might be interested in Haunting Echoes.
4 months ago
I feel like Aggro and Mid-Range decks arent going to be controlled enough for this deck to consistently win, but you might have a solid deck against Tron or Living End decks of you can keep their lands off the field through mill.
Heres some suggestions I think would work for you...
It isnt as efficient as some other choices but provides a solid turn one mill spell that can be paid for by either mana in the deck. I think it may be an important card for this deck because you dont have a solid turn one mill spell.
This is a one of card for the deck but essentially wins games.
This is a great way to control an opponents land, which is really important for mill.
She cant be Fatal pushed, abrupt decayed, Lightning bolted, etc. its a fat body creature with built in removal for two mana. Maybe a good sideboard, maybe a good main board.
A board wipe and alternate win condition for mill all in one. Also an early game blocker that avoids Bolts.
I dont think milk is quite competitive in modern at the moment, but it certainly can win some matchups and it is really fun to play. Good luck! If you take it out for a spin at FNM I would like to see how you do.
Load more