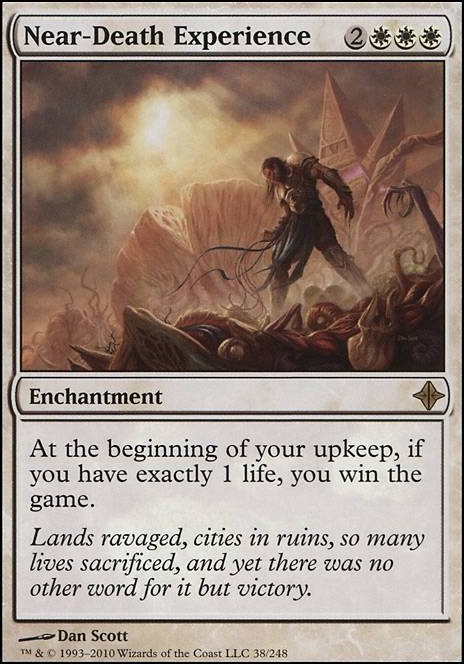 Near-Death Experience
Enchantment
At the beginning of your upkeep, if you have exactly 1 life, you win the game.
Browse Alters
View at Gatherer
Trade
Legality
| | |
| --- | --- |
| Format | Legality |
| Tiny Leaders | Legal |
| Noble | Legal |
| Leviathan | Legal |
| Magic Duels | Legal |
| Canadian Highlander | Legal |
| Vintage | Legal |
| Modern | Legal |
| Block Constructed | Legal |
| Vanguard | Legal |
| Legacy | Legal |
| Archenemy | Legal |
| Planechase | Legal |
| 1v1 Commander | Legal |
| Duel Commander | Legal |
| Oathbreaker | Legal |
| Unformat | Legal |
| Casual | Legal |
| Commander / EDH | Legal |
Near-Death Experience Discussion
1 week ago
For myself and others, how to optimally pilot the deck
Philosophy behind the deck, ideally should be played with 2+ other players.
You are a hard to kill end game boss, blue is boring busted and broken and is also expensive. Try to go for cards that will keep your hand healthy since we are not running blue so think how much you can squeeze out of one card for maximum value.
1 month ago
okay. I also run a Kenrith Win con deck with a caveat of no interaction with other players making the deck a true solitaire deck . Here are some notable cards I recommend and also strategies.
The rule of thumb while tinkering with my Kenrith deck is 1:1 ratio (2:1 for some strats). For example, 3 cards are responsible for winning the game using life gain. Celestial Convergence Felidar Sovereign and Test of Endurance. This means that your deck should consist of 3 ways (not including kenrith) to assist with the life gain strategy. There are gem cards that assist with two different type of alternative wins that are honestly life saving cards. BY this rule, it can help you limit to what is needed. Having 3 supportive cards central to 1 wincon card is a waste of space and those supportive cards become dead in your hands without a tutor or that actual win con card.
Here are some recommended cards to help with alternative wins
Wall of Blood - Now this card is real awesome. It assists with Near-Death Experience. Drop this card and near death experience together. In response to the upkeep trigger, use wall of blood to get your life total to 1 while having Angel's Grace as a response to pingers or burn. Wall of blood also assist in Mayael's Aria if you have the life count for it. 2 birds with 1 stone.
Scapeshift - this is for maze's end, however can also get some really great utility lands such as Kor Haven Maze of Ith Karn's Bastion or simply to mana fix. Work's well with Field of dead
Pir, Imaginative Rascal - Better proliferate, halves the time. He can reduce your work of Helix Pinnacle to half by activating the ability 1 at a time to get each of pir's trigger.
Hermit Druid - Just don't run basics and you get a cheaper, consistent Morality Shift without a need of an empty graveyard. 2 birds with 1 stone if you have 20 creatures and Mortal Combat. Get him back with kenrith if he get's shot down, give him haste... you already know
Demonic Consultation - With the lab man wincon. Just name a card not in your deck. and win on your upkeep. Basically better than Morality Shift or Leveler
Vedalken Orrery Leyline of Anticipation Alchemist's Refuge - what feels better than just winning without your opponent's reacting sorcery speed
Artifact lands and Dryad Arbor - Helps with Happily Ever After condition
Alhammarret's Archive - This is a feel good card. You draw more, you gain life faster. Good with those life gain win cons. Imagine putting a Mechanized Production on this bad boy. Glorious honestly.
some of these cards are way out of your budget if you have one. But honestly, this is more a joke thematic deck so why not proxy if your group allows. I always proxy my lands..
4 months ago
I like cards like Axis of Mortality, Stunning Reversal, Near-Death Experience. So:
.
Enters with 3. Effect:
+1 target player loses 1 life point.
0 create an emblem with the following effect: austerity emblem comes to the battlefield with 3 time counters. In your turn's end step remove a time counter from austerity emblem. When austerity emblem has no time counters the player with lowest life points wins the match. If it its tied destroy austerity emblem.
-1 target player gains 1 life point.
I would call it: Kalrich, Sage of Austerity.
I could make one for each color but this is what came out first.
5 months ago
I'm sorry to tell you this but Near-Death Experience doesn't actually work with Ad Nauseam, nor does Angel of Grace. The pertinent part of Angel's Grace is that it prevents you from losing the game, and Ad Nauseam unfortunately for your purposes here is not going to win you the game off casting Near-Death Experience. The reason for this is that, like how modern Ad Naus works, lose of life and damage are two different things. When you cast Ad Nauseam after Angel's Grace you are still going to go to a very large negative life total, however Angel's Grace removes the state-based action that checks to see if you are at 0 life for that turn (more or less, not really what it does but for all intense purposes that is what it is doing). This makes Near-Death Experience unfortunately useless during the combo turn, it only coming up if you can Angel's Grace against a lethal attack.
If you want to go all in on the Ad Nauseam side of things then you definitely want Jace, Wielder of Mysteries as well as more 0-mana rocks if you can get your hands on them. You also probably want Solemnity in this list. Also, thanks for the upvote on my deck! Really appreciated, let me know if you have any questions about the combo.
Load more