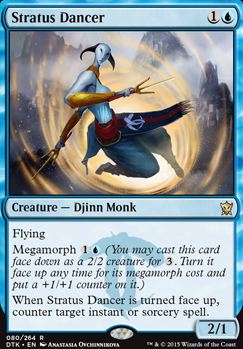 Legality
| | |
| --- | --- |
| Format | Legality |
| Magic Duels | Legal |
| Canadian Highlander | Legal |
| Vintage | Legal |
| Modern | Legal |
| Legacy | Legal |
| Frontier | Legal |
| Leviathan | Legal |
| Unformat | Legal |
| Casual | Legal |
| Commander / EDH | Legal |
Tokens
Stratus Dancer
Creature — Djinn Monk
Flying
Megamorph (You may cast this card face down as a 2/2 creature for . Turn it face up at any time for its megamorph cost and put a +1/+1 counter on it.)
When Stratus Dancer is turned face up, counter target instant or sorcery spell.
Have (19)
YossarianLives ,

N

e

m

e

s

i

s

,

R

e

g

u

l

u

s

1

0

1

0

, Snydog17 ,

G

r

a

n

t

l

e

y

9

1

, ironax , sneferie , angesoir ,

D

E

E

R

, chrishuffman95 , twistedmage , DudeMan1031 , marcus638 , Mortiferus_Rosa , bakeraj4 , Pumpkinking913 ,

M

y

l

l

y

e

s

3

1

4

,

r

a

k

d

o

s

2

4

,

a

c

b

o

o

s

t

e

r

Want (10)
kovellen , Gryffix , AlphaSp , Elphane , AlphaTDog ,

g

o

l

g

a

r

i

i

z

z

e

t

,

f

a

d

e

l

i

g

h

t

n

i

n

g

m

m

, Syram , yerfdog1935 , Ntothemana
Stratus Dancer Discussion
15 hours ago
Biggest issue I see here is a lack of focus and not enough creatures for a creatures only matter deck.
Animar, Soul of Elements wants two main things: Cast creatures and get +1/+1 counters to cast larger creatures. Everything in the deck should be focused on those two goals.
Setting up the deck to achieve this purpose will make it efficient and powerful. All cards should therefore do one of the following:
Ramp up to Animar.
Protect Animar.
Place counters on Animar.
Cast game ending creatures for cheap or free.
Draw cards to allow us to do 1 through 4.
Priority should be given to cards that does something now > does something before your next turn > does something on your next turn > does something eventually.
Because Animar offers a discount based on creatures played, the deck shouldn't be filled with only high cmc game enders, but creatures from low to high cmc, preferably with as little colored mana symbols as possible, to give the deck a natural progression to casting free or cheap high cmc game ending creatures.
Let's split the deck into 3 parts. Pre-Animar setup, Post-Animar setup, Finale.
Note that $: (0 to 0.99), $$: (1.00 to 4.99), $$$: (5.00 to 9.99), $$$$: (10.00 to 19.99), !$!: (20.00+)
Unnecessary on a computer, very helpful on a phone.
This section will be all ramp, and protection to get Animar out quickly and make sure he is secure.
- The land base should be arranged to where there is more emphasis on , then , then since can color fix and can offer protection.
- Exotic Orchard is pretty good and cheap and can usually offer every color in multiplayer, especially if an opponent has a Command Tower out or even a Vivid Grove without even needing charge counters. - Kazoo lands such as Simic Growth Chamber, Izzet Boilerworks, and Gruul Turf are good in casual EDH where there is lack of land destruction and they artifically increase your deck ammount by posing as two lands in one. Though overall you do not want too many tap lands as you'll constantly be a entire turn behind.
This section will be about setting up our board state to win. All cards from this point onwards will be casted after Animar has been casted.
This section will be about ending the game with giant behemoths.
1 month ago
I like it. I have an Omnath, Locus of Mana deck myself that uses almost all permanents. My only non permanent was primal surge, as well, but it didn't work very well. I could cast it pretty consistantly by turn 3 or 4, but because i didnt have very much haste, i would deck myself out the next turn. I would recommend at least 2 or 3 other instant/sorcery just so you dont end up decking yourself out. But i love the premise. There are great permanent counterparts to almost all instant/sorcery. For counterspells, i would recommend Brine Shaman, Cursecatcher, Stratus Dancer, etc.
2 months ago
I also recently made a Primal Surge deck (with a different commander but the principal is the same). Since you don't have instant or sorceries you might want to consider morph spells like Willbender or Stratus Dancer.
Since you're in black, Shriekmaw would serve you well here
Laboratory Maniac + Primal Surge + any card that draws a card is my main win condition, if that helps at all.
Here is my deck for reference (/shameless self promotion):
---

---
2 months ago
How's the deck been going? I'm only noticing one problem, 15/46 of your creatures cost 6+ mana. This can cause some clunky early games when you're looking for those first few counters on Animar. This is almost 1/3 of your creatures and even in Animar it should be closer to 1/5.
I'd suggest finding room for some of the following by cutting some higher cost creatutes, Spellskite, Gilded Drake, Rattleclaw Mystic, Selvala, Heart of the Wilds, Shaman of Forgotten Ways, Stratus Dancer, Somberwald Sage, Beastcaller Savant, Sylvan Caryatid, and I'm also partial to Thassa, God of the Sea here for draw filtering and alpha strikes.
3 months ago
Feels only natural to include The Gitrog Monster, you already have half of the Gitrog deck.
Wharf Infiltrator another card that fits the theme nicely.
Is not yet out, but Muldrotha, the Gravetide (from Dominaria), will be a nice inclusionwhen it's finally released.
Undertaker for more tokens and recursion.
Mazirek, Kraul Death Priest, Thunderfoot Baloth, Beastmaster Ascension, Curse of Predation to pump all your guys.
More card draw! always need more card draw! Skullmulcher, Driven / Despair, Deathreap Ritual, Vampiric Rites, Shamanic Revelation... Some counterspells on the low cost, low color requirements side would also be handy Disdainful Stroke, Siren Stormtamer, Stratus Dancer, Swan Song maybe Stubborn Denial.
Load more