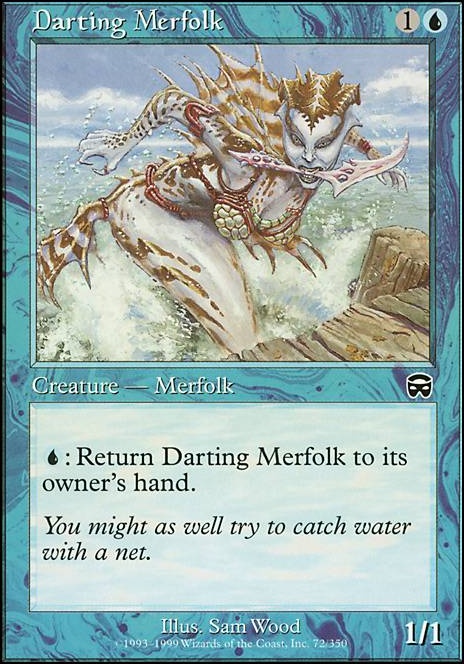 Legality
| | |
| --- | --- |
| Format | Legality |
| Tiny Leaders | Legal |
| Noble | Legal |
| Leviathan | Legal |
| Custom | Legal |
| Magic Duels | Legal |
| Canadian Highlander | Legal |
| Vintage | Legal |
| Penny Dreadful | Legal |
| Casual | Legal |
| Pauper EDH | Legal |
| Vanguard | Legal |
| Legacy | Legal |
| Archenemy | Legal |
| Planechase | Legal |
| 1v1 Commander | Legal |
| Duel Commander | Legal |
| Oathbreaker | Legal |
| Unformat | Legal |
| Pauper | Legal |
| Commander / EDH | Legal |
Darting Merfolk
Creature — Merfolk
(Blue): Return Darting Merfolk to its owner's hand.
Darting Merfolk Discussion
7 months ago
+1 for an interesting take on PDH mill.
Some suggestions:
1) If you're a fan of Infinite Combos, here's one for you:
Archaeomancer or Salvager of Secrets or Scrivener + Peregrine Drake + Either of these Blink cards: Ghostly Flicker or Displace
With both the Wizard and Drake in play, cast Flicker or Displace to blink them.
Return the blink card using Wizard's ETB trigger. Rinse and repeat to generate infinite mana.
Next blink the Wizard and your Commander as many times as needed to win the game.
You can exclude the Drake if you're not a fan of infinite combos and just blink the Wizard and your Commander once for every spent.
There's also Mnemonic Wall if you need more recursion.
2) Banishing Knack - Redundancy for Retraction Helix.
3) Darting Merfolk / Dream Stalker - Can return itself to your hand, so essentially, a more expensive Shrieking Drake, just in case you need more options.
4) Temporal Fissure - Pauper's Cyclonic Rift since PDH games usually last longer and it is common for us to have 10 lands/mana sources out. You can easily play and bounce Drake 5 times and cast this for massive bounce shenanigans.
5) I'd advise against playing cards like Thought Scour as a once-off effect to mill 2 cards ain't impactful in EDH. If you're playing it for the card draw, there're plenty of better options in at the pauper level:
Preordain , Serum Visions , Divination , Counsel of the Soratami , Secrets of the Golden City , just to name a few popular ones.
10 months ago
Cards I would recommend cutting out: Darting Merfolk, Windrider Patrol, Animation Module, Inspiring Roar, Noble Purpose, Kindred Boon, Gleam of Authority, Celestial Mantle, Brave the Sands, Leonin Sun Standard, Throne of Geth, Beacon of Immortality, Scale Blessing, Harpoon Sniper, Reef Shaman, Silvergill Douser.
All the cards I mentioned above doesn't work with the build your going for, dilutes your deck, or is too slow on the curve for it to matter.
Hope that helps!
1 year ago
I highly recommend Whitemane Lion. I would personally take out Darting Merfolk for it. Being able to save a creature is nice, and you can repeatedly play it on each of your opponent's turns to draw up to 4 cards in a full turn rotation (given you have 4 players).
I run Angel of Invention as a token finisher in my Ephara deck, it works nicely with flickers, and it can get out of hand if you can protect your plan with counters. Elesh Norn, Grand Cenobite is another card with the same function.
No data for this card yet.