The Herd (21)
Lonesome Cowboy (3)
Pastures (23)
Cattle Prods (13)
Sideboard (15)
Maybeboard (29)
---
Description
Updates
Maybe try Reckless Bushwacker over the Zulaport Cutthroat for the ally triggers on Ondu Champion and it gives everything haste as well as +1/0.
June 12, 2017 9:14 p.m.
R3507 why do you not link cards?
Zulaport Cutthroat wins games with its ability to drain life from the Opponent for each Creature that dies.
June 13, 2017 1:58 a.m.
http://gatherer.wizards.com/Pages/Card/Details.aspx?multiverseid=407626I apologize for the not linking my suggestion. I'm used to memorizing cards from the sets. I see your point but with Reckless Bushwacker you can push through even though its only +1/+0 it still gives everything that as well as haste if needed. Plus from the looks of it your wanting push through using trample with Ondu Champion. Like i said before ondu still gets that ally trigger from Bushwacker. Just my opinion though of coarse. maybe just test it.
June 13, 2017 3:54 a.m.
R3507 you need to do the tutorial. That is NOT how you link cards.
Don't say that you see my point ... and then proceed to argue against my point.
You just don't get how well Zulaport Cutthroat does.
What this does NOT need is another card in the 3 drop slot.
Zulaport Cutthroat <-- THAT is how you link cards.
June 13, 2017 4:06 a.m.
YES!!! i really like your sideboard. Just leave the deck now, as it is and wait for another sick minotaur in Hour of devastation!
June 15, 2017 2:05 a.m.
jparker-sartori21 no, it might not.
You can target ANY Creature with Supernatural Stamina.
The new card also does things in the wrong order.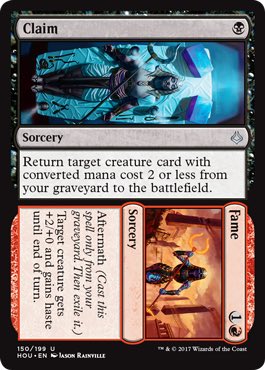 With Supernatural Stamina you can destroy another Creature and then protect your own.
The new card "protects" a Creature THEN pumps it up, at which stage you may lose it.
June 22, 2017 5:06 p.m.