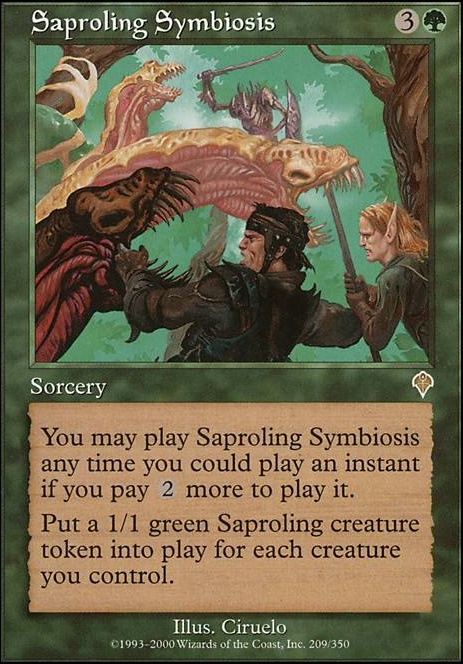 Legality
| | |
| --- | --- |
| Format | Legality |
| Noble | Legal |
| 1v1 Commander | Legal |
| Vintage | Legal |
| Casual | Legal |
| Vanguard | Legal |
| Legacy | Legal |
| Archenemy | Legal |
| Planechase | Legal |
| Duel Commander | Legal |
| Unformat | Legal |
| Pauper | Legal |
| Commander / EDH | Legal |
Tokens
Saproling Symbiosis
Sorcery
You may play Saproling Symbiosis any time you could play an instant if you pay (2) more to play it.
Put a 1/1 green Saproling creature token into play for each creature you control.
Saproling Symbiosis Discussion
4 weeks ago
no problem
so here we go with the others
first off seriously how come Platinum Angel isn't here? its a safety net
i notice Hive Mind is a card so this cycle should helphttp://gatherer.wizards.com/Pages/Search/Default.aspx?action=advanced&name=+%5Bpact%5D&set=%7C%5B%22Future%20Sight%22%5D
Epic struggle
Biovisionary
Laboratory Maniac
Near-Death Experience
Mayael's Aria
Chance Encounter
just one thing Krark's Thumb
Darksteel Reactor/Azor's Elocutors/Helix Pinnacle
note: only proliferate
Celestial Convergence
two things Hex Parasite and Vampire Hexmage but i want to point this out puting it to zero doesn't cause it to trigger it has to be on upkeep for the winner to be decided from this.
Felidar Sovereign/Test of Endurance
the celestial convergence win con takes this as well
Barren Glory
.
you have Banishing Light so the family members of this
Kaervek's Spite trigger just before your turn
Demonic Pact
just
Bazaar Trader
and
Zedruu the Greathearted
and theres a few more enchantments you can do the exact same thing with
Fractured Identity
but you need platinum angel for a few of them though
Triskaidekaphobia
nothing everything you need for this one is here
Approach of the Second sun
just a couple more tutors thats itlast but not least
Mechanized Production/Hellkite tyrant
the biovisonary and epic struggle stuff works if the target is a creature
welp hope this stuff helpsoh one more thing
Fractured Identity
it works with leveler just as well as phage
4 months ago
Wild Pair is especially fun with small expensive creatures like bane of progress and prime speaker zegana as easy targets. Nature's Will, Bear Umbra, & Sword of Feast and Famine let you tap out to pump before you attack and then you will still have mana to play stuff after combat. Stolen Identity, Mistblade Shinobi, Coastal Piracy, Harvest Season, Sword of the Animist are fun ways to get value from attacking. Fungal Sprouting, Spontaneous Generation, Saproling Symbiosis, Captain's Claws are some of my favorite ways to make a quick token army. Coat of Arms is like the quintessential tribal pump spell, I'm sure you would get good use of it. Happy gathering!
4 months ago
Observations from last night: too many basics, draw is sorely needed, ramp suite seemed fine (can maybe even cut one), and Saproling Symbiosis was an all-star.
6 months ago
Don't take this the wrong way, but I think this deck needs some direction. It's your first deck and half my decks still need guidance :) By that I mean I see a mix of big stompy creatures, +1/+1 counters, and tokens. To get the most out of Oviya I recommend sticking to either cheap token stuffs or low cost critters. This is so you can create a horde of tokens and then use Oviya to make big baddies.
The big stompy creatures like Dungrove Elder can all be cut since Oviya can make tokens bigger than them. Second, add in some pump spells like Beastmaster Ascension and evasion type stuff like Primal Rage (to go along side of Nylea). Now all your measly 1/1 servos are 6/6 giant tramplers. Bow of Nylea will serve you well and can clear the field with your tokens. Remember if your creatures have d/t and trample you only need to assign 1 point of damage for lethal and then deal the rest to your opponent.
Fabricate is a nice mechanic for Oviya and plays right into the +1/+1 counters theme. Of course you would most likely prefer to use the tokens rather than the counters. I would cut the more expensive ones listed here like Gladehart Cavalry. Champion of Lambholt is an all-star here and you already have her in the deck (Avenger of Zendikar likewise).
The ramp package can be tweaked too. Stuff like Kodama's Reach/Cultivate, Burgeoning, perhaps even Far Wanderings. Cheap mana dorks also add to the effect of Oviya.
Token Generators not listed:
Doubling Season not budget friendly
These are just a few of the things green has to offer. Note, not all of these will be ideal.
Load more