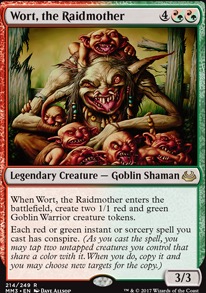 Wort, the Raidmother
Legendary Creature — Goblin Shaman
When Wort, the Raidmother enters the battlefield, put two 1/1 red and green Goblin Warrior creature tokens into play.
Each red or green instant or sorcery spell you play has conspire. (As you play the spell, you may tap two untapped creatures you control that share a color with it. When you do, copy it and you may choose new targets for the copy.)
Start Commander Deck
Browse Alters
View at Gatherer
Trade
Tokens
Legality
| | |
| --- | --- |
| Format | Legality |
| Tiny Leaders | Legal |
| Noble | Legal |
| Leviathan | Legal |
| Magic Duels | Legal |
| Canadian Highlander | Legal |
| Vintage | Legal |
| Modern | Legal |
| Penny Dreadful | Legal |
| Block Constructed | Legal |
| Vanguard | Legal |
| Legacy | Legal |
| Archenemy | Legal |
| Planechase | Legal |
| 1v1 Commander | Legal |
| Duel Commander | Legal |
| Oathbreaker | Legal |
| Unformat | Legal |
| Casual | Legal |
| Commander / EDH | Legal |
Wort, the Raidmother occurrence in decks from the last year
Commander / EDH:
All decks: 0.0%
Latest Decks as Commander
Wort, the Raidmother Discussion
4 weeks ago
Yeah, thanks for the upvote :)
I've had a lot of fun with the deck so far. I haven't managed to get much out of the Wild Pair package. Since there are no actual tutors in the deck for getting out enchantments that's been a bit difficult.
I'm actually considering Gamble and Long-Term Plans as 'soft' tutors purely for the Wild Pair and once I've got that for cards such as Vicious Shadows and Warstorm Surge .

The deck is still pretty new, and I'm still fine-tuning it. I've now only played it four times since I've been busy with other stuff lately:

Game 1: Won through getting value out of an early Momir Vig, Simic Visionary , keeping it safe with the counter creatures and smashing face with Forgotten Ancient and Master Biomancer making my team bigger.
Game 2: It was a five-player game where the first one to knock the two opponents directly to the left and right of you wins: Kept board-control and ramp up with Yasova Dragonclaw and Perilous Forays . Almost died to a ridiculous Arixmethes-huge-stompy-creatures deck, but turned it around with the Reins of Power I was sitting on (such an over-performer). And later shared my victory as our shared opponent got knocked out by the other player.
Game 3: regrettably had to spend most of my time and resources on an Orzhov player that kept recurring the Elesh Norn, Grand Cenobite that rendered the rest of my cards mostly useless. Later everyone got kicked out by a combo player going off
Game 4: Didn't win, didn't get quite the engines going that I wanted to. But the game (5-player FFA) was crazy enough as it is.
I would say that for now the deck is good enough at battlefield control (particularly creatures), but as I mentioned I want to look into options that make the
Wild Pair
actually work (in none of the games I drew it so far).
I've since added
Warstorm Surge
, because that card can do stupid things once you get something like
Glen Elendra Pranksters
or other bounce and some ramp or control creatures. I've added
Ambush Viper
to go along with that. Swapped those for
Llanowar Elves
(in our meta often not dependable ramp since it's too fragile) and
Briarhorn
, since it having flash mattered less for the creatures it could look up and Yasova can usually steal enough interesting creatures with just 4 power.
Apart from the tutors I'm considering adding
Purphoros, God of the Forge
, since the incremental damage can quickly add up and the +1/+0 is actually really nice for Yasova, but I only have one copy of Purph and it's a key part of my
Wort, the Raidmother
deck.
4 months ago
For example, I will play Harrow in my Wort, the Raidmother deck. Because Harrow makes me sacrifice a land, would I have to do the same for the Conspired copy?
6 months ago
Harvest Season , Animist's Awakening , Explosive Vegetation , Revel of the Fallen God , Growing Rites of Itlimoc Flip or Cryptolith Rite provide even more mana so you can cast bigger spells; I like adding more mana dorks to this so that you can use them for mana or later conspire ramp spells. Additionally X spells get really dank Jaya's Immolating Inferno can be a ridiculous finisher if you can put enough mana and conspire it. Shamanic Revelation or Harmonize can also give you some really good card draw, even just using Shamanic Revelation after casting Wort gives you 6 cards! In Red/Green. For more spicy, and a little less budget picks, I'd recommend: Lotus Cobra for those crazy ramp turns, Skullclamp lots of 1/1 tokens that can be turned into card draw, Pyromancer's Goggles who doesn't love copies?, Throne of the God-Pharaoh if you tap to conspire and then get a deal X trigger for copying spells it really adds up fast, if you'd like I can put my Wort, the Raidmother list up on to tappedout and you can add any other cards you like the look of.
7 months ago
Wort, the Raidmother is fun to play. Spellslinger playstyle is totally different from your beatdown decks. You can build a good deck that works fine and has a decent chance to win for around 50$ or make it the best way possible and really good for around 150-200$. I play one for myself and it's a ton of fun to play. I don't have a list online here but you find plenty if you're interested.
9 months ago
I would maybe remove Phytoburst because it's sorcery, Titanic Growth because it only has one effect for two mana (brute force for example does nearly the same thing for one mana, and colossal might gives you trample), Brute Force because you already have groundswell and invigorate that are potentially better, Might of Old Krosa because it is essentially sorcery, Slaughterhorn because it does nothing practically, Wort, the Raidmother because it is expensive and it taps your attackers while they should be attacking (it is hard to believe your opponents will let you keep more than 3 creatures with infect on the board).
10 months ago
I think you could afford to drop a few of your mana dorks, as you have a lot of other ramp and they feel really bad to cascade into. Rhythm of the Wild is solid, but as soon as you get your general out throwing around +1/+1 counters doesn't really seem worth it. Mirror March could be solid for you, and it's a terrific card for casual games. I do love the Spelljack trick with Wanderer though, that is some spicy tech for extra cascades. Also, with so many powerful sorceries, Wort, the Raidmother could be worth consideration.
Load more