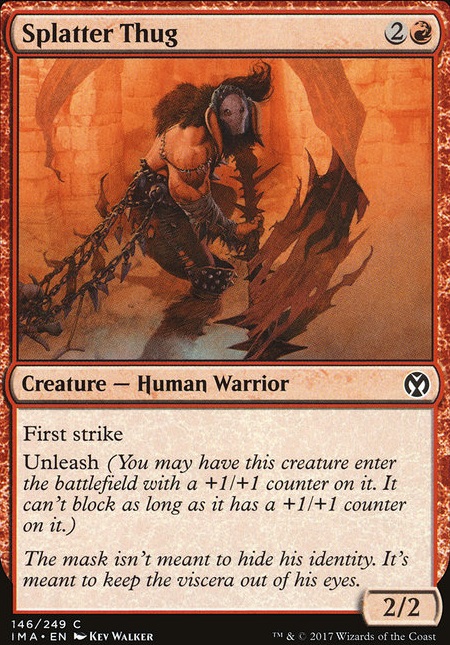 Legality
| | |
| --- | --- |
| Format | Legality |
| Magic Duels | Legal |
| Canadian Highlander | Legal |
| Vintage | Legal |
| Modern | Legal |
| Penny Dreadful | Legal |
| Casual | Legal |
| Pauper EDH | Legal |
| Leviathan | Legal |
| Legacy | Legal |
| Duel Commander | Legal |
| Unformat | Legal |
| Pauper | Legal |
| Commander / EDH | Legal |
Splatter Thug
Creature — Human Warrior
First strike
Unleash (You may have this creature enter the battlefield with a +1/+1 counter on it. It can't block as long as it has a +1/+1 counter on it.)
Splatter Thug Discussion
11 months ago
Archetype of Aggression would help you more than Bloodfray GiantCarnival Hellsteed and Cryptborn Horror don't do as much as they should for their cost/conditions. Have you considered War Elemental and Kolaghan, the Storm's Fury instead?Also, Rakdos Ickspitter, Gore-House Chainwalker, and Splatter Thug could easily be cut out for effects that boost other, better creatures. Not to mention that haste providers like Mass Hysteria become dead draws once you have a way to put +1/+1 counters on creatures entering the battlefield (such as Drana or Necropolis Regent). Also, Caldera Hellion, Mephidross Vampire, Retribution of the Ancients, Grenzo, Dungeon Warden or Flesh Carver?
1 year ago
5 to 2.0
Out: Rakdos Cackler, Slithering Shade, Dead Reveler, Rakdos Shred-Freak, Splatter Thug, Rakdos Drake, Gore-House Chainwalker, Demon's Jester, Grim Roustabout, Deviant Glee, Riot Spikes, Taste for Mayhem, Nettling Curse, Showstopper.
In: Blood Scrivener, Desecration Demon, Helldozer, Hellraiser Goblin, Lobber Crew, Lord of the Void, Molten Primordial, Ogre Slumlord, Pack Rat, Sepulchral Primordial, Spawn of Rix Maadi, Stalking Vengeance, Breath of Fury, Five-Alarm Fire.