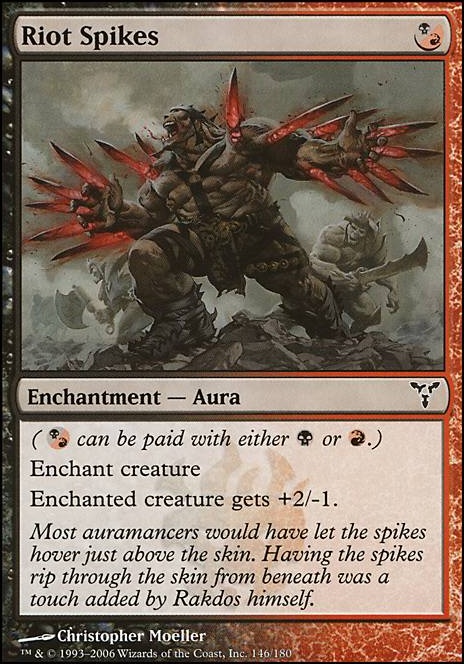 Legality
| | |
| --- | --- |
| Format | Legality |
| Pre-release | Legal |
| Tiny Leaders | Legal |
| Vintage | Legal |
| Penny Dreadful | Legal |
| Custom | Legal |
| Commander / EDH | Legal |
| Noble | Legal |
| Magic Duels | Legal |
| Brawl | Legal |
| Standard | Legal |
| Arena | Legal |
| 1v1 Commander | Legal |
| Canadian Highlander | Legal |
| Vanguard | Legal |
| Leviathan | Legal |
| Planechase | Legal |
| Duel Commander | Legal |
| Unformat | Legal |
| Modern | Legal |
| Pauper | Legal |
| Pauper EDH | Legal |
| Legacy | Legal |
| Archenemy | Legal |
| Casual | Legal |
| Oathbreaker | Legal |
Riot Spikes
Enchantment — Aura
*( can be paid with either or .) *
Enchant creature
Enchanted creature gets +2/-1.
Riot Spikes Discussion
2 years ago
5 to 2.0
Out: Rakdos Cackler, Slithering Shade, Dead Reveler, Rakdos Shred-Freak, Splatter Thug, Rakdos Drake, Gore-House Chainwalker, Demon's Jester, Grim Roustabout, Deviant Glee, Riot Spikes, Taste for Mayhem, Nettling Curse, Showstopper.
In: Blood Scrivener, Desecration Demon, Helldozer, Hellraiser Goblin, Lobber Crew, Lord of the Void, Molten Primordial, Ogre Slumlord, Pack Rat, Sepulchral Primordial, Spawn of Rix Maadi, Stalking Vengeance, Breath of Fury, Five-Alarm Fire.
3 years ago
Thanks CharybdisV, Yeah I'm feeling they don't fit either. I am going for a heavily thematic basis for this deck so I do want to have Akroma, Angel of Fury in there, even if she isn't super useful (EDH decks feel a bit like a place where all cool cards go for fun) but you have a point about the Fists of the Demigod and Riot Spikes. With regards to the colorless ramp, I've been in siduations where rakdos himself keeps getting removed from the board, so as much as I'd like to swap it for colored mana, I'd prefer to have the 99 self sufficient in my playgroup.
And thanks :D I put the alter together today using the unused original rakdos lord of riots art and some photoshop skills. Turned out great! Also did a Mizzix alter based on another full art I saw online.
No data for this card yet.