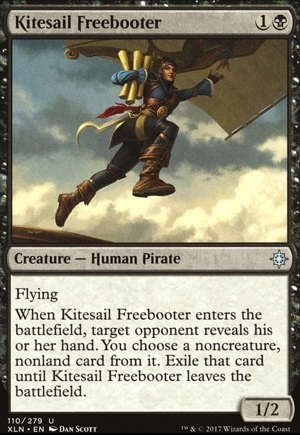 Legality
| | |
| --- | --- |
| Format | Legality |
| Pre-release | Legal |
| Tiny Leaders | Legal |
| Custom | Legal |
| Magic Duels | Legal |
| Canadian Highlander | Legal |
| Vintage | Legal |
| Modern | Legal |
| Arena | Legal |
| Standard | Legal |
| Leviathan | Legal |
| Legacy | Legal |
| Brawl | Legal |
| Frontier | Legal |
| 1v1 Commander | Legal |
| Duel Commander | Legal |
| Oathbreaker | Legal |
| Unformat | Legal |
| Casual | Legal |
| Commander / EDH | Legal |
Kitesail Freebooter
Creature — Human Pirate
Flying
When Kitesail Freebooter enters the battlefield, target opponent reveals his or her hand. You choose a noncreature, nonland card from it. Exile that card until Kitesail Freebooter leaves the battlefield.
Kitesail Freebooter Discussion
3 weeks ago
Hi everyone, ive always wanted to build the Humans deck but, as you know, its very expensive so i came out with differents variations of this deck but they never convinced me. Finally i came out with this variation that is, i think better tha the others, or at least more interesting. This is part of it:
//Creatures
//Spells
https://deckstats.net/decks/128240/1332493-allies-of-humans
As you can see, i just changed 3 cards. Noble Heriarch >> Harabaz Druid . Thalia, Guardian of Thraben >> Kazandu Blademaster . And Meddling Mage >> Nevermore / Runed Halo .
The thing is that i dont know if its good enough to start. Im still searching for a substitude for Phantasmal Image , cuz here were i live its at least 15 euros each one. I dont know if i should go with only two or three Aether Vial , cuz its expensive too. Lands are another problem, Cavern of souls its really really expensive so i need a substitude. i guess ill go with Ancient Ziggurat and Unclaimed Territory but i dont know which other lands should i take.
This is my maybeboard: Kabira Evangel , Ondu Cleric , Oran-Rief Survivalist & Hardened Scales .
Thanks!!!
3 weeks ago
Erebos, God of the Dead is a fun general -- good luck!
Most EDH games are decided by card advantage. You're typically facing down three opponents, meaning you're facing down about three times as many cards as you yourself can produce. Thus, anything that can recoup card advantage through mass draw or multi-for-ones is a good addition to a deck. With Erebos, I had a lot of luck with Words of Waste . This is an instant-speed discard effect (through Erebos' draw ability) and mana sink for the end of your opponents turns.
In a similar vein, cards like Smallpox are good for cleaning up the board from early threats, as well as setting back your opponents. I don't see it played that much, but I've had good success playing it myself. Pox is another option, but it is harder to minimize its damage to you as well.
Depending on your card pool, you may want to consider running Snow-Covered Swamp s instead of Swamp s. This allows you to run something like Dead of Winter instead of Languish ; it's more mana-efficient and tends to have a bigger effect.
Black doesn't have a lot of options in terms of mana-ramp. I see you've included Crypt Ghast and Cabal Stronghold (both powerful), but you should also consider artifact ramp. Sol Ring is an auto-include in almost every EDH deck, and cards like Charcoal Diamond , Coldsteel Heart , Mind Stone , Thought Vessel , Mana Vault , Mana Crypt (if you proxy or want to sell a kidney) and Everflowing Chalice are great as well.
One combo I had good luck with while playing Erebos was Raven's Crime with Null Profusion . This allows you to essentially cycle any dead lands you draw by casting Raven's Crime from the yard, while also making an opponent discard. In the discard vein, you seem to have some good discard pieces in your list already. Including Geth's Grimoire makes these into card advantage for you, and Waste Not is a great value engine. Syphon Mind is both a mass-discard spell and a mass-draw spell.
In your land-package, I think you should cut Leechridden Swamp . A majority of the time, losing one life isn't going to be significant; furthermore, entering tapped is a severe drawback. Running a normal or snow-covered Swamp is better.
A few of your creature inclusions are questionable. Gifted Aetherborn , Pawn of Ulamog and Basilica Screecher are not likely to have much of an effect on the board, and Brain Maggot or Kitesail Freebooter likely should be replaced with more global and/or recurring discard effects.
Night's Whisper is, most of the time, better than Sign in Blood as it is easier to cast and cannot be Redirect ed.
I feel that a lot of your spot removal consists of one-for-ones. Consume Spirit and Corrupt are good when there is only a single threat on the board, but are simply not good enough if two or more opponents are applying pressure at a given moment. Damnation and Toxic Deluge are the best black board-wipes, though they can be very expensive; I advise Nevinyrral's Disk or Perilous Vault as budget considerations. The life-gain effects of Consume Spirit and the like are probably not necessary when you're running Whip of Erebos and Pontiff of Blight .
Tutors are amazing in EDH. Demonic Tutor is the gold-standard, though it is expensive. Diabolic Tutor , which you run, is functionally identical to Mastermind's Acquisition in EDH -- you may want to consider running the latter for redundancy.
Cutting a Swamp for Reliquary Tower should be considered. This would let you drop Spellbook and free up a slot.
Because of the draw-power stapled on Erebos, you may want to consider running cards like Mindslicer . You'll recover much faster than your opponents, and with things like Waste Not or Geth's Grimoire on the field its a real powerhouse. This would require a sac-outlet; Phyrexian Tower is a good option here.
Good luck.
2 months ago
Why doesn't the card Vendetta see more play in Modern? Is it the life loss that scares people away?
If we look at the most played creatures in Modern, the black ones are:
So, yeah there are a few creatures that it doesn't get, but is that enough to make it unplayable? It seems like a relatively short list of modern-playable creatures that it can't hurt.
I mean, yeah, occasionally a Grim Flayer will murder your face off, but what do you guys think? How would Vendetta perform in the current metagame?
3 months ago
Although it would be hard to cast, many have looked at Goblin Chainwhirler with Bladebrand to board wipe. Not sure if it's for this deck but definitely possible. Also, for a control version of Rakdos, I would throw in some Duress , Divest , and Kitesail Freebooter for hand disruption. Lava Coil , Cast Down , Price of Fame , and Moment of Craving for removal. As for the long game "clock" part of your deck, I like the inheritance but you could also look at the kickers of Josu Vess, Lich Knight or Fight with Fire as late game finishers.
3 months ago
APPLE01DOJ,
Thanks much; I'll give your Kefnet deck a hard look, for sure.

heckproof and APPLE01DOJ,
Yeah, those are all good examples.

PlatinumOne,

> weird mashup of ramp into semi-big threats with suboptimal control elements.
That's actually a great definition of what Ponza is all about! I usually describe the deck more like "aggressive ramp into bulk rares that you would never expect could be good in Modern, with an overlay of annoying mana-denial Control", but yours will certainly do. The thing is, it works surprisingly well in many metas.
> besides fetchlands, what activated or triggered abilities are you hoping to stop with Repudiate / Replicate
I actually laid that out in the deck description, but in case you missed it here it is again:
Opponent transforms a Thing in the Ice? Repudiate the triggered ability and our team stays on the field.
Opponent wants to make us sac' a creature with Lili, put a Terminus on top with Jace, or ultimate whatever random Planeswalker they have? Repudiate the activated ability and we've totally turned the game around.
Opponent tries to Modular a ton of +1/+1 counters onto their attacking Inkmoth Nexus, wipe our board with an Oblivion Stone, Equip a Batterskull, Crew a Smuggler's Copter, etc, etc, etc? Repudiate gives us answers (or at least options) we never had in 'normal' Ponza.
Here are more details though, looking at the top meta decks in turn ...
All that said, it's clear that in many cases a 2-mana counterspell (e.g., Negate or Mana Leak ) is better than a 2-mana stifle effect ... certainly UW Control has found that to be the case! What's not clear to me yet is if that's the case in UG Control as well ...
Load more
Kitesail Freebooter occurrence in decks from the last year
Commander / EDH:
All decks: 0.0%
Standard:
All decks: 0.14%