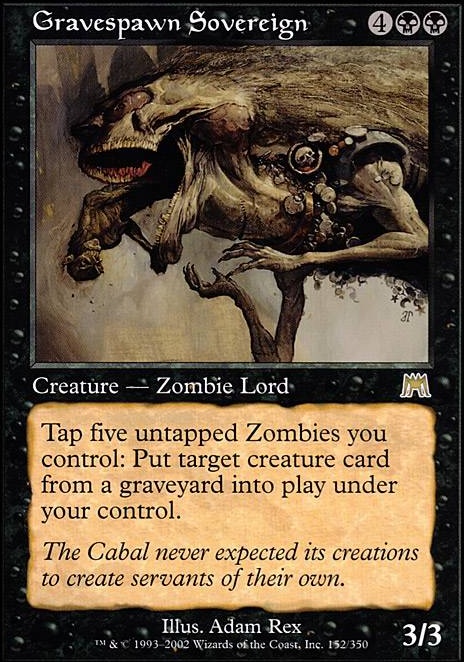 Legality
| | |
| --- | --- |
| Format | Legality |
| Pre-release | Legal |
| Noble | Legal |
| Leviathan | Legal |
| Tiny Leaders | Legal |
| Magic Duels | Legal |
| Vintage | Legal |
| Casual | Legal |
| Vanguard | Legal |
| Legacy | Legal |
| Archenemy | Legal |
| Planechase | Legal |
| 1v1 Commander | Legal |
| Duel Commander | Legal |
| Unformat | Legal |
| Pauper | Legal |
| Commander / EDH | Legal |
Gravespawn Sovereign
Creature — Zombie
Tap five untapped Zombies you control: Put target creature card from a graveyard onto the battlefield under your control.
Gravespawn Sovereign Discussion
1 month ago
So i've been considering getting Cryptic Gateway and Sundial of the Infinite cause the shenanigans that this allows for is absolutely ridiculous. Gonna explain a few quick scenarios so that way this hopefully makes sense.
As you can see
Cryptic Gateway
allows for tapping and playing creatures. Lots of fun with this deck. You could cheat out the infinite turn combo by around turn 5 (assuming you draw 1 land in the first four turns) with the perfect opening hand like this:
**Opening Hand** 3 basic lands to pay for creature, Sol Ring, Goblin Electromancer or Harbinger of the Tides, Wanderwine Prophets, Cryptic Gateway.
**Turn 1** Play land, cast Sol Ring.
**Turn 2** Play basic land, durdle if you've drawn anything good. In the event you manage to draw a Sundial, this is the turn to do it.
**Turn 3** Play basic land, cast Cryptic Gateway for 5
**Turn 4** Play basic land, Tap 2 lands and pay for creature, pay 1 to make copy. Tap both copies of creature to cheat out Wanderwine Prophets. Pay 1 to make copy, Champion original, Move to Combat with the Copy, If attack succeeds, sac the copy, pay 1 to make copy again, move to end step, copy fizzles, pay 1 again to make new copy that lasts into next turn and then go infinite. In the event you got Sundial and played it, you can also pay 1 to end the turn instead of going to end step and it has the same effect.
It was pretty well covered in the last section how useful this card is for your infinite combo shenanigans. However, theres a much larger implication with this card. Cast something like Goblin Electromancer and make a copy of it and end your turn with Sundial. Surprise, your instants and sorceries now cost 2 less. Two
Docent of Perfection
Flip
's isn't a bad thing either. Two
Fatespinner
's. Imagine the abilities you could create.
It's extremely situational but example of how this card can absolutely break games and be a stax piece honestly. I was test playing it against my Zombie Deck and had the weirdest stuff happen. I had Sundial and Intruder Alarm on the battlefield already, and I played Puppeteer Clique and copied it. I took Lich Lord of Unx and Gravespawn Sovereign from the graveyard and made 3 tokens with Lich Lord. Tapped the five of them and took every single creature out of both graveyards and suddenly had a field of about 20 creatures. Making copies of any wizards along the way.
SUNDIAL IS GOD
3 months ago
First I recommend taking out: Havengul Runebinder, Cemetery Recruitment, Undead Alchemist, Nantuko Husk, Geralf's Masterpiece, Geralf's Mindcrusher, Ashes of the Fallen, Perpetual Timepiece, Secrets of the Dead, Ancient Excavation, Murder, Compelling Deterrence, Liliana's Mastery, Obelisk of Urd, Graf Harvest, and Zombie Infestation, Ghoulcaller's Chant,
Cards that you should put in: Gravecrawler, Gravespawn Sovereign, Gray Merchant of Asphodel, Grave Pact, Unholy Grotto, Sidisi, Undead Vizier, Living Death, Cryptbreaker, Death Baron, Phyrexian Reclamation, High Market, Corpse Harvester, Balthor the Defiled, Reassembling Skeleton, Skullclamp, Grave Defiler, Graveborn Muse, Zombie Apocalypse, Crypt of Agadeem, Geier Reach Sanitarium, Reliquary Tower, Bojuka Bog, Diabolic Intent, Patriarch's Bidding, and Demonic Tutor.
Alternate commanders or cards to include in the deck could be: The Scarab God and Grimgrin, Corpse-Born
If you are really trying to stay Timmy with the deck, then I won't recommend Phyrexian Altar because it goes infinite with Gravecrawler and any kind of death/ETB trigger, but then again, it does it with Rooftop Storm and a sac outlet too.
Other cards that can be really good in zombies include: Sheoldred, Whispering One, Corpse Connoisseur, Zombie Trailblazer, Twilight's Call, Geth, Lord of the Vault, Demonic Collusion, Kalitas, Traitor of Ghet, Scourge of Nel Toth, River Kelpie, Phyrexian Arena, Attrition, Kokusho, the Evening Star, Burnished Hart, Disciple of Bolas, Harvester of Souls, Damnation, Rune-Scarred Demon, Phenax, God of Deception, Beacon of Unrest, Corpse Augur, Palace Siege, Infernal Caretaker, Contamination, Plague Belcher, Vengeful Dead, Dread Wanderer, Boneknitter, Grimoire of the Dead, Pontiff of Blight, Custodi Lich
4 months ago
Gravespawn Sovereign seems cool, I don't know if you want to go that route though. Also, Noxious Ghoul is a great card, if you're creating large quantities of zombies. Either one of these cards seems better than Custodi Lich.
6 months ago
Ok, first off, your deck has 2 too many cards, you'll need to cut those. Secondly, I think you'll find you have too few lands to be consistent. Next, I believe there are better zombies. Here's a few. I don't know what your budget is, so some of these may be a bit pricey.
Other card suggestions.
Skullclamp If you have Gravecrawler, it's a 2 mana draw 2.
Dictate of Erebos A good way to keep opponents locked down.
Thornbite Staff Combined with Gisa, you can keep pumping out zombies at a MUCH faster rate
Coat of Arms The ultimate buff to a tribal deck.
Hope that helps!
6 months ago
(Note: My playgroup is casual but with the heat turned up)

In playing AINT NO PARTY like an UNDEAD party.., I have taken a liking to getting out my general and Rooftop Storm, and then casting Sidisi, Undead Vizier, exploiting Sidisi to herself, and getting a bunch of free bodies out. I search out Possessed Skaab, Phyrexian Delver, and Gravespawn Sovereign, return sidisi to my hand, cast sidisi again. I re-use sidisi as much as I can, Including once from the general. The last thing I plop down is Gray Merchant of Asphodel for a big effect.

I'm planning on adding Gravedigger, and Sibsig Muckdraggers as additional creatures to chain together. I'm also going to add Mikaeus, the Unhallowed, Phyrexian Reclamation, Havengul Lich and Panharmonicon to help enable the overall plan. Don't really want to run Ghoulraiser since it's random and my grave is likely to be somewhat full.

I was wondering if there are any creatures (they have to be zombies for it to work, since it relies on Rooftop Storm allowing me to cast for free) that I missed that have an effect like Gravedigger.

If anything else pops into your brain related to the shenanigans I'd love to hear that as well.
Load more