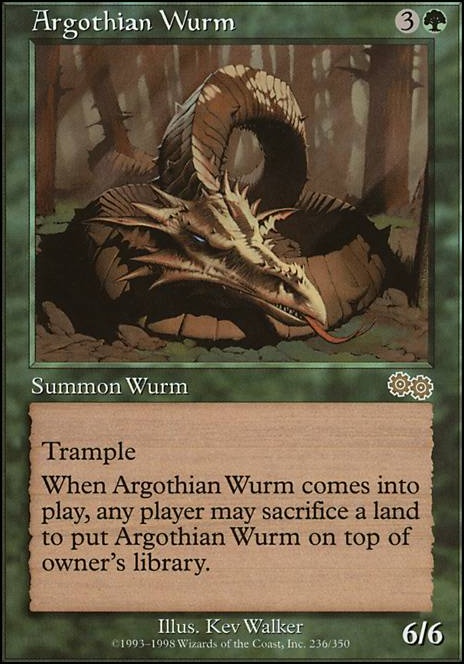 Legality
| | |
| --- | --- |
| Format | Legality |
| Tiny Leaders | Legal |
| Noble | Legal |
| Leviathan | Legal |
| Magic Duels | Legal |
| Canadian Highlander | Legal |
| Vintage | Legal |
| Custom | Legal |
| Vanguard | Legal |
| Legacy | Legal |
| Archenemy | Legal |
| Planechase | Legal |
| 1v1 Commander | Legal |
| Duel Commander | Legal |
| Oathbreaker | Legal |
| Unformat | Legal |
| Casual | Legal |
| Commander / EDH | Legal |
Related Questions
Argothian Wurm
Creature — Wurm
Trample
When Argothian Wurm enters the battlefield, any player may sacrifice a land. If a player does, put Argothian Wurm on top of its owner's library.
Argothian Wurm Discussion
1 month ago
More changed inspired by comments.
If you see anything else that's a good switch let me know, or if you don't agree with something or have a better idea, feel free to comment. Thanks all for the help so far, much appreciated. We'll see how these test out, there is still more I'd like to try in the maybe board
1 month ago
Heck, I'll pitch in. I really enjoy this stuff...
Point 1: Argothian Wurm could probably be cut, unless you feel it's worth experimenting with. A 6/6 trample for 4 CMC is a good deal. If you find he doesn't perform, ditch him.
Point 2: Life gain doesn't seem to be the theme of the deck, so I wouldn't look to keep those cards around for incidental life gain. I'd say 90% of the time, Voracious Wurm is going to be a 2/2 do-nothing for you. Mana dork would be better, or another mana rock. Pelakka Wurm is still a fatty, though, and you could probably keep it. Mayael's Aria is a nice alternate win-con, and if you like having alternate win-cons, then it's worth keeping. If it gets blown off the board all the time, then at least you're sucking resources. Cut at your own discretion.
Point 3: Saltskitter . I don't see an issue with keeping it. It's cute, but not useless, and you need something in the 4 drop slots.
Point 4: Naya Charm . Modal spells are always nice, and although one of the modes might not be as useful, you never know when you might have to trip up a token army. Clearing a path for combat is always good, and Regrowth or or Eternal Witness are always good cards; this one is at instant speed. Worth running, I think. What I would consider is replacing Swords to Plowshares with Generous Gift . More flexibility.
Point 5: Lurking Predators could probably be cut and not be missed. Helps with your commander isn't on the field, but is replaceable.
Point 6: Mayael's Aria - see above.
Point 7: The Planeswalkers: I'm mixed on the inclusion of Planeswalkers. What I do is evaluate the + and - abilities. You've done that pretty well with Garruk. He can at least protect himself with beasts, and at worst, he's another copy of Rishkar's Expertise for you, which isn't bad. He's worth keeping. I'm not as sold on Vivien. First turn, she either gets you a land (because you usually want to keep the creatures in the library), or is a Beast Within for 5 CMC. Not a good trade in my mind. Her ultimate is great, but if your group let's you ultimate her, then they're a bunch of idiots.
Point 8: The creature droppers. Like you mentioned earlier, you're going to end up with creatures in your hand, whether you want to or not. These will help you drop them at the end of an opponent's turn, providing pseudo-haste, which is not bad, and gets around counter spells for the most part. The Piper is the best of the bunch as far as cost goes, but fragile because it's a creature. If I was going to cut one, I'd probably cut Quicksilver Amulet in this deck.
Hope that all helps, and I look forward to seeing other opinions, too.
1 month ago
Made some changes based on your suggestions, let me know what you think. Longish read condensed.
Argothian Wurm : Early game goodness, late game could slow us down facing certain decks that can abuse lands.
Voracious Wurm : Pelakka Wurm and Mayael's Aria are our only instances of lifegain in the deck now (thought there was more) it is however the cheapest wurm in the deck. Replace with dork, or keep?
Saltskitter : Triggers Gruul Ragebeast , Elemental Bond , and Warstorm Surge potentially every turn. Too cute?
Naya's Charm: I have mixed feelings about. 3dmg to creature only feels like a waste. Returning a card from the yard could prove useful if commander tax adds up. Lastly and most used is clearing a path to swing. Should this slot be filled with a better removal spell, or is there worth I'm missing here?
Lurking Predators : Our new commander has a similar ability that's less annoying. Also its not a 'May' trigger so we could potentially be forced into casting our deck into a wipe.
Mayael's Aria : There's no other counter synergy in the deck, but bigger is always better. Surprise wincon? Slot in something better?
Garruk, Primal Hunter vs Vivien Reid : One or both? Garruk protects himself on the ground, draws cards, and makes a mess of Wurms. Vivian finds critters, destroys flyers (glaring weakness in the deck), and an emblem to boost our field. Both technically have the same turn clock to go off except Garruk can be used as a 5cmc one shot draw spell, whereas vivian can minus and have points remaining.
Something else I've been mulling over is what to replace these last 2/3 with... as they are no longer as useful, at least not all of them. Piper may have a use to stay being: a) it's a creature that can be egged, and b) with a haste enabler out it can be 5cmc for 2 creatures.
Belbe's Portal : 8cmc(5/t:3) investment for 1 creature limited to type.
Quicksilver Amulet : 8cmc (4/t:4) investment for 1 creature
Elvish Piper : still may have it's uses. 5cmc (4/t:1) investment, haste enabler preferred prior to casting.
5 months ago
I think that the blue player will try to target your Rain spells rather than your creatures, at least to begin with. So maybe just move them to the sideboard? They would be a good card to bring in, once you know you are up against a control-player. Otherwise I think that you should look for some way of decreasing your mana-curve a bit. Maybe go full playset on Lightning Bolt for added pressure in the early stages. Also, since your are running more forests than mountains I would definitely swap some Shivan Wumpus for Argothian Wurm .
7 months ago
DuTogira: there are obviously vital details you are leaving out of your nutella story. the fact you acknowledge "nutella didn't even promise" is proof the comparison isn't even close to resembling the reserve list situation if the company that makes nutella actually lost 3 mill in that case, it was because of false advertising, not breaking a promise. its not the same.
bottom line, the reserve list needs abolished period. its just stupid to have a "reserve list" to "preserve the high value of cards" when most of those cards don't even have a high value to begin with. i can get an Argothian Wurm for $2.
7 months ago
PlatinumOne - Argothian Wurm is on the Reserve List.
That said, I am in favour of having some fun land destruction options in Modern. Granted, I will fully admit I am biased toward unfun, grindy play, so I may not be a good barometer for what the general populace wants.
Load more
No data for this card yet.