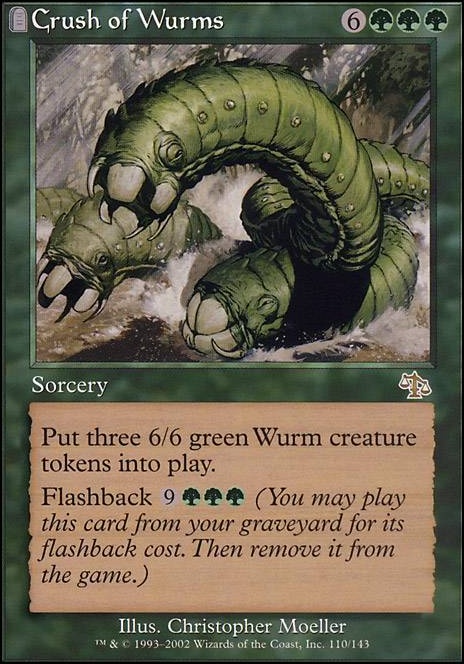 Crush of Wurms
Sorcery
Put three 6/6 green Wurm creature tokens into play.
Flashback (You may play this card from your graveyard for its flashback cost. Then remove it from the game.)
Browse Alters
View at Gatherer
Tokens
Legality
| | |
| --- | --- |
| Format | Legality |
| Leviathan | Legal |
| Oathbreaker | Legal |
| 2019-10-04 | Legal |
| Unformat | Legal |
| Legacy | Legal |
| Commander / EDH | Legal |
| Limited | Legal |
| 1v1 Commander | Legal |
| Vintage | Legal |
| Casual | Legal |
| Tiny Leaders | Legal |
| Duel Commander | Legal |
| Highlander | Legal |
| Canadian Highlander | Legal |
Latest Decks as Commander
Crush of Wurms Discussion
1 year ago
Made some changes based on your suggestions, let me know what you think. Longish read condensed.
Argothian Wurm : Early game goodness, late game could slow us down facing certain decks that can abuse lands.
Voracious Wurm : Pelakka Wurm and Mayael's Aria are our only instances of lifegain in the deck now (thought there was more) it is however the cheapest wurm in the deck. Replace with dork, or keep?
Saltskitter : Triggers Gruul Ragebeast , Elemental Bond , and Warstorm Surge potentially every turn. Too cute?
Naya's Charm: I have mixed feelings about. 3dmg to creature only feels like a waste. Returning a card from the yard could prove useful if commander tax adds up. Lastly and most used is clearing a path to swing. Should this slot be filled with a better removal spell, or is there worth I'm missing here?
Lurking Predators : Our new commander has a similar ability that's less annoying. Also its not a 'May' trigger so we could potentially be forced into casting our deck into a wipe.
Mayael's Aria : There's no other counter synergy in the deck, but bigger is always better. Surprise wincon? Slot in something better?
Garruk, Primal Hunter vs Vivien Reid : One or both? Garruk protects himself on the ground, draws cards, and makes a mess of Wurms. Vivian finds critters, destroys flyers (glaring weakness in the deck), and an emblem to boost our field. Both technically have the same turn clock to go off except Garruk can be used as a 5cmc one shot draw spell, whereas vivian can minus and have points remaining.
Something else I've been mulling over is what to replace these last 2/3 with... as they are no longer as useful, at least not all of them. Piper may have a use to stay being: a) it's a creature that can be egged, and b) with a haste enabler out it can be 5cmc for 2 creatures.
Belbe's Portal : 8cmc(5/t:3) investment for 1 creature limited to type.
Quicksilver Amulet : 8cmc (4/t:4) investment for 1 creature
Elvish Piper : still may have it's uses. 5cmc (4/t:1) investment, haste enabler preferred prior to casting.
1 year ago
I think you could cut Advent of the Wurm and Crush of Wurms . Yeah, they're on theme, and yeah, they make big tokens, but I think you've got more than enough wurms in the deck, and Atla can't get them out for you. I'd rather have two more removal spells in those slots, or in your case, Evolutionary Leap and Fanatical Devotion . If you don't want to run Ashnod's Altar because you don't want to go combo, then you may not want to run Thornbite Staff , either; that will save you about $13 right there. Combos can be a good time, but they aren't always welcome in some groups.
I'd cut Sakura-Tribe Scout for either another mana dork like Llanowar Elves , or a mana rock, or something like Zendikar Resurgent . I'm on the fence about Burnished Hart ; you might be able to do with cutting that one, too. If you think about it, it'll cost you 6 mana to two land cards; better off running something like Skyshroud Claim since you're in green. Or, plug in Mirror Entity there.
Now, I'm at a tough spot; the rest of what you got seems good to me; fresh eyes will help with this. But, I'm on the fence about Urza's Incubator . If you're deck is doing it's job right, you should be casting your wurms very often, and therefore, it could be dead card a lot of the time. But, if she get's blown out for a while, making fat wurms 2 cheaper is boon. Tough call on that one, but I thought I'd throw it out there for your consideration. Kind of the same with Elvish Piper , Quicksilver Amulet , and Belbe's Portal ; all good back-up plans, but how often will they be needed?
I hope this helped out some. I look forward to seeing the suggestions of others.
3 years ago
Id you're going tomens consider my favorite card Crush of Wurms add a token doubler for added fun
3 years ago
Mines not expensive but it is one of my favorites, I hardly ever cast it, but it is so fun especially with token doublers out Crush of Wurms
Load more