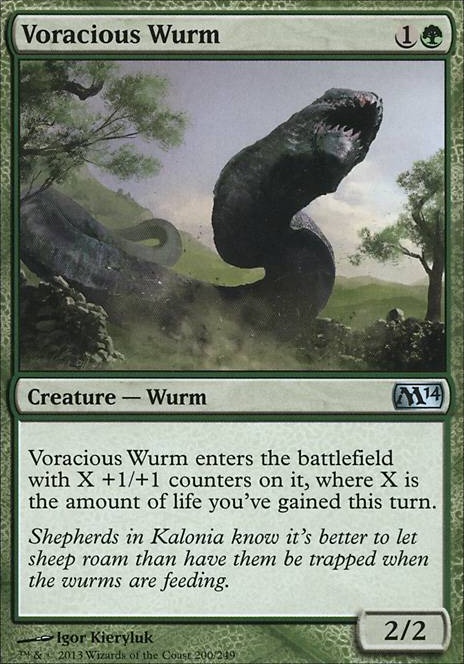 Legality
| | |
| --- | --- |
| Format | Legality |
| Tiny Leaders | Legal |
| 1v1 Commander | Legal |
| Magic Duels | Legal |
| Canadian Highlander | Legal |
| Vintage | Legal |
| Modern | Legal |
| Penny Dreadful | Legal |
| Custom | Legal |
| Leviathan | Legal |
| Legacy | Legal |
| Duel Commander | Legal |
| Oathbreaker | Legal |
| Unformat | Legal |
| Casual | Legal |
| Commander / EDH | Legal |
Related Questions
Voracious Wurm
Creature — Wurm
Voracious Wurm enters the battlefield with X +1/+1 counters on it, where X is the amount of life you've gained this turn.
Voracious Wurm Discussion
1 month ago
More changed inspired by comments.
If you see anything else that's a good switch let me know, or if you don't agree with something or have a better idea, feel free to comment. Thanks all for the help so far, much appreciated. We'll see how these test out, there is still more I'd like to try in the maybe board
1 month ago
Heck, I'll pitch in. I really enjoy this stuff...
Point 1: Argothian Wurm could probably be cut, unless you feel it's worth experimenting with. A 6/6 trample for 4 CMC is a good deal. If you find he doesn't perform, ditch him.
Point 2: Life gain doesn't seem to be the theme of the deck, so I wouldn't look to keep those cards around for incidental life gain. I'd say 90% of the time, Voracious Wurm is going to be a 2/2 do-nothing for you. Mana dork would be better, or another mana rock. Pelakka Wurm is still a fatty, though, and you could probably keep it. Mayael's Aria is a nice alternate win-con, and if you like having alternate win-cons, then it's worth keeping. If it gets blown off the board all the time, then at least you're sucking resources. Cut at your own discretion.
Point 3: Saltskitter . I don't see an issue with keeping it. It's cute, but not useless, and you need something in the 4 drop slots.
Point 4: Naya Charm . Modal spells are always nice, and although one of the modes might not be as useful, you never know when you might have to trip up a token army. Clearing a path for combat is always good, and Regrowth or or Eternal Witness are always good cards; this one is at instant speed. Worth running, I think. What I would consider is replacing Swords to Plowshares with Generous Gift . More flexibility.
Point 5: Lurking Predators could probably be cut and not be missed. Helps with your commander isn't on the field, but is replaceable.
Point 6: Mayael's Aria - see above.
Point 7: The Planeswalkers: I'm mixed on the inclusion of Planeswalkers. What I do is evaluate the + and - abilities. You've done that pretty well with Garruk. He can at least protect himself with beasts, and at worst, he's another copy of Rishkar's Expertise for you, which isn't bad. He's worth keeping. I'm not as sold on Vivien. First turn, she either gets you a land (because you usually want to keep the creatures in the library), or is a Beast Within for 5 CMC. Not a good trade in my mind. Her ultimate is great, but if your group let's you ultimate her, then they're a bunch of idiots.
Point 8: The creature droppers. Like you mentioned earlier, you're going to end up with creatures in your hand, whether you want to or not. These will help you drop them at the end of an opponent's turn, providing pseudo-haste, which is not bad, and gets around counter spells for the most part. The Piper is the best of the bunch as far as cost goes, but fragile because it's a creature. If I was going to cut one, I'd probably cut Quicksilver Amulet in this deck.
Hope that all helps, and I look forward to seeing other opinions, too.
1 month ago
Made some changes based on your suggestions, let me know what you think. Longish read condensed.
Argothian Wurm : Early game goodness, late game could slow us down facing certain decks that can abuse lands.
Voracious Wurm : Pelakka Wurm and Mayael's Aria are our only instances of lifegain in the deck now (thought there was more) it is however the cheapest wurm in the deck. Replace with dork, or keep?
Saltskitter : Triggers Gruul Ragebeast , Elemental Bond , and Warstorm Surge potentially every turn. Too cute?
Naya's Charm: I have mixed feelings about. 3dmg to creature only feels like a waste. Returning a card from the yard could prove useful if commander tax adds up. Lastly and most used is clearing a path to swing. Should this slot be filled with a better removal spell, or is there worth I'm missing here?
Lurking Predators : Our new commander has a similar ability that's less annoying. Also its not a 'May' trigger so we could potentially be forced into casting our deck into a wipe.
Mayael's Aria : There's no other counter synergy in the deck, but bigger is always better. Surprise wincon? Slot in something better?
Garruk, Primal Hunter vs Vivien Reid : One or both? Garruk protects himself on the ground, draws cards, and makes a mess of Wurms. Vivian finds critters, destroys flyers (glaring weakness in the deck), and an emblem to boost our field. Both technically have the same turn clock to go off except Garruk can be used as a 5cmc one shot draw spell, whereas vivian can minus and have points remaining.
Something else I've been mulling over is what to replace these last 2/3 with... as they are no longer as useful, at least not all of them. Piper may have a use to stay being: a) it's a creature that can be egged, and b) with a haste enabler out it can be 5cmc for 2 creatures.
Belbe's Portal : 8cmc(5/t:3) investment for 1 creature limited to type.
Quicksilver Amulet : 8cmc (4/t:4) investment for 1 creature
Elvish Piper : still may have it's uses. 5cmc (4/t:1) investment, haste enabler preferred prior to casting.
1 year ago
Cool deck! It looks promising! Some advice though:
Lifegain decks are comprised of two main parts - the lifegain cards and the payoff cards. Now, the payoff cards determine what lifegain cards you want to use. For example:
Ajani's Pridemate works great with lots of small lifegains, while Voracious Wurm wants you to gain as much life as possible at once.
The two are not really compatible, so choose aa path and stick to it.
1 year ago
Wow, your list is pretty much beat-for-beat how I would like to run a Trostani deck! So as far as adds go, there aren't any that immediately come to mind aside from maybe Test of Endurance, Oracle of Mul Daya, Swiftfoot Boots, and Lightning Greaves. Especially the last two since you have so many cards that require attacking (Myraid cards, Wingmate Roc, Giant Adephage, Wayfaring Temple, Sun Titan) and cards that require tapping to activate (Trostani, Rhys & Oviya). Not to mention you don't want a massive token just sitting around without protection; swing with it right away AND give it hexproof/shroud!
Cuts, on the other hand, I have a couple of suggestions for. Since your deck (and Trostani decks in general) are much better at going tall than going wide, I'd probably recommend cutting some of the "go-wide" cards. Essence Warden, Soul Warden, and Soul's Attendant are good low drops and good at gaining life but aside from cards like Storm Herd I don't see us gaining a lot of life in this deck from these cards. If they're mostly in here because of the low mana cost I'd recommend the cheap mana dorks like Birds of Paradise, Elvish Mystic and Llanowar Elves instead to help you reach your big cards quicker.
Roar of the Wurm, Wurmcalling, and Slime Molding I'm torn on. They seem a bit too mana intensive for what you're getting but they do scale with the game (aside from Roar of the Wurm).
Voracious Wurm seems kind of "win-more" since you need to have gained a considerable amount of life (probably from playing a big token already) before you want to play it. However it is only 2 mana so it probably wouldn't hurt to keep it in.
Celestial Convergence has always been removed before the last counter is taken off in every game I've played.
Cradle of Vitality is kind of like Voracious Wurm in regards to how you're only getting value from the card if you've already played something big. Could be worth it, but if you have a 10/10 on the board, would a 20/20 help you that much more?
Wingmate Roc doesn't seem like it's impactful enough for the mana cost.
Hopefully some of these help! In short I think since your curve is pretty high you should work on either reducing some of the higher CMC cards (but a lot of those are your win conditions or good token generators, so maybe not) or increasing the amounts of ramp in the deck. Good luck! Digging it so far.
1 year ago
Voracious Wurm seems like fun here. Especially with life goes on, heroes reunion and feed the clan.
1 year ago
SharpInclude Yeah, I saw that too and considering it. I feel like it would go well with Brindle Boar as well.
Load more
No data for this card yet.