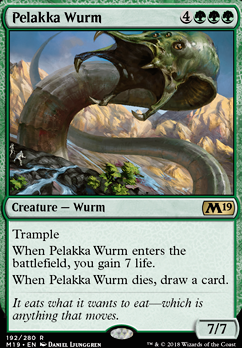 Pelakka Wurm
Creature — Wurm
Trample
When Pelakka Wurm enters the battlefield, you gain 7 life.
When Pelakka Wurm is put into a graveyard from the battlefield, draw a card.
Browse Alters
Trade
Legality
| | |
| --- | --- |
| Format | Legality |
| 1v1 Commander | Legal |
| Arena | Legal |
| Block Constructed | Legal |
| Canadian Highlander | Legal |
| Commander / EDH | Legal |
| Duel Commander | Legal |
| Gladiator | Legal |
| Highlander | Legal |
| Historic | Legal |
| Legacy | Legal |
| Leviathan | Legal |
| Limited | Legal |
| Modern | Legal |
| Oathbreaker | Legal |
| Pioneer | Legal |
| Unformat | Legal |
| Vintage | Legal |
| Casual | Legal |
| Custom | Legal |
| Quest Magic | Legal |
Rules Q&A
Latest Decks as Commander
Pelakka Wurm Discussion
2 months ago
Hey Walrighti, +1!
Congrats on your first deck! You have a lot of fun cards in here and it looks great! I imagine you want to tune and make it even more efficient so here are some ideas...
Add 3 categories: #Combo, #Lifegain, and #Evasion; and then sort your maybeboard the same way you've done your mainboard to easily rank your choices within a category (By "combo" I mean all your "if-then" cards like Trudge Garden that are slower and don't work by themselves). Remove #Creatures (most of them are #Combo).
Avoid most cards above 4 cmc... Willowdusk is fast and fragile, so play into that... Also, prioritize cards that can do 2 or more things or that give value on ETB... If you have pet cards that don't really fit and that hurt to cut, put them in a "I'll build that theme later" list.
...Always play at least 10 ramp spells under 3 cmc.
...Playtest and make sure Willowbark consistently makes a fatty (with evasion) before turn 6-7.
Here's another Willowdusk thread.
Happy building :)
5 months ago
Thank you for your troubles, but this is a straw man, TriusMalarky. If we apply that to my deck, I wouldn't be running those cards except for all of the lotus field cards minus the Sylvan Scrying and Pelakka Wurm , and I would be using Wishclaw Talisman and Skybind . You're basically making a false picture of why my deck doesn't work based on what these already defined decks do. And what I meant wasn't run me through how other wishclaw/skybind decks or lotus field decks work, but rather a step-by-step idea of how my deck wouldn't or would work.
5 months ago
Lotus Ramp Example List:
Example curve:
t1 land, Elvish Reclaimer

t2 land, sylvan scrying

t3 land, Kiora

t4 use Reclaimer to jam Lotus, untap lotus with Kiora, Pore over the pages and Vizer to sift through your deck a bunch of times until you can jam Pelakka wurm.
That is, of course, a rough draft.
Wishclaw Blink exmaple deck:
Plus some stuff, get to 80 cards, add Yorion in SB as companion, eventually win with token flood.
I want you to look at those too first-draft fairly optimized decks. Take a really good look. I want you to count the number of cards that are in both decks.
Now, I want you to do this exercise: guess how many cards in the lotus ramp deck can go in the wishclaw deck, and how many cards from the wishclaw deck can go in the lotus ramp deck.
Tell me your answer, and we'll see if you're right.
1 year ago
I highly reccomend avoiding expensive cards for first decks- if you are going to spend >$5 on a card, you want to be picking up a card that fits into lots of decks as a format staple (for green, stuff like Birds of Paradise). A lot of cards are expensive because there isn't enough supply for a format (in whiptongue's case, commander), rather than them being the best options. There are diminishing returns on copies of legendary creatures too, and no shortage of inexpensive cards that never quite made the cut into modern that are super fun. Old standard staples are frequently <$0.30
If there are hydras you want to spend money one anyway, pick up one and run tutors like Uncage the Menagerie.
If you get bored, start messing around with synergies; a lot of 5/6/7 drops are playable in a green ramp shell like this- some will perform outstandingly, and others can sit it out with minor cost.
In terms of fighting fliers, Grappling Sundew, Wall of Tanglecord or Traproot Kami offer a delay, there is a lot of cheap spot removal like Aerial Volley, multiplayer options like Clip Wings, sweepers like Corrosive Gale/Hurricane/Skyreaping, options to turn flying into a downside like Bower Passage/Dense Canopy, utility answers like Crushing Canopy and Crushing Vines, 'total shutdown' effects like Elvish Skysweeper, Scattershot Archer or Gravity Well.
Then there are options like a 'fight' subtheme using your own fliers- allowing for answers to more than just flying Foe-Razer Regent is a lot of fun, Frontier Siege is cute, Kraul Harpooner has seen competitive modern play in sideboards.
I really reccomend packing in one answer and a couple of planned search effects- knowing that Uncage the Menagerie can get you a Vastwood Hydra/Overgrown Battlement/Kraul Harpooner makes it decent when you only have a few options, while it encourages a relaxed and varied decklist.
Feed the clan sees great sideboard play for a reason- its a good card when facing lightning bolt effects, but if they have repeatable damage it starts looking lackluster. I'd look at creatures with lifegain stapled on- Gilded Goose will be rotating soon, and so should get cheap and remain somewhat relevant in that neiche, while cards like Healer of the Glade, Pelakka Wurm or Oracle of Nectars do the thing in the meantime.
Finally, the 'I'm optimising a deck' thing- with 24 basic lands you can swap for 2-3 utility lands. There are budget cards that fix major problems without competing for slots; Emergence Zone against counterspells, Labyrinth of Skophos/Mystifying Maze to Fog attackers, small-scale lifegain like Sapseep Forest/Glimmerpost/Radiant Fountain, card advantage like Memorial to Unity, manlands like Treetop Village or threats like Rogue's Passage.
The reason deckbuilding in casual magic is so fun is that there is rarely a 'right' answer- there are about twenty ways to solve any problem, and its more about which one you enjoy more than what exactly you pick. I had a deck which aimed to use Gutter Grime with Brindle Boar and Gristleback for a while and it did great. Look around, don't worry too much about optimising and have fun.
1 year ago
It feels ok, with the potential to be good. It just feels a bit clunky at trying to cast bigger spells reliably. You could also run Incubation / Incongruity to get a second card filtering option if you want to rely on bigger spells, but honestly just playing more 1 drops and trying to win before card advantage becomes a huge problem will do a lot.
In terms of draw spells, Camaraderie is cool, but its a six drop in a deck that is trying to cheat on mana. If you have five creatures on the battlefield, you can represent lethal with +3/+3. Expedition wants five permanents total, which is fine when you are looking at casting Pelakka Wurm and are running other ramp, but is a differently shaped deck- something looking at Song of Freyalise and less convoke creatures.
In card advantage, some things like Driven / Despair or leaning more into Venerated Loxodon with Oath of Ajani / Inspiring Call or just casting Return of the Wildspeaker or Shamanic Revelation will probably draw more cards, while offering a little insurance against a board-wipe by being faster.
1 year ago
Heck, I'll pitch in. I really enjoy this stuff...
Point 1: Argothian Wurm could probably be cut, unless you feel it's worth experimenting with. A 6/6 trample for 4 CMC is a good deal. If you find he doesn't perform, ditch him.
Point 2: Life gain doesn't seem to be the theme of the deck, so I wouldn't look to keep those cards around for incidental life gain. I'd say 90% of the time, Voracious Wurm is going to be a 2/2 do-nothing for you. Mana dork would be better, or another mana rock. Pelakka Wurm is still a fatty, though, and you could probably keep it. Mayael's Aria is a nice alternate win-con, and if you like having alternate win-cons, then it's worth keeping. If it gets blown off the board all the time, then at least you're sucking resources. Cut at your own discretion.
Point 3: Saltskitter . I don't see an issue with keeping it. It's cute, but not useless, and you need something in the 4 drop slots.
Point 4: Naya Charm . Modal spells are always nice, and although one of the modes might not be as useful, you never know when you might have to trip up a token army. Clearing a path for combat is always good, and Regrowth or or Eternal Witness are always good cards; this one is at instant speed. Worth running, I think. What I would consider is replacing Swords to Plowshares with Generous Gift . More flexibility.
Point 5: Lurking Predators could probably be cut and not be missed. Helps with your commander isn't on the field, but is replaceable.
Point 6: Mayael's Aria - see above.
Point 7: The Planeswalkers: I'm mixed on the inclusion of Planeswalkers. What I do is evaluate the + and - abilities. You've done that pretty well with Garruk. He can at least protect himself with beasts, and at worst, he's another copy of Rishkar's Expertise for you, which isn't bad. He's worth keeping. I'm not as sold on Vivien. First turn, she either gets you a land (because you usually want to keep the creatures in the library), or is a Beast Within for 5 CMC. Not a good trade in my mind. Her ultimate is great, but if your group let's you ultimate her, then they're a bunch of idiots.
Point 8: The creature droppers. Like you mentioned earlier, you're going to end up with creatures in your hand, whether you want to or not. These will help you drop them at the end of an opponent's turn, providing pseudo-haste, which is not bad, and gets around counter spells for the most part. The Piper is the best of the bunch as far as cost goes, but fragile because it's a creature. If I was going to cut one, I'd probably cut Quicksilver Amulet in this deck.
Hope that all helps, and I look forward to seeing other opinions, too.
Load more