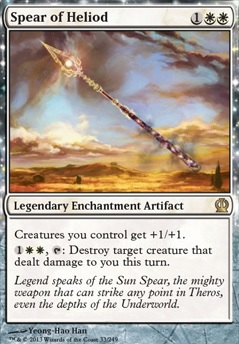 Legality
| | |
| --- | --- |
| Format | Legality |
| Tiny Leaders | Legal |
| Noble | Legal |
| Leviathan | Legal |
| Hero | Legal |
| Magic Duels | Legal |
| Canadian Highlander | Legal |
| Vintage | Legal |
| Modern | Legal |
| Penny Dreadful | Legal |
| MTGO | Legal |
| Vanguard | Legal |
| Legacy | Legal |
| Archenemy | Legal |
| Planechase | Legal |
| 1v1 Commander | Legal |
| Duel Commander | Legal |
| Unformat | Legal |
| Casual | Legal |
| Commander / EDH | Legal |
Spear of Heliod
Legendary Enchantment Artifact
Creatures you control get +1/+1
1WW, T: Destroy target creature that dealt damage to you this turn.
Spear of Heliod Discussion
3 days ago
Team buffs: Agrus Kos, Wojek Veteran , Hero of Bladehold , Angel of Jubilation , Spear of Heliod , Balefire Liege , Hero of Oxid Ridge , Nobilis of War , Ogre Battledriver , Glory of Warfare , Marshal's Anthem .
Singular buffs: Kusari-Gama , Sword of the Animist , Argentum Armor , Sword of Feast and Famine .
Haste & Double Strike: Aurelia, the Warleader , Captain Lannery Storm , Odric, Lunarch Marshal , Hero of Oxid Ridge , Ogre Battledriver , Assemble the Legion , Berserkers' Onslaught , Boros Charm True Conviction .
Double Damage & Extra Attack Phases: Gratuitous Violence , Aurelia, the Warleader , Combat Celebrant , Aggravated Assault .
---
Iroas, God of Victory 's 1st and 2nd abilities, aka Menace ability and suto Dolmen Gate will guide you to victory.
---
+1 Upvote
Like what you see, +1.
don't like what you see ? Check out my other deck Selvala, Explored and Returned with tokens
---
I missed this stuff too: Agrus Kos, Wojek Veteran , Hero of Oxid Ridge , and Hero of Bladehold they all buff my creatures when they attack so giving them extra attack phases to attack again, buffs them again. So its "battle cry x2" from the Hero's, and its +4/+0 form Agrus Kos, Wojek Veteran on the second attack. Angelic Skirmisher also triggers twice. Not only for my extra combat phases, but my opponents as well. you're all going "duhhh" right, but i knew this too. Didn't realize i have been missing these triggers all the time.
As you can see it works when I remove the changes you said you had to do scotchtapedsleeves
4 days ago
Tainted Sigil , Entrapment Maneuver , Secure the Wastes , Accursed Witch Flip maybe.
If your guys ever need to block or anything you can get a toughness booster that will also make them worth more life when you eat them. Dictate of Heliod , Castle , Spear of Heliod
You can't do anything without mana. I would take out cards for 3 more lands and 2 more ramp. Unless you already own it i would take out the most expensive cards because this is a high dollar deck and it really doesn't need to be.
If you want to yell stuff at the table I will GIVE you a cheap card today at Heroes. Do a Yugi-oh impression, stand up and say "You've activated my TRAP CARD". Needlebite Trap . 7 CMC but you can cast it for 1.
If you can tutor for anything you almost can't find a better combo than Tree of Perdition , graveyard recursion and your boss saccing the tree to gain life equal to whatever your target used to have. Diabolic Tutor should be here just because this deck has like 5 combo pieces it could look for.
2 weeks ago
Jpinkman could probably modify the land a bit and use Always Watching or Spear of Heliod also if your looking for anthem effects. I think it's slightly better but harder to cast so possibly not worth it either
3 weeks ago
multimedia Hey thanks for checking out the deck, didn't think you would find it anytime soon haha.
I definitely took your suggestions alongside everyone elses, I can see Fallen Ideal usefulness with flying and the ability varying but I like the idea of Spear of Heliod a bit more due to its 2nd ability and its the same cost but rather white mana. I understand ideal's point as in it comes back to your hand if it came from the battlefield which is an additional counter. I'll play around a bit with Ideal and Spear to see which works a bit better. I guess I like the idea of +1/+1 for everything more than giving one flying with the sacrifice effect. But the useful one is returning it in hand to play it again.
The help with two new lands and ridding of lands like the Guildgate also really helped out, I was stuck on finding a land to replace ones like that with and the ones suggested are a big help.
Otherwise there really isn't anything else that could've been said better for suggestions. Thank you very much :). These new additions and cards to cut looks alot better now. Thanks and really appreciated.
Also let me know if there's other ideas for casting enchantments or if there's anything else you could think of. Thanks again :)
1 month ago
Let me start out by saying this might be the most interesting take on Taigam that I have seen!
I think running a few anthem effects (such as Glorious Anthem or Spear of Heliod ) will help make you token army more impactful. Cathars' Crusade is particularly potent, triggering for each token you produce.
You may want to consider cutting Even the Odds , since it has a casting restriction that is not as easily met as some of your other token producers. A few draw spells (even Divination is fine) can help keep you from falling behind on cards.
Happy brewing!
1 month ago
Check out an enchantment artifact kind of like Whip of Erebos . It's called Spear of Heliod . It also counts towards Daxos' enchantment trigger.
Load more
Spear of Heliod occurrence in decks from the last year
Commander / EDH:
All decks: 0.02%
White: 0.51%