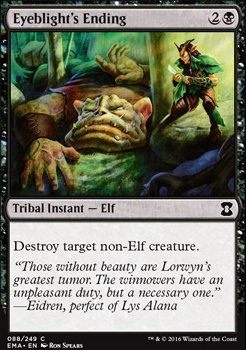 Legality
| | |
| --- | --- |
| Format | Legality |
| Tiny Leaders | Legal |
| Noble | Legal |
| Leviathan | Legal |
| Custom | Legal |
| Magic Duels | Legal |
| Canadian Highlander | Legal |
| Vintage | Legal |
| Modern | Legal |
| Penny Dreadful | Legal |
| Casual | Legal |
| Pauper EDH | Legal |
| Vanguard | Legal |
| Legacy | Legal |
| Archenemy | Legal |
| Planechase | Legal |
| 1v1 Commander | Legal |
| Duel Commander | Legal |
| Oathbreaker | Legal |
| Unformat | Legal |
| Pauper | Legal |
| Commander / EDH | Legal |
Eyeblight's Ending
Tribal Instant — Elf
Destroy target non-Elf creature.
Eyeblight's Ending Discussion
4 months ago
All around, you have a pretty solid deck that's very resilient, but in your post, you wanted to regard it as a cEDH deck. Unfortunately, to qualify it as a cEDH deck perse, you'd have to go more along this route:
Nath of the STAX-Leaf | cEDH | Primer
.
Now, this isn't my attempt to be harsh, just to inform. I had a harsh reality when I, in my head thought that my Teysa deck was cEDH when I was horribly wrong and all I had was a modular/cluttered combo deck.
Your deck is in no way bad, I just believe some people have misconceptions over what cEDH is. What I can do for you without radically changing the deck is give you a better card suggestion for some slots and what that slot is trying to do.
Eyeblight's Ending -> Snuff Out : Free is always better. Also a prevalent motif in cEDH

Blightsoil Druid -> Heart Warden : Same cost this one can draw in a pinch

Phyrexian Arena -> Necropotence : See more of your deck
There's a bunch of other cards I think you should include, but I don't want you to have to revamp your whole deck, so here are my suggestions:
6 months ago
Elves loses a lot of explosiveness without the 1 cmc mana dorks; you really need to play them. Not only do they let you cast your bigger threats earlier, but they also let you flood the board with creatures faster, which works well with your payoffs ( Shaman of the Pack , Poison-Tip Archer , and Dwynen, Gilt-Leaf Daen benefit from large boards, Lys Alana Huntmaster benefits from having lots of mana to cast creatures).
Llanowar Elves , Elvish Mystic , and Elves of Deep Shadow (to help out the black splash) are all inexpensive. I'd cut a mixture of Eyeblight's Ending , Prowess of the Fair , and Gilt-Leaf Ambush to make room for at least 10 of those cards. You can even cut 2 or 3 lands if you have 12 or so mana dorks--competitive Elves decks play 18 lands and still make enough mana to cast their entire hand by turn 3. I'd also recommend you play Elvish Visionary ; like Silvergill Adept in Merfolk, it's one of the cards that keeps the fuel pumping and is just really good in general.
1 year ago
Cuts: Costly Plunder, Cower in Fear, Disenchant, Lapse of Certainty, Angelic Purge, Chainer's Edict, Choking Sands, Duress, Dust to Dust, Hymn to Tourach, Nausea, Rancid Earth, Shrivel, Soul Reap, Unearth, Armillary Sphere, Commander's Sphere, Darksteel Ingot, Orzhov Cluestone, Wayfarer's Bauble, Alloy Myr, Pilgrim's Eye, Ash Barrens, 3x Swamp.
Adds: Forsake the Worldly, Palace Sentinels, Eyeblight's Ending, Merciless Resolve, Murder, Pestilence, Rend Flesh, Sign in Blood, Drifting Meadow, Forsaken Sanctuary, Orzhov Guildgate, Path of Ancestry, Polluted Mire, Evolving Wilds, Gold Myr, Guardian Idol, Prismatic Lens, Ethereal Armor, Auramancer, Monk Idealist, Eland Umbra.
If you'd like to ask questions please hop on over to the PDH Homebase Discord server. Invite link: https://discord.gg/bePqVJ8
1 year ago
For the sake of saving words I'm just going to list my cuts and my adds. Then feel free to ask any questions.
Cuts: Esper Panorama, Haunted Fengraf, Rupture Spire, Transguild Promenade, Doom Blade, Invoke the Divine, Renewed Faith, Revitalize, Snuff Out, Undying Evil, Angelic Edict, Solemn Offering, Syphon Mind, Urborg Uprising, Soul Link, Guardian of the Guildpact, Kor Cartographer, Commander's Sphere, Orzhov Cluestone, Seer's Lantern, Vampire Envoy, Unhallowed Pact, Painful Lesson, Live Fast, Wayfarer's Bauble, Gray Merchant of Asphodel
Adds: Forsaken Sanctuary, Polluted Mire, Drifting Meadow, Whispersilk Cloak, Thorn of the Black Rose, Palace Sentinels, Chill to the Bone, Eyeblight's Ending, Rend Flesh, Merciless Resolve, Disturbed Burial, Grim Harvest, Afterlife, Forsake the Worldly, Journey to Nowhere, Fountain of Youth, Luxa River Shrine, Marble Chalice, Pious Kitsune, Stone Haven Medic, Tanglebloom, Fellwar Stone, Prismatic Lens, Gold Myr, Leaden Myr, Guardian Idol
1 year ago
Ti consiglio di togliere:
In ogni caso, ti suggerirei di avere 2/3 boardwipe nel mazzo, gestisciteli tu. In un mono-nero, non posso che consigliarti vivamente Mutilate, oppure anche In Garruk's Wake. Due tizi fighi che spazzano solo le cose degli altri, a proposito, anche se non sono vampiri, sono Dread Cacodemon e Reiver Demon.
Hai tanti single target removal, tipo 10-11 (contando anche Hex, Dregs of Sorrow...). Valuta tu se magari tagliarne 2/3 e mettere qualche vampiro in più, come Twilight Prophet, Champion of Dusk, Mirri the Cursed, Drana, Liberator of Malakir, Necropolis Regent o Defiant Bloodlord.
La tua mana base è un po' fatta di corsa, valuta sostituire qualche Swamp con delle utility lands come: Barren Moor, Mortuary Mire, Bojuka Bog, Myriad Landscape, Crypt of Agadeem, Cabal Stronghold. Se ti va, c'è sempre la combo Dark Depths + Vampire Hexmage.
Aggiungendo carte come Caged Sun, Nirkana Revenant e le terre che fanno tanto mana, insieme ad Extraplanar Lens, potresti valutare anche l'inclusione di Exsanguinate come alternative win condition.
1 year ago
I'm not a huge fan of one-use single-target discard, especially stuff that's very conditional like Pulling Teeth (probably like a 50% chance to do nothing), or stuff like Necrogen Spellbomb (needs some kind of artifact recursion engine to be powerful).
In addition, I feel like a couple of your card choices have much better versions that you could run. Withstand Death feels much worse than Heroic Intervention, and the 1 mana difference is not all that significant. Eyeblight's Ending, while very flavorful, is a 3-cmc kill spell and there are quite a lot of powerful elves you'll want to be killing. Doom Blade, Murderous Cut or Hero's Downfall feel like much better options.
Finally, you're missing the best mana elf of them all: Priest of Titania. A 2-cmc dork that taps for tons of mana is incredibly powerful, and with a 5-cmc commander, you'll want every bit of powerful ramp available to make sure you can keep casting him and making hordes of elves.
1 year ago
What do you think about Nameless Inversion or Eyeblight's Ending for removals? They may not be as efficient as the ones listed, but they add an extra type for your Delirium count
Load more
No data for this card yet.