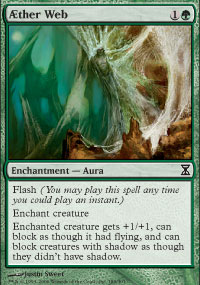 Legality
| | |
| --- | --- |
| Format | Legality |
| Tiny Leaders | Legal |
| Noble | Legal |
| Leviathan | Legal |
| Custom | Legal |
| Magic Duels | Legal |
| Canadian Highlander | Legal |
| Vintage | Legal |
| Modern | Legal |
| Casual | Legal |
| Pauper EDH | Legal |
| Vanguard | Legal |
| Legacy | Legal |
| Archenemy | Legal |
| Planechase | Legal |
| 1v1 Commander | Legal |
| Duel Commander | Legal |
| Oathbreaker | Legal |
| Unformat | Legal |
| Pauper | Legal |
| Commander / EDH | Legal |
AEther Web
Enchantment — Aura
Flash (You may cast this spell any time you could cast an instant.)
Enchant creature
Enchanted creature gets +1/+1, has reach, and can block creatures with shadow as though they didn't have shadow. (Creatures with reach can block creatures with flying.)
AEther Web Discussion
1 year ago
AEther Web is a modern legal version of spider climb. If you're not worried about casting at instant speed to catch someone out, Web is less mana.
But i've typically always ran Spidersilk Net when in desperate need of reach, as it stays in play even when the creature dies - which makes it much stronger than the fragile enchants!
1 year ago
Glad I could help. I know underdog Decks are more fun to build. Sometimes you find something that hits really hard with something nobody tought about.
Somemore feedback regarding the last changes:Maybe you should go in for one non Arcane Spell that destroys all enchantments like Multani's Decree, Reverent Silence or Tranquility because Bogles are hard to defeat if you don't play counter spells or a Diabolic Edict-like effect.Sandstorm works well against Goblins so that is good as a sideboard (and sometimes against Faeries) while Squall works well against faeries.Nihil Spellbomb is a good card but you will never draw a card of it which makes a uncounterable "exil graveyard" more appealing. Bojuka Bog can work the same purpose but it can't be countered and it can be put into your hand using Elder Pine of Jukai
Oh and I found a nice Aura you could use instead of Leafcrown Dryad: AEther Web. Altough it won't be put into your hand with Lead the Stampede. It also grants reach, only gives +1/+1 but has two advantages:1st it adds another instat speed interaction like oh you want to bolt my Phantom Tiger? To bad I have this. And maybe you get to kill another attacker with it. 2nd blocking creatures with shadow can be a big deal against some combos.
In between I have two Modern Decks build around some Kamigaw Kamis :DOne is listed here Foretold Celestial Wrath (should be at least tier 2 altough it only uses 10 Kamigawa cards in main and 5 in sideboard) the other is a little more casual but works sometimes (about Tier 2.5) because of the green ramp kamis, which is why I'd never say aything against Elder Pine of Jukai or Petalmane Baku I just know how good those two ramp especially with the non pauper legal Loam Dweller.
Oh and I also made a Pauper Arcane Deck maybe you liketo check it out Arcane Dredge Burn. Too bad there aren't more arcane spells like Ideas Unbound.
No data for this card yet.