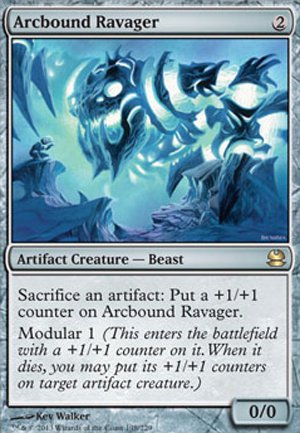 Arcbound Ravager
Artifact Creature — Beast
Sacrifice an artifact: Put a +1/+1 counter on Arcbound Ravager.
Modular 1 (This enters the battlefield with a +1/+1 counter on it. When it's put into a graveyard, you may put its +1/+1 counters on target artifact creature.)
Latest Decks as Commander
Arcbound Ravager Discussion
1 week ago
I think I would more or less do the same with the commanders you have laid out so I don't have much to offer there. Instead here are some deck ideas I have planned/currently working on:
Adamaro, First to Desire: Mono-Red group hug
Barrin, Master Wizard: Modular-control deck (Arcbound Ravager)
Firesong and Sunspeaker: Angel Spellslinging
Daughter of Autumn: Damage Redirection Deck (Pariah/Vigor)
General Jarkeld: Block everything! (Hundred-Handed One)
Kentaro, the Smiling Cat: No plains in the deck, maybe cat tribal
Baru, Fist of Krosa | Korlash, Heir to Blackblade: Utilize grandeur
Korvold, Fae-Cursed King: Food token and Stuffy Doll with Gyome, Master Chef and Asmoranomardicadaistinaculdacar as the secret commanders.
Kogla, the Titan Ape: King Kong theme (2005 Peter Jackson)
Yidaro, Wandering Monster: Battle Cruiser (Unpredictable Cyclone/Sneak Attack)
Any tribal deck because tribal is my favorite
3 weeks ago
Sorry I haven't been on to respond in a while. I've been busy with work and haven't been playing much as my LGS still hasn't opened tables up to Magic players. I may not know much about some of these new cards, but I'll still offer some advice on running artifacts in EDH. (Most of my experience is with Sydri, Galvanic Genius in A Pile of Cans so feel free to check that out.) First, I'd try to narrow down to a particular approach to build around. Osgir, the Reconstructor offers a range of options in this regard. Then, you can make swaps for cards that synergize more with that chosen approach.
One option I see is running as many low-cmc artifacts as possible to minimize how much you have to spend on your commander's activated ability. The best bet for this might be the new modular cards. They have small bodies that can be buffed by Osgir after combat and give extra benefits on being killed off themselves. Bonus points if you can afford Arcbound Ravager. Modular is not actually a triggered ETB so you can't get more benefit from Panharmonicon, but I'll touch on that more later. Other options include Bomat Courier, Epochrasite, Gingerbrute, and Sorcerer's Broom. Making lots of token creatures makes a go-wide plan with Steel Overseer, Chief of the Foundry, Signal Pest, and the like more viable. Anything else that produces thopters or servos fits too. Untapping Osgir is probably more mana efficient than copying his ability with this approach.
The exact opposite gameplan is also possible. Run plenty of ramp artifacts like Basalt Monolith, Thran Dynamo, Blinkmoth Urn, and Hedron Archive to play and duplicate overwhelming threats. Darksteel Forge, Soul of New Phyrexia, Platinum Angel, Platinum Emperion, Spine of Ish Sah, Bosh, Iron Golem, Phyrexian Triniform, and Summoning Station are the first options I can think of. Unfortunately, such cards do tend to be less budget friendly. I think it would also be worth distinguishing between a plan using death and entry triggers and one using taps and untaps. The former is where Panharmonicon comes back into play along with Mirrorworks, Prototype Portal, and the refurbish-ers like Goblin Welder. The latter is where Unwinding Clock is king along with its little brothers Clock of Omens, Voltaic Construct, and Voltaic Key. (Both choices can also apply to a more aggressive approach of course.) Here, copying Osgir's ability is likely to be more efficient than untapping him.
Some other artifacts I'm a fan of that are always useful are Mirage Mirror, Kuldotha Forgemaster, and Scourglass. Let me know if you have any questions and I'll try to get back as soon as I'm able. I apologize in advance if that means a few days.
1 month ago
This list feels close, but the lack of artifact sacrifice is a little awkward. If I'm going at a slower pace I kind of want Goblin Engineer to set up emry interactions with artifact tokens, or to try and become full blown Inkwell Leviathan/Sundering Titan reanimator.
If I were to tweak the list as little as possible, I think I'd just jam in Arcbound Ravager + Zabaz, the Glimmerwasp + Power Depot and call it a day. Lands, spent shriekhorns etc becoming counters on a creature is just too good to pass up.
3 months ago
I understand you want to keep the deck budget, but Arcbound Ravager is responsible for like 80% of the power of normal modular decks (and also 80% of the price ._.). Without Ravager, I think you definitely need more sacrifice outlets because only 2 Throne of Geth s plus 4 overcosted Lightning Helix es probably won't cut it. I'd probably add more Thrones, but only one use per turn is a pretty big disadvantage. I was also going to suggest Scrapyard Recombiner but you don't really have any good constructs to tutor... (aka hangarback/ballista) so honestly I don't know. Maybe you could try 3x Throne.
3 months ago
ThisIsMyAccount gotta disagree on the "too many legendary" thing. Scales wants as many copies of The Ozolith (& Hardened Scales ) that it can run, cause we want at least one of these out turn 1 so our deck can function - running 4 copies of The Ozolith is great for us as it gives us less dead draws.
I don't think running multiple copies of Zabaz, the Glimmerwasp hurts us either, the second one just effectively adds at minimum 2 counters to the boardstate. Also remember the deck thrives off being able to sacrifice our own stuff to Throne of Geth and Arcbound Ravager .
I don't think the deck wants Lodestone Golem in it at all either. 4 mana is steep, and against the decks this effect would usually aim to stop (storm, burn etc), its already too late. Not to mention, Hardened Scales decks should be aiming to win by the time they have 4 mana, not playing this stuff
5 months ago
You might like these: Cauldron of Souls , Scrapyard Recombiner , Mindless Automaton , Etched Oracle , Crystalline Crawler , Steel Overseer , Dross Scorpion , Arcbound Reclaimer , Arcbound Ravager , Enduring Renewal , Cloudstone Curio , Ancestral Statue , Altar of the Brood , Glimpse of Nature , Primeval Bounty , Sporeback Troll
Load more