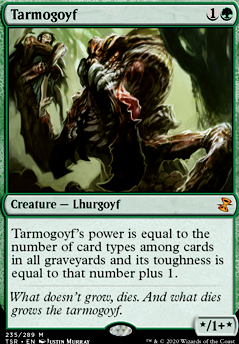 Tarmogoyf
Creature — Lhurgoyf
Tarmogoyf's power is equal to the number of card types among cards in all graveyards and its toughness is equal to that number plus 1. (The card types are artifact, creature, enchantment, instant, land, phenomenon, plane, planeswalker, scheme, sorcery, tribal, and vanguard.)
Browse Alters
Trade
Legality
| | |
| --- | --- |
| Format | Legality |
| 1v1 Commander | Legal |
| Block Constructed | Legal |
| Canadian Highlander | Legal |
| Commander / EDH | Legal |
| Duel Commander | Legal |
| Highlander | Legal |
| Legacy | Legal |
| Leviathan | Legal |
| Limited | Legal |
| Modern | Legal |
| Oathbreaker | Legal |
| Tiny Leaders | Legal |
| Unformat | Legal |
| Vintage | Legal |
| Casual | Legal |
| Custom | Legal |
| Quest Magic | Legal |
Latest Decks as Commander
Tarmogoyf Discussion
1 day ago
I used to play -Eldrazi Stompy in Legacy 3-5 years ago, before switching to EDH due the LGS where I had moved to having a large EDH community (pre-lockdowns). However, I'm currently in a position where I might be able to play some Legacy events in the near-future, and I want to update my deck accordingly. But I think it's worth briefly noting the developmental-chain that led to the current decklist that I own..
Ironically enough, this deck was originally based on a "budget" Vintage list from The Mana Source (watch it to have a chuckle over how much less the Reserve List cards used to be). My original list was extremely close to this, except invert the 1:4 ratio of Chalice of the Void / Null Rod , and I (originally) ran Simian Spirit Guide ..
---

Legacy Metroid_Hybrid
SCORE: 13 | 13 COMMENTS | 3485 VIEWS | IN 7 FOLDERS
---
1 month ago
The main exception is if they specifically talk about the card being in a different zone.
The other major exception is Characteristic-Defining Abilities, such as Changeling, Devoid, or effects like Tarmogoyf .
2 months ago
From your current sideboard i would only keep the 3x Feed the Swarm - its a great card for creature AND enchantment matchups.



Seeing that you run Agadeem's Awakening  Flip i would surely play some creature based hate cards.
- 2x Blight Beetle - hates out heliod, humans & hardened scales & decent blicker against green fatties like Tarmogoyf , Elder Gargaroth , Tireless Tracker ... etc.
- 2x Yixlid Jailer - good grave hate
- 2x Plague Engineer - against tribal, tokens (and bloodghast)

For the rest 6x slots i would play:
- 2x Ashiok, Dream Render - good against grave decks,tutor decks (tron to a degree, titan, heliod, STORM ...etc.)
- 2x Bontu's Last Reckoning - fastes boardwipe in the format, you should only need languish in situations where you give up your board for better topdecking - in such situations, the drawback is minimal, while the cmc 3 means you can play it in time (for example even if you fail to hit land drops, or thalia is on the field ...etc.)
- 2x Damping Sphere - decent against storm, tron, izzet blitz, and the now OMNIPRESENT boros blitz.


In your maindeck you can do much better.
Viscera Seer is very underwhelming if you only have bloodghast to go with it - i would repkace them with 1x more fatal push, 1x targeted discard & 1x Vampire of the Dire Moon / Vampire Cutthroat / Shadow Alley Denizen (latter gives evasion).
And for now maindeckable lifegain is king, so contemplate running a number of Feast of Blood or Collective Brutality (i recommend the former, as its harder to partially fizzle with prowess & less punishing when countered)
And sincyou are monoblack you can affor to run decent black utility lands. Ghost Quarter & Field of Ruin is a must in some number. Castle Locthwain is great in topdeck wars.
And since you run fetches, i woul advise getting 1-2 Witch's Cottage for more recursion.



So for sideboard:
- 3x Feed the Swarm
- 2x Blight Beetle
- 2x Yixlid Jailer
- 2x Plague Engineer
- 2x Ashiok, Dream Render
- 2x Damping Sphere
- 2x Bontu's Last Reckoning
2 months ago
Updating because he got a Sliver Legion .
I'm doing these trades on behalf of my buddy. He's trying to build a Sliver edh deck. He has a commander now so he's looking for the rest of the cards for the deck. Lmk if you have any you want to trade and are interested in any of his cards. I'll update this with specific cards he wants as he builds the list. Right now he wants a Sliver Hive .
He has these cards for trade:
Lmk if we can't work out a deal, he's been playing for a long time and has always wanted to build a Sliver deck.
3 months ago
legendofa - One slight correction to your above, Supertypes do not have subtypes - only regular Types do.
Tribal is a regular Type, not a Supertype - it would not function otherwise. That's also why Tribal boosts Tarmogoyf .
7 months ago
Some points off of abby315's post: In Magic, most competitive decks in most formats interact with the Graveyard in some way. Lack of Graveyard interaction typically means you're a Tribal deck or some other green-heavy creature deck. Those decks work, don't get me wrong, but creature heavy, typically either Stompy or Tribal, and occasionally Zoo lists, are among the few 'yardless strats.
And it's not in huge ways -- Tarmogoyf is all a deck needs to join the graveyard strategy dogpile. The thing is that the 'yard is so good that many decks can gain marginal benefits without having to go all in.
Thus, in incidental graveyard hate should be worth it. Cards like General Kudro of Drannith and Anafenza, the Foremost are good in Humans decks due to their Human types and their ability to hate out yards.
As someone running a yard strategy, you will be easily beaten in games 2-3. Everyone who is any good has graveyard hate in the sideboard.
Just an FYI.
8 months ago
Thank you for your input, all of those considerations have been made and playtested. The Dryad Arbor I'm 50/50 on as it's been good but I've also been burned by summoning sickness. As for Tarmogoyf it's a newer addition as prices have fallen and although it's a 3/4 just from the deck itself every matchup I've had it's been 3/4 or 4/5 but turns 2 and 3 from opponents playing sorceries, sac-able artifacts, etc. For that one it has highly depended on the current meta as it takes 2 to play magic.
With that being said I'm torn on what would replace Tarmo, I'm thinking Pridemage and/or Thalia.
Load more