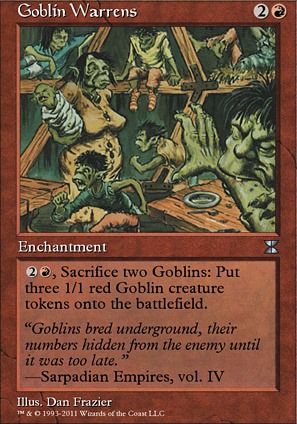 Goblin Warrens
Enchantment
, Sacrifice two Goblins: Put three 1/1 red Goblin creature tokens into play.
Browse Alters
View at Gatherer
Trade
Tokens
Legality
| | |
| --- | --- |
| Format | Legality |
| Leviathan | Legal |
| Unformat | Legal |
| Limited | Legal |
| 2019-10-04 | Legal |
| Commander / EDH | Legal |
| Duel Commander | Legal |
| 1v1 Commander | Legal |
| Oathbreaker | Legal |
| Casual | Legal |
| Vintage | Legal |
| Highlander | Legal |
| Tiny Leaders | Legal |
| Canadian Highlander | Legal |
| Legacy | Legal |
Latest Decks as Commander
Goblin Warrens Discussion
7 months ago
My spoilers in the comment above arnt working for me so im trying something different. "If you want to sift through some cards you can look at each section, but I would recommend just looking at the first grouping to start with, as I went a bit too far with the other lists. Those lists are fine to just look at ideas or "good cards" but there are far too many to call them suggestions.
: The short list
Headtext for first 3 entries. Show
Enters tapped but sac's for free Show
Doesn't enter tapped, cost mana to sac Show
Cards that do similar but arnt lands Show
Adding to the goboi theme Show
Because creature tokens Show
7 months ago
If you want to sift through some cards you can look at each section, but I would recommend just looking at "The short list" to start with, as I went a bit too far with the other lists. Those lists are fine to just look at ideas or "good cards" but there are far too many to call them suggestions.
8 months ago
heavyuser Thanks!
My regular playgroup made a "no two-card infinites" rule (this deck didn't have any so it didn't effect me), but a long time ago when I had a few 3+ card infinite mana combos (mostly built around Mana Echoes ) and a few infinite Goblin generators (Krenko + Thornbite Staff , Goblin Warrens + infinite mana, etc..) I realized I had a lot more fun winning or losing through combat than I did with any of my infinite combos. Especially with Ib as a commander and the path this deck has followed since I started it, I definitely wanted the focus to be on combat shenanigans, even it meant working a lot harder to do win (dealing 120+ damage in a game isn't always easy!), or giving up on a few easy wins out of nowhere.
Personally no infinite I ever cast felt better than a Blasphemous Act + sac outlet win, wiping a table off the back of Repercussion , or going all into a Price of Progress / Acidic Soil combo after saccing all of my lands.
I still like something like Aggravated Assault a lot as it is a nice boost to combat on its own, but if you get the right 10+ cards/creatures on the battlefield it will go infinite in this deck as well. That's the kind of convoluted, hard to follow type of infinite that I like to pull off. Plus, no one really gets butthurt when it takes you 10+ cards to do it!
1 year ago
my only regret is that I have but one upvote to give.
possible suggestions:
Goblinslide - makes tokens for casting non-creature spells
Mirari - cast things again
Goblin Warrens - sac 2, make 3? with etb triggers? seems legit.
Pentavus turns into an etb trigger
Spawning Pit lets you lose only half your tokens to a board wipe, but they come back as 2/2s
Thopter Assembly becomes stupidly good if you can get rid of thopters fast enough.
1 year ago
Not sure what your budget is for this deck, but Coat of Arms and Shared Animosity are great ways to crash with a horde of goblins!
Mana Echoes is a great way to generate lots of mana, potentially just by tapping Krenko! Umbral Mantle is yet another way to untap your general to continue emptying the Goblin Warrens ."
Happy brewing!
1 year ago
one better on Fellwar Stone would be Mind Stone . The difference between them is that fellwar will quite possibly be tapping for, essentially, colourless mana and that's it. Mind Stone , on the other hand, will tap for colourless mana AND can draw you a card if you start to flood. This cannot be done with Fellwar Stone , and since you have 36 lands that add R in some way, you're probably never going to need it to tap for ...
Also, there's a bunch of stuff in the deck that either isn't needed or there's far better substitutes -
Some cards you may want to put in the deck instead would be:
or, for a less budget-friendly approach:
So, most of these cards aren't really that exciting.
Avatar of Fury
is pretty solid, but doesn't really interact with
Purphoros
much, apart from being a creature...
Guttersnipe definitely doen't fit in. You're running 23 spells, and I'd say that you'd need to run closer to 40 spells to consider him.
Young Pyromancer is just in the list because of my own personal thoughts on him, and I don't really think he's that fantastic in a "creature etb" deck like purphoros . He does make tokens, so all your spells essentially have +2 damage to opponents, but again, there are only 23 spells in the deck. If it was something more like Zada, Hedron Grinder , where he relies on going wide with creatures, that's a little different.
Devastating Summons is also kind of dodgy in this deck. You sacrifice some lands for 2 creatures. I'd much rather sacrifice X lands for X creatures .
Now, don't get me wrong. This deck is a burn deck, but normal burn spells, such as Sizzle are not very good. This is commander, where each player gets 40 life. Burning with 3 damage from such effects will take ages, and there's only so many unique ones. You're best off replacing it with something that will further your gamestate, such as kiki-jiki , Panharmonicon or Impact Tremors .
Mass Mutiny is kind of fine. The problem with it is that it's only one creature, when you could take every creature , without targetting. This means that your opponent can't protect their creatures from getting stolen without using countermagic. Also, stated above, Insurrection + Mogg Infestation is an almost guaranteed game-winning play, which can't really be done with just 3 more creatures.
Scour from Existence is unconditional removal that gets past Avacyn , but is really quite expensive - 7 mana to exile a creature. If it really requires this to get rid of it, you've messed something up...
Conjurer's Closet is kind of alright, but it's really not that fantastic. You would be best taking it out for a tutor, such as Goblin Matron , Imperial Recruiter or Gamble . These cards will help you find more stuff, like kiki-jiki , SG Commander or others that will be just as, if not more, effective than whoever is already in play.
Endless Atlas is fine, if you want to pay so much mana just to draw a couple of cards. I use Mind's Eye , which may be more expensive to cast, but it's cheaper to draw, and also can draw more than just 1 card each turn.
Madblind Mountain is interesting, but not necessary. It does let you shuffle your library (for whatever reason), but apart from that, it's just a slowland. You can tutor it up with a panorama, but what does it actually contribute to?
Load more