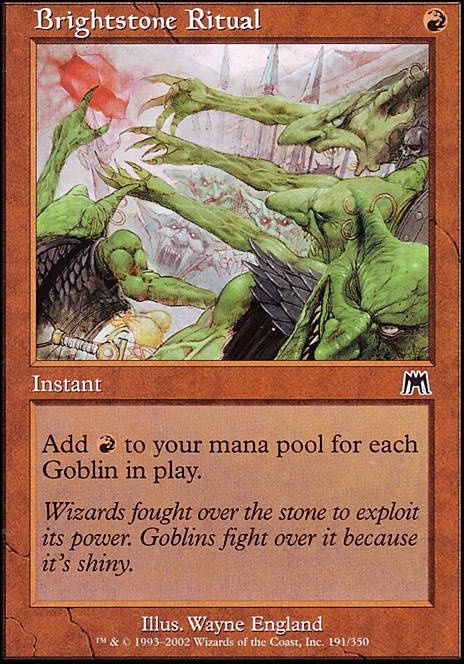 Brightstone Ritual
Instant
Add (Red) to your mana pool for each Goblin in play.
Browse Alters
Trade
Legality
| | |
| --- | --- |
| Format | Legality |
| 1v1 Commander | Legal |
| Canadian Highlander | Legal |
| Commander / EDH | Legal |
| Duel Commander | Legal |
| Highlander | Legal |
| Legacy | Legal |
| Leviathan | Legal |
| Limited | Legal |
| Oathbreaker | Legal |
| Pauper | Legal |
| Pauper EDH | Legal |
| Tiny Leaders | Legal |
| Unformat | Legal |
| Vintage | Legal |
| Casual | Legal |
| Custom | Legal |
| Quest Magic | Legal |
Latest Decks as Commander
Brightstone Ritual Discussion
1 month ago
Hey lobsternips! Thought I'd jump in and give you my take on what you've got going on. Your noncreature spells look fantastic, not much I would take out, but if you can find a way to fit in some creature recursion in Rise of the Dark Realms or Thrilling Encore with your mass creature destruction in dictate or Killing Wave . Also bounce-type effects like Conjurer's Closet could make use of your etb effects, you'd definitely see some usefulness there. The only problem I see with this deck is its SUPER heavy into red, there are some non-red Goblins out there, but you'd basically be playing a Red deck splashing white and black for support. However, Goblins are funny and mean just like Negan.
Hope I helped some, I probably didn't seeing as I gave more inclusion suggestions rather than cuts. If you decide on doing one thing like "Go Wide" or "Go Tall", adjust your cards to reflect that. Aside from that good luck on your deckbuilding!
9 months ago
Interesting to see Isochron Scepter here!
I really love Wort and really liked seeing the increasing power subtheme here
Also, i've found that most times i played i'd rather have an instant response in hand like Wild Ricochet or Reverberate rather than Dualcaster Mage, mostly because of the copying thingy. Also i would say since you already have Valakut Awakening  Flip in here, Bala Ged Recovery  Flip would fit right in, also "doubling" your chances to get a Regrowth in your hand.
i'll list a few cards i think go well with the Scepter in this deck if you don't mind, some of them might not be as budget.
10 months ago
Interesting topic Ramble, I've been meaning to respond for the last day or two but have just been super busy, but let me provide a mana base formula I stumbled on a few years back after noticing a pattern in my deck building - might be something to try out and see if you find similar results, as I find it's very rare to get either flooded or mana screwed using this formula. I'll provide a couple of examples as well - more for the casual-competitive decks, as my cEDH decks don't always follow the formula as rigorously.
The basic formula for mana-producing lands is: Starting base of 30 mana-producing lands, plus additional lands equal to the CMC of your commander, plus additional lands equal to the average CMC of the deck, minus designated values for each mana rock, mana dork, mana spell and draw spell equal to or less than the CMC of the commander.
The first example is for my Zada, Hedron Grinder deck: Yada...Yada...Zada. In this case, the formula is 30 + 4CMC (commander) + 2.28 average CMC, or 36.28. I then subtract designated values for the following cards in the deck: -1.0 for Mana Crypt, -0.5 for Sol Ring (or any other 0 or 1 CMC rock), -0.25 for Thought Vessel (or any other 2 or 3 CMC rock), Battle Hymn, Brightstone Ritual, Traitorous Greed and Dockside Extortionist, and finally -0.10 for each of the draw spells in the deck: Accelerate, Boiling Blood, Crimson Wisps, Expedite, Fists of Flame, Stun and Renegade Tactics for a total reduction of 3.45 and a final value of 32.83 (rounded up to 33).
The second example includes a more aggressive reduction in mana-producing lands based on my Elf tribal Marwyn, the Nurturer deck: Elves Tap and Slap (Marwyn Tribal Counters). The formula here is 30 + 3CMC (commander) + 2.64 average CMC, or 35.64. I then subtract for the following cards: -0.50 for Sol Ring, -0.25 for Elvish Archdruid, Elvish Mystic, Fyndhorn Elves, Gyre Sage, Incubation Druid, Llanowar Elves, Llanowar Visionary, Priest of Titania, Rishkar, Peema Renegade, Selvala, Heart of the Wilds, Viridian Joiner, Wood Elves, Cultivate, Kodama's Reach, Nissa's Pilgrimage, Rhonas's Monument, Gaea's Touch and Growing Rites of Itlimoc  Flip. Finally, I subtract -0.10 for Elvish Visionary, Llanowar Visionary and Inspiring Call for a total reduction of 5.30 and a final value of 30.34 (rounded down to 30).
Although the reduction values could be considered a little arbitrary in certain deck concepts, this formula has held pretty accurate since I started keeping track of it. I hope you find this useful in the future, and happy brewing.
Load more