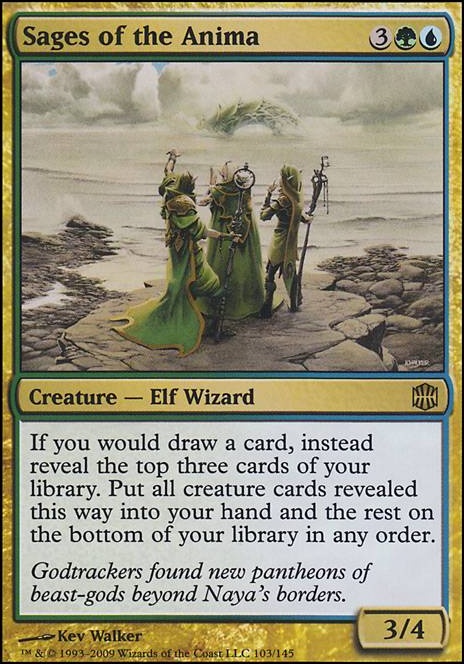 Legality
| | |
| --- | --- |
| Format | Legality |
| Tiny Leaders | Legal |
| Noble | Legal |
| Leviathan | Legal |
| Magic Duels | Legal |
| Canadian Highlander | Legal |
| Vintage | Legal |
| Modern | Legal |
| Penny Dreadful | Legal |
| Custom | Legal |
| Vanguard | Legal |
| Legacy | Legal |
| Archenemy | Legal |
| Planechase | Legal |
| 1v1 Commander | Legal |
| Duel Commander | Legal |
| Oathbreaker | Legal |
| Unformat | Legal |
| Casual | Legal |
| Commander / EDH | Legal |
Sages of the Anima
Creature — Elf Wizard
If you would draw a card, instead reveal the top three cards of your library. Put all creature cards revealed this way into your hand and the rest on the bottom of your library in any order.
Sages of the Anima Discussion
6 months ago
spiral_te thanks for comments/suggestions!
I agree for point 1-7.
The original reason I put in Expedition Map is that I based the deck around the 6 flash-enablers. Theres no way to tutor for Vedalken Orrery and Leyline of Anticipation , and only Momir to tutor for Teferi, Mage of Zhalfir and Yeva, Nature's Herald . So the Map is my efficient way to tutor out Alchemist's Refuge and Winding Canyons . I would shift over to a Ulvenwald Hydra for this purpose but I do not have one.

Void Grafter is just part of the 'my creature can do what an instant can do' such as Dive Down or Mizzium Skin but I guess this is pretty situational and I would have to leave 3 mana open always.

I agree for the cuts to Kiora's follower, but not for Gyre engineer. Both were meant to be manadorks and I was guessing I need to ramp fast to be able to cast things on multiple turns. Genesis hydra was just thematic of the 'cheating creatures out'.

For Prowling Serpopard/Gaea's Herald, it's not really needed in my playgroup, since I'm the one that usually plays counterspells most of the time.

I'm looking to slot in Kederekt Leviathan for a 'cyclonic rift' effect that can be used twice due to unearth. But my considerations are that I'll need to build up my board again, so this would probably be used more when I'm behind. So i've opted to put in Profaner of the Dead and Scourge of Fleets as my AOE boardclear instead. What are your thoughts on adding the Leviathan?
Still need to cut 5 more :(
6 months ago
This is a cool deck. All the cards are keepable, but these are the cuts I would make. Tried to cut something from each category rather than eliminate one.
At this point, it's a matter of personal taste what to keep because the remainder are all very good. I would try cutting Kiora's Follower , Genesis Hydra , and Gyre Engineer and seeing how the deck functioned.
Suggestions: - Tidespout Tyrant becomes a value engine/backup wincon - Prowling Serpopard or his ancestor Gaea's Herald for reasons - Veilstone Amulet turns all your spells into Mizzium Meddlers. - Cream of the Crop or other topdeck manipulation lets you set up your Rashmi triggers nicely. - Brutalizer Exarch is a bit heavy manawise but has two nice modes - Sages of the Anima easily puts you into crazytown
Happy Flashing!
1 year ago
Removal suggestions:
Heritage Druid: your other elf mana dorks are far more viable and are useful by themselves; with how many dorks you have you would likely have to tap one of them to use her effect anyways
Joraga Treespeaker:He's a mana sinkhole; he'll either die before you can max his level or you'll only max him because you have nothing better to spend the mana on at which point he's useless. He's only actually uniquely useful if you can play him turn one, and that's a long shot
Realm Seekers: A neat card, but would be better replaced with a more lethal creature or at least one with more utility
Sages of the Anima: this one is iffy, but in the end it's a relatively slow effect on a vulnerable stick. I would advise replacing it with something like an enchantment with a similar effect if you're dead set on having something like this, but otherwise just replace it with something else altogether.
Replacement notes:
I would also advise finding some creatures that are decently lethal quickly on their own. Ezuri can make the little guys dangerous as it is, so the big fellas get real nasty when he can buff them up. You may want to put in a few heavy hitters that can get you lethal, as it decreases your build up time and stops you from having to give a mana dork 2 or 3 turns of +1/+1 tokens and trample to be dangerous. I'll always suggest Pathbreaker Ibex as he can turn one decent creature and some shrimps into an overwhelming force. Giant Adephage would also work great as Ezuri's buff(s) will make it nearly impossible to stop you from getting a token with him, or go with Plated Crusher for a decent mix of durability and damage and to keep budget low. You may also want to look at X drop creatures and see if anything fits your build, as with the number of mana dorks you have and the amount of man you will likely need to keep around to keep Ezuri on the board, they could easily get out of hand. I'll still suggest Scute Mob despite him not being an elf simply because he really fits the theme. There are probably some blue or blue/green creatures that will fit this bill too, but this is a start anyways.
Other notes:
Make sure you have a strong mana base. Your dorks are good and all but you're going to lose them and Ezuri more than once, and you need to be able to replace him without their help. Ensure you have some mana doubling cards to help to this end. Also ensure you have several equipment to give creatures haste; Ezuri's ability triggers at the beginning of combat so you can throw out something nasty and go nuclear at the drop of a hat, catching players off guard with some impressive damage.
2 years ago
Came here from Reddit, gonna make some cut suggestions so you can fix your lands.
With so few lands that Zendikar's Roil isn't really doing anything for you. So I'd see that as a safe card to remove.Siege Behemoth, while a good card, is ultimately unnecessary in Elfball decks. I might also consider taking out Titania's Chosen as it doesn't really give much to the deck in terms of utility. By itself it's a 1/1 no evasion dude with no ways to really give it evasion. Sylvan Safekeeper isn't doing you any favors, either. Its utility is land-sac, something you don't want to do with only 24 lands. Maybe cut a few of your basic land search cards. You have almost as many ways to get basic lands as you do basic lands. Remember Freyalise makes mana dorks, so you'd be safe cutting a couple. Since you're ramping early I'd say a safe cut could be found in Lifespring Druid
Hedron Archive with so many other mana sources is effectively draw two cards for six mana, horribly inefficient.
Now to suggest some cards to put in the deck after you fix your land situation. All of the creatures suggested here are elves. And apart from Kindred Discovery, they're all fairly cheap.
Momir Vig, Simic Visionary - Turn every single elf creature spell in your deck into a Worldly Tutor effect.
Harmonize - Draw 3 for 4 mana. It's great.
Kindred Discovery - Name elf and draw for days.
Master Biomancer - Starts out by giving your incoming creatures 2 +1/+1 counters, but with Ezuri that number grows exponentially.
Rashmi, Eternities Crafter - Gives your smaller cards a little more value, or your big stuff a lot more value.
Sages of the Anima - In a creature focused deck this card is a bomb.
Load more
No data for this card yet.