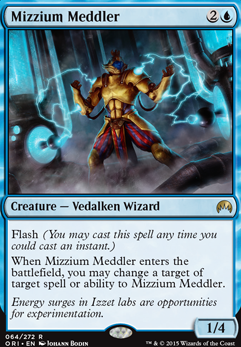 Legality
| | |
| --- | --- |
| Format | Legality |
| Tiny Leaders | Legal |
| 1v1 Commander | Legal |
| Magic Duels | Legal |
| Canadian Highlander | Legal |
| Vintage | Legal |
| Modern | Legal |
| Penny Dreadful | Legal |
| Custom | Legal |
| Leviathan | Legal |
| Legacy | Legal |
| Frontier | Legal |
| Duel Commander | Legal |
| Oathbreaker | Legal |
| Unformat | Legal |
| Casual | Legal |
| Commander / EDH | Legal |
Mizzium Meddler
Creature — Vedalken Wizard
Flash (You may cast this spell at any time you could cast an instant.)
When Mizzium Meddler enters the battlefield, you may change a target of target spell or ability to Mizzium Meddler.
Mizzium Meddler Discussion
3 months ago
Thanks for the review WizardOfTheNorthernCoast! Looks good! I got some tips from the discussion on your deckpage. Unexpected Results is definitely on-theme but it could stop the Surge wincon. Seems like you put in more passive draw compared to my ETB/on-cast draw. I guess I could try that for another time. Would you ever get more than 7 cards and have to discard though?
3 months ago
spiral_te thanks for comments/suggestions!
I agree for point 1-7.
The original reason I put in Expedition Map is that I based the deck around the 6 flash-enablers. Theres no way to tutor for Vedalken Orrery and Leyline of Anticipation , and only Momir to tutor for Teferi, Mage of Zhalfir and Yeva, Nature's Herald . So the Map is my efficient way to tutor out Alchemist's Refuge and Winding Canyons . I would shift over to a Ulvenwald Hydra for this purpose but I do not have one.

Void Grafter is just part of the 'my creature can do what an instant can do' such as Dive Down or Mizzium Skin but I guess this is pretty situational and I would have to leave 3 mana open always.

I agree for the cuts to Kiora's follower, but not for Gyre engineer. Both were meant to be manadorks and I was guessing I need to ramp fast to be able to cast things on multiple turns. Genesis hydra was just thematic of the 'cheating creatures out'.

For Prowling Serpopard/Gaea's Herald, it's not really needed in my playgroup, since I'm the one that usually plays counterspells most of the time.

I'm looking to slot in Kederekt Leviathan for a 'cyclonic rift' effect that can be used twice due to unearth. But my considerations are that I'll need to build up my board again, so this would probably be used more when I'm behind. So i've opted to put in Profaner of the Dead and Scourge of Fleets as my AOE boardclear instead. What are your thoughts on adding the Leviathan?
Still need to cut 5 more :(
5 months ago
Some thoughts: Frilled Mystic , Great Oak Guardian , Mizzium Meddler , Plaxmanta , Mystic Snake , and Selfless Squire all need to reenter the battlefield immediately for maximum effect. You have Deadeye Navigator and Temur Sabertooth only for that, with 0 tutors for either. I suggest either investing in more cloudshift effects, or taking most of the weaker of those out.
I also see Guardian Project as reasonable, but also strongly suggest Soul of the Harvest as in the utility creature deck, a high p/t blocker that also generates card advantage is very worthwhile as an investment.
With Ghostway and Eerie Interlude , Eternal Witness and friends are a very good investment. additionally, with so many low power dudes, Reveillark is amazing, and can help reduce tension for some of the issues with my first point, as reveillark triggers when it leaves, returning the desired dorkos immediately. Also consider Thragtusk , as swagboy is hilarious blink value, and can gain 10-20 life easy in a game, 3/3 blockers aside.
While cultivate and kodama's reach are great, in a blink deck, I strongly recommend Wood elves, even in a budget build it can grab the WG tango and cycling land.
Last point, run more card advantage. Mulldrifter can be evoked, the sac trigger responded to with roon activation for 5 mana draw 4 and keep fish alive. Cloudblazer might also be worthwhile though I never tested it myself.
8 months ago
---

Commander / EDH* BMHKain
SCORE: 1 | 11 COMMENTS | 117 VIEWS
---
The deck is at 100. But I'm not done yet...
Kicker Molten Disaster
Don't get the pattern? Maybe I can help you. They are cards w/ Split/Second. This means I can't cast anything to counter this, & would have to require a Mana Ability to counter it. What cards w/ Mana Abilities in all possible colors can counter these cards? We have Creatures that can't be Out-Flashed, Instants that can't be countered, & other nasty effects.
Any suggestions that can help? I'm thinking of replacing Mizzium Meddler for something that can counter this. Anything could help in this case. Thanks in advance. :)
10 months ago
Nullstone Gargoyle is damn near a win con for animar.
Instead of a few of the less useful morphs, maybe a few instants. (Meaning, creatures with flash).
Mizzium Meddler etc.
1 year ago
I actully like this setup. I agree that its a little unfocussed. I reccomned one change- A transformative sideboard rather than an 'answers' sideboard.
'Side 15' sounds like a bad joke, but 15 cards is enough to completely transform from tempo to control, and can transform bad matchups by drastically moving your critical turns. Even against matchups that 'demand' specific answers (dredge, tron), a lot can be done just by shifting the kind of deck that you are- tron has issues if you just combo out, dredge has issues if you run more bounce effects etc.
Even if you're siding in the same 15 cards each game, if you're removing 'dead' cards from your deck you are creating a big advantage. It really helps maintain that 'diverse' feeling with less performance impact.
Getting used to switching out different cards for different gameplans in that way will also help further refine your mainboard, by identifying cards you're always removing (or never enjoying) and spotting cards you're always reintroducing.
In terms of how that transformative board is structured, I'd hide a set of Geist of Saint Traft in there, (as a clock against high-interaction decks, which the wizard tribe is unfortunately lacking), and run spells that you're plainly considering maindeck- your wraths, extra bounce tools, and wizards. I'd even go so far as to hide a Teferi, Mage of Zhalfir/Knowledge Pool lock as a 2-of, or run Vedalken AEthermage for wizardcycling to fetch a similar low-key combo. Augur of Bolas is also well worth a look,while less efficient that snappy, and sorcery speed, works wonders as extra functional copies.
Also, for fun, flavour-filled cards with various viability; (with some synergy!) check out Fatespinner, Glen Elendra Pranksters, Jace's Archivist Lullmage Mentor Meddling Mage Mistbind Clique Mistmeadow Witch Mizzium Meddler, Naban, Dean of Iteration Sage of Fables Sigil Tracer Simic Manipulator Spellstutter Sprite Talrand, Sky Summoner Timestream Navigator Treasure Mage Venser, Shaper Savant and Voidmage Prodigy.
1 year ago
You're basically playing U/R Delver. Cut your creatures down to:
4x Delver of Secrets

Flip
4x Stormchaser Mage
4x Young Pyromancer

Then, switch a few of your spells around:
-3x Lightning Strike
-1x AEtherize
-1x Counterflux
+1x Peek
+4x Lightning Bolt

You also won't need so many lands. The ones you have are also kind of a problem because a lot of them always come into play tapped. Modern tends to have fewer turns than other formats, so you having lands that can never enter play untapped will lose you a lot of games. Any lands that do enter the battlefield tapped need to do something really good to warrant this. Therefore, I'd change:
-4x Swiftwater Cliffs
-4x Izzet Boilerworks
-0-1x Halimar Depths
-1x Mountain
+4x Wandering Fumarole OR Sulfur Falls OR Steam Vents OR Shivan Reef OR Spirebluff Canal
+1x Desolate Lighthouse
+1-2x Island (depending on if you cut Halimar Depths)

You have more blue cards than red in your deck, so you'll want to play more blue lands than red ones if you can't get a hold on any dual lands.
Lastly, you should have some leftover slots from cutting creatures. More copies of Peek would be good. I'd also suggest Opt and Electrolyze for this last spot.
You may find Turn / Burn to be a bit heavy on the mana requirement. Consider replacing these with low-cost counter cards, such as Dispel, Negate, Spell Snare, Spell Pierce, Squelch, Chart a Course, or Remand. If you do cut Turn / Burn for one of these other cards, remember to cut another Mountain or two and replace them with Islands. Otherwise, you'll have too many games where you can't cast anything despite having 90,2183,989 bajillionzillion lands in play.
Lastly, you'll need a sideboard. These are the cards that are useful for your deck, but only against specific kinds of threats. You're allowed to swap cards in and out of your deck between games after the first in a match (tournaments are best 2-out-of-3).
An example sideboard would look like:
2x Mizzium Meddler (for Boggles)
1x Counterflux (stops control and midrange)
1x AEtherize (you'll want these against aggro decks and tokens)
These four just get moved to your sideboard from your main since you only want them in specific situations2x Abrade (vs. Affinity)
3x Ceremonious Rejection (vs. Tron, Affinity, and Eldrazi)
1x Dispel (vs. Burn and control decks)
1x Magma Spray (stops Kitchen Finks and Dredge)
3x Tormod's Crypt/Relic of Progenitus/Grafdigger's Cage (you bring these in against any graveyard bullshit shenanigans)
2x Spell Pierce
1x Negate
(These last three are for beating Control, Combo, and Midrange decks, along with Burn)

From here, you should have a decent deck to take to your local shop to play with, but there's still some things you'll need:
Hope this helps! I'm sure I'm missing something that experienced Delver players can recommend.
Load more
No data for this card yet.