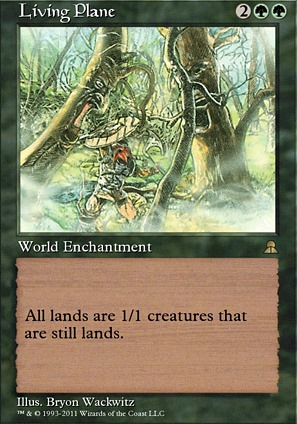 Legality
| | |
| --- | --- |
| Format | Legality |
| Tiny Leaders | Legal |
| Noble | Legal |
| Leviathan | Legal |
| Magic Duels | Legal |
| Canadian Highlander | Legal |
| Vintage | Legal |
| Penny Dreadful | Legal |
| Vanguard | Legal |
| Legacy | Legal |
| Archenemy | Legal |
| Planechase | Legal |
| 1v1 Commander | Legal |
| Duel Commander | Legal |
| Unformat | Legal |
| Casual | Legal |
| Commander / EDH | Legal |
Related Questions
Living Plane
World Enchantment
All lands are 1/1 creatures that are still lands.
Have (2)
RileySisay ,

r

o

c

k

l

e

e

m

y

h

e

r

o

Want (14)
baconater , tomshwag ,

D

e

v

i

l

s

m

a

g

e

, booyah007 , DarkAngelsBlood1 , Druidyczny , Freyed ,

P

a

r

t

y

J

, colorfulsnailboy , bloodysmurf11 ,

R

o

a

d

h

o

g

, Brasshatchet , ryaniskool , kovellen
Living Plane Discussion
2 weeks ago
Love the concept! gota couple suggestions, figured I'll accordian them to keep from filling up the whole page.
1 month ago
@TzickyT thanks for following the deck! Nothing has really caught my eye for this build from RNA. Electrodominance is a card I love for commander as a way to sneak in threats at flash speed but it's not necessarily a fit for this deck.
As for Living Plane as well as my other maybeboard, it's really tough. Cutting lands isn't a bad thought but I do feel like 45 is about right for the amount of Exploration effects we run. Legit, cuts are harder to make for this deck than any other I own.
@BX223Hunter I'm so glad you enjoy the deck! It's my favorite and most played deck. I look forward to hearing about our experiences with it. I really need to start adding in my game reports, I have a bunch I've kept track of.
2 months ago
Glad my blue elf ball deck could be an inspiration. I tend to like non normal decks. I run dragon themed prossh. Captain Sissy as a tribal cats deck. Saskia as a big butts deck (treefolk sub theme). Ghave as an outlast theme. Atraxa as a high end win game by Living Plane / elesh norn lock (each piece has a back up). Iroas as tokens deck. Arcanis as a steal stuff deck. Yidris as chaos deck.
2 months ago
If you're really leaning into the tilting aspects of this commander, I suggest Living Plane or Nature's Revolt. They combo with Elesh Norn to destroy all lands you don't control...
2 months ago
Oh! Didn't see your message, Fragmentize hits more than Natural State, things like Humility, The Chain Veil, Pattern of Rebirth, Birthing Pod, Aetherflux Reservoir, Nature's Will in the new Najeela lists, Thran Dynamo, Stranglehold, Leyline of the Void, Ancestral Statue (Super rare this will ever resolve and not kill on Animar's turn, but still), Parallax Wave, Breya, Etherium Sculptor, Living Plane, Helm of Obedience, Greater Good, etc. all get hit by Fragmentize, unlike Abrupt Decay/Natural State, so I like it a lot, despite the sorcery speed.
2 months ago
Hey guys, so every now and then we play competative 1 v 1 commander. I enjoy playing golgari alot, and have allt of variants of said color. Mostly i play heavy on stax when it comes to seroous gameplay so its easy to setup wincons that rely on combo.
My question is, you guys know any 2-3 card combos that end games in the color combination? I only personallu know of mike+trike or the ooze devourer combo. Along with the one i currently run Living Plane+card:minister of death
3 months ago
Two. Living Plane makes lands enter the battlefield as land creatures. Panharmonicon sees that a creature entering the battlefield has triggered an ability (Landfall), and causes that ability to trigger an additional time. Dryad Arbor would do this as well without requiring Living Plane.
Load more
No data for this card yet.