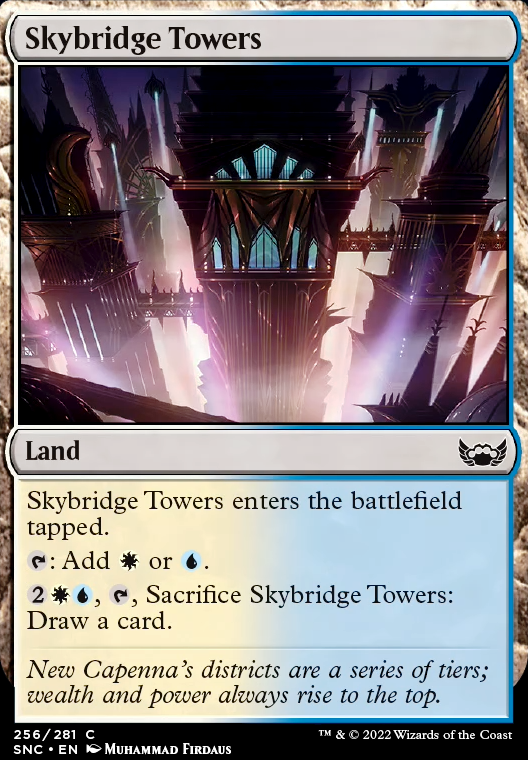 Legality
10 months ago
So, right now, Commander included, you've got 126 cards. Seeing as you're only 26 over the cap, this shouldn't be too bad.
This is a low mana cost deck with a lot of draw, you probably only need 34-36 lands if you're being generous. If I were you, I'd drop some of the slower lands, such as
Temple of Enlightenment
,
Skybridge Towers
,
Prairie Stream
,
Azorius Chancery
,
Castle Ardenvale
,
Castle Vantress
, or even
Port Town
.
You might also want to include more fetch lands, too. Flooded Strand, Fabled Passage, and Flood Plain all come with a pretty high price tag, but they're all good.
On the other side of the coin, Brokers Hideout, Obscura Storefront, Evolving Wilds, Terramorphic Expanse, Myriad Landscape, Esper Panorama, and Bant Panorama are all cheaper fetch lands that you could use.
Drawing mana late game can be a dead draw a lot of the time, so being able to remove that excess from your deck can be a really nice tool to have, so you can draw just what you want. Maybe take out cards that are fast, but not necessary such as, Skycloud Expanse, Sea of Clouds, Mishra's Factory, and Crawling Barrens.
Changing it to this (or a list of just 35 mana), should bring us down to 122 cards.
As for non-land ramp, you have a lot. I'm going to say you want to kick out
Silver Myr
,
Gold Myr
,
Mind Stone
, and
Ornithopter of Paradise
. Normally I'd say more, but for this specific deck that seems to love ramp, this seems more than fine.
118 left.
For the rest, I'd say Ondu Inversion  Flip, Access Denied, Tezzeret the Seeker, Tezzeret, Artifice Master, Phyrexian Metamorph, Cultivator's Caravan, Invoke Justice, and An Offer You Can't Refuse, all mostly because they're too expensive.
That leaves you with 109
Okay, so, this decklist is surprisingly tight for being 30~ cards over and I don't know where to kick the last 9 off. Maybe Artificer Class? Maybe some of the creatures/vehicles? Idunno, good luck.
1 year ago
Rupture Spire and Transguild Promenade really trigger me. Those aren't lands you should be running in a constructed deck, even in 5 color I don't like it. Also I skimmed the list and didn't immediately see any payoff for putting lands in your graveyard. So Terramorphic Expanse and Evolving Wilds are probably not worth it. I find dual lands are generally just better fixing. Some replacements for the above lands that I prefer are: Path of Ancestry, Silverquill Campus, Waterfront District, Skybridge Towers, Fabled Passage, Thriving Moor, Thriving Isle, Thriving Heath, Celestial Colonnade, Creeping Tar Pit.