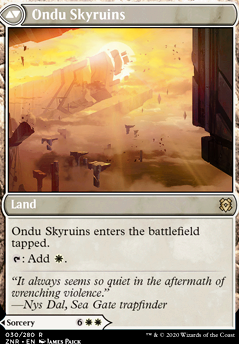 Back:
Ondu Inversion
Flip
Ondu Skyruins
Land
This enters the battlefield tapped.
: Gain .
Latest Decks as Commander
Ondu Skyruins Discussion
1 year ago
@ Gloglok
You are absolutely right with the competitive level in 2021. With more and more powercreep over the last years, white decks in particular got worse and worse. Here is an nice explanation of whats happening atm. White is not the color of removal. It was way more competitive in 2016-2018 but today it holds up pretty well and i think its the most fun deck i own to play.
1 year ago
What i really need for this deck is 3 drop removal better than Oblivion Ring. Grasp of Fate is strictly better but not modern. Banisher Priest and Fiend Hunter die easily to removal. I hope some day a set will bring something printed on an Angel
Kind Regards -Drcfan
1 year ago
Plans for updating the mana base to a alternative mana base version:
New Mana base:
Old Mana Base
What changes:
I can not consider any more lands that come into play tapped, i have 3 now which is already brutal