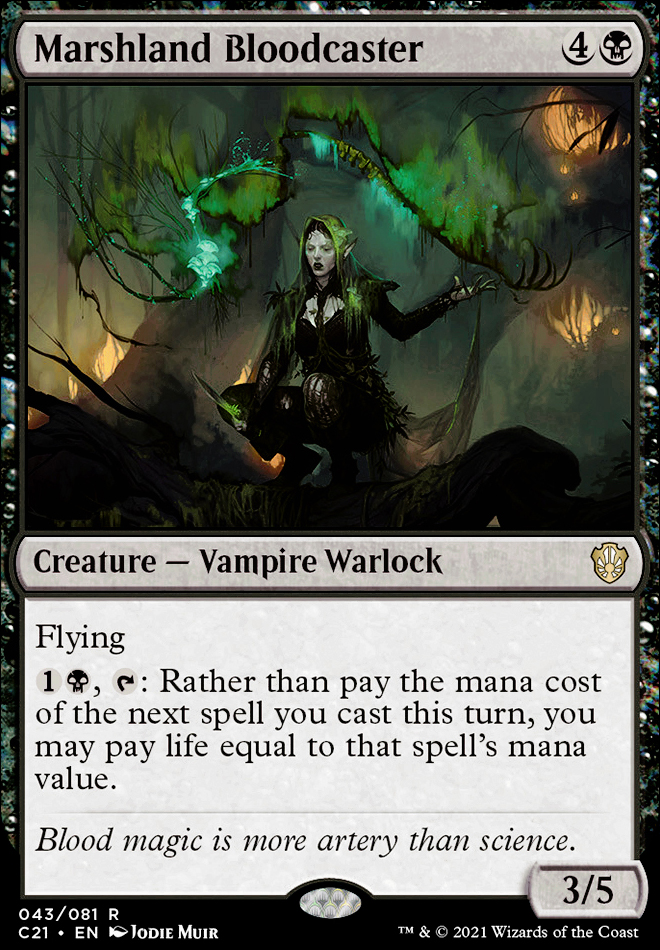 Marshland Bloodcaster
Creature — Vampire Warlock
Flying
, : Rather than pay the mana cost of the nex spell you cast this turn, you may pay life equal to that spell's converted mana cost/mana value.
Latest Decks as Commander
Marshland Bloodcaster Discussion
3 months ago
Looks like pretty sweet deck!
Some cards I think that could help here aswell:
Vilis, Broker of Blood - a bit mana expensive, but should be totally worth the card draw from life loss.
Doom Whisperer - another big demon just for that could help to filter your library and drain your life at the same time at instant speed.
Dream Devourer - Im still trying to play around this little guy, but so far its not bad to protect some combo pieces to cast them later.
Emergence Zone - In my opinion this is pretty sweet utility land just to give your spels Flash until end of turn, possibly sneaking out Repay in Kind, etc (?).
Marshland Bloodcaster - probably a bit slow without Haste, but should work just well.

4 months ago
Hey Walrighti, +1!
Congrats on your first deck! You have a lot of fun cards in here and it looks great! I imagine you want to tune and make it even more efficient so here are some ideas...
Add 3 categories: #Combo, #Lifegain, and #Evasion; and then sort your maybeboard the same way you've done your mainboard to easily rank your choices within a category (By "combo" I mean all your "if-then" cards like Trudge Garden that are slower and don't work by themselves). Remove #Creatures (most of them are #Combo).
Avoid most cards above 4 cmc... Willowdusk is fast and fragile, so play into that... Also, prioritize cards that can do 2 or more things or that give value on ETB... If you have pet cards that don't really fit and that hurt to cut, put them in a "I'll build that theme later" list.
...Always play at least 10 ramp spells under 3 cmc.
...Playtest and make sure Willowbark consistently makes a fatty (with evasion) before turn 6-7.
Here's another Willowdusk thread.
Happy building :)