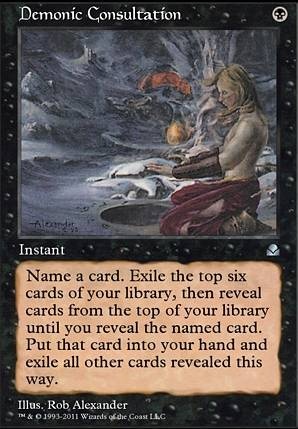 Legality
| | |
| --- | --- |
| Format | Legality |
| 1v1 Commander | Legal |
| Vintage | Legal |
| Casual | Legal |
| Vanguard | Legal |
| Archenemy | Legal |
| Planechase | Legal |
| Duel Commander | Legal |
| Unformat | Legal |
| Pauper | Legal |
| Commander / EDH | Legal |
Demonic Consultation
Instant
Name a card. Remove the top six cards of your library from the game, then reveal cards from the top of your library until you reveal the named card. Put that card into your hand and remove all other cards revealed this way from the game.
Demonic Consultation Discussion
2 hours ago
no problem
so here we go with the others
first off seriously how come Platinum Angel isn't here? its a safety net
i notice Hive Mind is a card so this cycle should helphttp://gatherer.wizards.com/Pages/Search/Default.aspx?action=advanced&name=+%5Bpact%5D&set=%7C%5B%22Future%20Sight%22%5D
Epic struggle
Biovisionary
Laboratory Maniac
Near-Death Experience
Mayael's Aria
Chance Encounter
just one thing Krark's Thumb
Darksteel Reactor/Azor's Elocutors/Helix Pinnacle
note: only proliferate
Celestial Convergence
two things Hex Parasite and Vampire Hexmage but i want to point this out puting it to zero doesn't cause it to trigger it has to be on upkeep for the winner to be decided from this.
Felidar Sovereign/Test of Endurance
the celestial convergence win con takes this as well
Barren Glory
.
you have Banishing Light so the family members of this
Kaervek's Spite trigger just before your turn
Demonic Pact
just
Bazaar Trader
and
Zedruu the Greathearted
and theres a few more enchantments you can do the exact same thing with
Fractured Identity
but you need platinum angel for a few of them though
Triskaidekaphobia
nothing everything you need for this one is here
Approach of the Second sun
just a couple more tutors thats itlast but not least
Mechanized Production/Hellkite tyrant
the biovisonary and epic struggle stuff works if the target is a creature
welp hope this stuff helpsoh one more thing
Fractured Identity
it works with leveler just as well as phage
23 hours ago
Definitely.
Eternal Scourge, Tainted Pact, Demonic Consultation, Buried Alive, Necrotic Ooze, Kiki-Jiki, Mirror Breaker, Mogg Fanatic, Oblivion Sower, Anger, Magus of the Moon, Harsh Mentor, Entomb, Reanimate, Animate Dead, Dance of the Dead, Necromancy, Void Winnower, Sire Of Insanity
1 day ago
Ok, so you have some interesting choices here, but to better suit the deck for cEDH, I think you may want to refocus it on being a combo/reanimator deck. One of the win line would still be to kill the table through a high sotrm count using either Ancestral Statue or Cloudstone Curio + eldrazis, but I think it should not be played as a storm deck, it should be played more like a combo/reanimator. That way, if you can't combo, you will still have some relevant targets to reanimate and some nice things to do.
Also, for this combo, I have found some interesting synergies that could help you tutor it pretty easily: Demonic Consultation/Tainted Pact(For this one we would need to rework the landbase). You also need to have Eternal Scourge in your deck as one of the eldrazi. The idea is to use one of the exile tutor to get Cloudstone Curio. This way, you have a lot of chance to put Scourge in exile, and with any other eldrazi either in your hand or on the battlefield already, you can storm/win on the spot. It is even better if you have an eldrazi with an actual cast effect that can win the game (Oblivion Sowerbeing the cheapest CMC wise at 6).
For the Ancestral Statuecombo, I think Nettle Droneis really nice. It would let us kill the entire table, and the Drone is not dead outside the combo: it would ease us into casting our commander, and it would later help reducing the mana cost of creatures we want to cast by 3. Even if they are less powerful, I would consider other pingers like Thermo-Alchemist (nice things to do is tapping him -> tutor a creature which untaps him-> tap him again for a total reduction of 6, enough for the Cloudstone combo above), Shepherd of Rot, Lobber Crew. Maybe also Heartless Hidetsugu, but it costs more mana, and I never tested it.
As for the reanimator part I talked about, I think it would synergize well with the combo aspect. We already need to draw a lot, so a lot of cards would go to the graveyard, and there are a lot of wheel effects in cEDH to help refill hands (not only from us but opponents also) like Wheel of Fortune. This could be ussed to put a lot of creatures in the graveyard. You could then reanimate them, stuff like Void Winnower, Sire Of Insanity are some really good reanimation targets in rakdos. We can run spells like Animate Dead, Reanimate, Dance of the Dead, Necromancy...
Going the reanimation route would let us cheat big eldrazis for the combo to work easier, if they ever die/get countered we have easier access to them. We could also even try a Buried Alive/Entomb combo with something in the likes of Necrotic Ooze + Kiki-Jiki, Mirror Breaker + Mogg Fanatic and something to give Ooze haste (like Anger in the graveyard). This could be a backup win condition that can be assembled easily by a single tutor, which is not to overlook.
2 days ago
My problem with 'optimized' list is they don't take in account meta specific cards.
GY decks are abundant in my meta with a a sprinkle of FC Tazri list and a couple of stacks decks. The rest are either casuals or total solitare decks. Hence my Prossh list reflects those changes.
I feel like a core 85-90cards can be set for any one deck but the last 10-14 are specific to Metas(hence the Paper player question).
Granted my FC Prossh is still a Shuffle Tribal deck, but it isn't "optimized by the tiered list above".My win rate is higher than 50% most weeks.(Sometimes Demonic Consultation just has it out for you.) Due to the fact I have interaction with my opponents a but more than the listed Prossh deck. I am not saying mine is better overall, just better for my meta. I really think we should have in these lists a 'core set of cards' and slot for 'flex spots' So people who didn't naturally come to build their own deck can understand what's a piece that can be taken out for a card they need for their meta
1 week ago
Been a while since I commented. I'll try to respond primarily to those points that others haven't already addressed.
---
@
Emzed
:
Thought-Knot Seer
is expensive to cast and doesn't really perform a vital function in this deck, given that its abilities don't have a high impact.
---
@
Snapdisastermage
:
Stax is a challenge. This deck does have the means to outpace some stax decks by ramping extremely aggressively, but sacrifice engines in particular are effective at keeping utility creatures from having a great deal of impact. I haven't played in several years (apart from the casual 60-card game here or there), so I'm not really qualified anymore to assess how this deck competes with more modern Tier 1-Tier 2 stax decks.
---
@
Wutkeks
:
This deck would rather not play
Zendikar Resurgent
or
Mana Reflection
because they need to be hard cast and are more difficult to find.
Vorinclex, Voice of Hunger
would be a stronger choice in that respect (because it's
Tooth and Nail
able), but even then it hasn't made the cut. I leave that to players' discretion, though. Some people may find that the redundancy is important in their meta.
As a combo deck, this deck can normally outpace most noncombo aggro decks. Certain commander damage decks can pose a threat if unanswered. And don't forget that you can chump block with utility creatures if you have to. Surviving in a difficult position is preferable to being out of the game entirely.
---
@
knight611
:
I do feel that way about
Consecrated Sphinx
from time to time. Unfortunately, having not played in a true competitive multiplayer environment in a long time, I can't say with certainty whether it needs to be replaced. The mana cost is the biggest downside, but it's a powerful backup draw engine that's much less risky than Damia herself.
---
@
FLATSO99
:
Stroke of Genius
is serviceable, and there are ways to recur cards from the graveyard just as there are ways to get them back from the library. I use
Blue Sun's Zenith
because mana is not an issue by the combo turn and the win con is safer (from hate effects) in the library than in the yard.
---
@
e
n
p
c
:
Timetwister
is an interesting choice, and certainly something that becomes more potent as this deck becomes faster. I would test it.
---
@
Dark_Danda
:
Arbor Elf
ramps, but
Crop Rotation
does not. I'm not sure if they're comparable in terms of slot consumption. In some metas, the land tutor may be more important because there may be a greater dependence on cards like
Boseiju, Who Shelters All
.
Holistic Wisdom is an inefficient recursion engine in terms of mana consumption. It has increased potential in terms of the Strip Mine reusability, but that's not really a focus for this deck.
Commandeer is very expensive, even if cast for its alternate cost. I can't justify the effect for that cost. Spell Pierce is more valuable because it can win counter wars.
---
@
Cryptic_Bore
:
I don't recommend playing
Demonic Consultation
unless you're playing
Laboratory Maniac
, and I don't really think this deck wants to play either (although it could be built in such a way that they're more viable).
Demonic Consultation
presents the issue of exiling potentially necessary win conditions in order to find a combo piece, and it's never really completely safe to use. Similarly,
Tainted Pact
isn't in the deck (and is actually covered in the "Omissions" section). I don't think there are many cases where I'd so desperately need a single card that I could risk potentially exiling every other card for it.
---
@
v
i
s
h
n
a
r
g
:
It's true that
Crucible of Worlds
is a
good
card, but every card in this deck is a good card.
Crucible of Worlds
doesn't really provide
necessary
functionality to this deck, though, so I wouldn't call it one of the
best
cards and similarly wouldn't be able to justify increasing its redundancy at the expense of some other functionality.
---
@
Deckgodmaster
:
Lots of feedback there. I'll try to respond to as much as I have space for.
Rising Waters is an issue because this deck really wants to maximize its mana availability.
Future Sight was in a much earlier version of the deck, but was cut because the cost outweighed the value. Some people may prefer to run it, but I don't.
Pendrell Mists is a good stax card, but this isn't a stax deck. I'd rather keep my utility creatures at the risk of letting other people keep theirs.
Autumn's Veil has some potential. I've never really experimented with it in the 99, though.
Night's Whisper is not as preferable as a draw engine, in my opinion.
Notion Thief could be good in some cases, and I haven't actually tested it in the deck, but there weren't very many times where I think I would have (and would prefer to spend) the mana on it given its inconsistency from game to game.
Brainstorm was in an earlier version of the deck, and it could still justifiably be run given all of the fetch lands, but I prefer to spend the slot on other cards.
Baleful Strix doesn't really do enough to justify spending the mana.
Temporal Mastery is ok with cards like Mystical Tutor, but I don't think that justifies its inclusion.
Trinket Mage is a more expensive and more limited tutor than those already in the deck.
Arcane Denial is in the deck because it's a hard counter for , which I'll gladly take in the final turn.
Three Visits and Nature's Lore are important ramp cards and cannot be cut. Skyshroud Claim could potentially be cut on a cost basis, but it's very powerful and pays for half of its own cost on resolution.
Mindslaver is not something this deck needs. I don't really want to spend to control someone's turn if I could spend much less to get myself closer to actually winning. It's not good without a recursion combo or when facing multiple opponents.
Academy Ruins could be played, but I don't really need to recur any of the artifacts in this deck as much as I need access to on-color mana.
Omniscience is not necessary. My primary win con is an spell, which doesn't benefit at all from Omniscience and does benefit from an infinite mana combo (the latter of which enables just as many other cards as the former).
2 weeks ago
The others are right...this is just a Modern deck with Necropotence and Strip Mine, both of which are restricted in Vintage (yet you're playing multiple copies of both). This deck isn't even using any of the powerful R/B cards for Vintage or Null Rod.
Demonic Consultation, Demonic Tutor, Wasteland, Sol Ring, Dark Ritual, etc. aren't in here, but they should be. How else are you going to deal with the format's established archetypes, like Mentor, Dredge, or MUD? There isn't enough artifact hate (like Ingot Chewer) or ways to deal with your opponent casting a bunch of spells. Sudden Shock is missing in your sideboard to deal with Monastery Mentor.
Like, where are your Skullclamps with Blood Artist to go with Bloodghast? Or Thorn of Amethyst? Blood Moon? Even Chrome Mox wouldn't hurt.
I'm not sure why you decided to make a Vintage deck instead of a Legacy or Modern deck when the most broken thing this deck does is Sinkhole. Even then, Gush players will just laugh in your face.
I guess you can stroke your ego by beating up on some Standard decks?
1 month ago
What about Demonic Consultation ? Might be just a tiny little bit faster then the other tutors. Anyway, +1! That all-in-style reminds me of my old hatred deck.
Load more