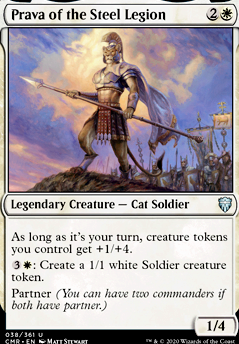 Prava of the Steel Legion
Legendary Creature — Cat Soldier
As long as it's your turn, creature tokens you control get +1/+4.
: Create a 1/1 white Soldier creature token.
Partner (You can have two commanders if both have partner.)
Browse Alters
Tokens
Legality
| | |
| --- | --- |
| Format | Legality |
| Leviathan | Legal |
| Casual | Legal |
| Custom | Legal |
| Oathbreaker | Legal |
| 1v1 Commander | Legal |
| Limited | Legal |
| Tiny Leaders | Legal |
| 2019-10-04 | Legal |
| Commander / EDH | Legal |
| Duel Commander | Legal |
Prava of the Steel Legion Discussion
3 weeks ago
Epicurus, thank so much for all the suggestions.
It's funny, I had just cut a few of the cards you are suggesting. I pulled Cryptolith Rite to make room for a bit more removal. I also recently cut Triumph of the Hordes in place of other overrun effects. I run it in a number of decks. The problem I run into is find it as a dead card unless the board state is right, where other overrun effects can be used even if your not complete finishing another player off and need to draw to more board power. If you can't poison out all three players (Five 2/2's need to get through to each player), it's a bit of a waste. I'm still on hte fence aobut pulling it, but that was my reasoning from past experience.
I know you mentioned Wrath of God and Blasphemous Act, but I've found even in wider decks, sometimes you just have to wipe the board and work to rebuild along with everyone else. Do I need both, possibly not. Goblin Bombardment can be a quick finisher of a third player if you've only got enough on board for two. It is situational and I have considered cutting it, so it's good to hear someone else thinking along the same lines.
Runic Armasaur is just great card draw at the 3 spot. I'm definitely open to other card draw suggestions, but I'd be looking for them in a similar CMC.
I definitely hear what you are saying on Kamahl, Heart of Krosa and tend to agree that it's a bit costly to get it going. I do have some 7 drops in the deck so that would really what I'd be looking to replace if it would seem to add enough value. I also tend to agree with you on Prava of the Steel Legion. At only 3 cmc, it adds a lot of value to my game plan and may be worth replacing a simpler anthem effect I have.
I'd love to check out your deck if you want to post a link in the comments here.
3 weeks ago
For what it's worth, I never build a green go-wide deck without Cryptolith Rite and Champion of Lambholt. The former I actually try to fit into any deck I build with green in the identity, and the later is a major wincon.
Also, I just recently built a token deck with Kamahl, Heart of Krosa and Prava of the Steel Legion as partner commanders. Kamahl costs a lot more to get out than what it might help in this deck, but Prava is actually more effective than you might think (Defense boost means more survivors after attacking wide), and it's cat tribal to boot.
And finally, Triumph of the Hordes.
As for cuts, it's hard to say because I'm not the one playing the deck. From an outside perspective, it seems like Goblin Bombardment, Runic Armasaur and the two board wipes (Wrath of God & Blasphemous Act) don't aid your goal. All are incredibly useful cards, but I wouldn't put them in here if this was my deck.
That's all I got. Hope it helps!