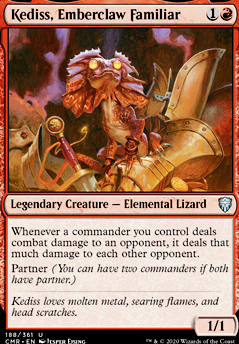 Kediss, Emberclaw Familiar
Legendary Creature — Elemental Lizard
Whenever a commander you control deals combat damage to an opponent, it deals that much damage to each other opponent.
Partner (You can have two commanders if both have partner.)
Latest Decks as Commander
Kediss, Emberclaw Familiar Discussion
1 week ago
actualiza esto
2 weeks ago
Love this list, I'm definitely going to try it out! I'm curious as to if you've considered playing Kediss, Emberclaw Familiar? It seems to me like the lifegain that nets would be unreal! (I think Falthis, Shadowcat Familiar is another interesting option, since Menace, Deathtouch, and First Strike is a real headache combination of keywords.)
2 months ago
I have decks for each of the Amonkhet gods (Bontu is the only one that's public), which all have pitiful EDHREC ranks. Like griffstick, I have a Multani, Maro-Sorcerer deck that's one of my favorites.
The commanders themselves may not be rare but the partner combinations of Tormod, the Desecrator/Esior, Wardwing Familiar and Sengir, the Dark Baron/Kediss, Emberclaw Familiar are also pretty low on the EDHREC rankings.
I've kind of been debating building a Jolrael, Empress of Beasts deck. Ramp like a madman, animate like 30 forests at once and swing away!
I love seeing decklists for almost any "rare" commander, though. I've seen more than enough Atraxa, Kenrith and Korvold lists to last me a while.
5 months ago
With Feather, you need to lean one way or the other, pump or burn. Cards like Firebrand Archer won't do much of anything in a deck that wins by Commander damage, whereas the pump is best replaced in a burn deck. This deck leans more toward pump, so I'll suggest cards for that.
Ajani's Presence is strictly better than some of the protection spells in here. Inquisitor's Flail is a repeatable way to double Feather's damage, it also stacks with both double strike and Unleash Fury. Kediss, Emberclaw Familiar turns a one=person kill into a full win. Blacksmith's Skill is just about the best protection spell you could ever want. Sejiri Shelter  Flip is a relevant MDFC. Intimidation Bolt can save you games. Impact Resonance can help you deal with problems too, and speaking of removal, you need some boardwipes. Austere Command is a very flexible sweeper, Blasphemous Act is a quality cheap one that you can frequently protect your own stuff from, and Slaughter the Strong is also cheap and mostly doesn't affect you. If you're running Sunforger, you really need to run Magnetic Theft to fetch on the first activation. It's a very effective combo. And then Storm-Kiln Artist is just a must in every Feather deck. It turns your engine from good to game-ending in seconds. Show of Confidence is also a game-ender, pairs very well with the storm aspect of the deck and the counters are permanent and it's hard to counter.
Generally higher-quality spells to have that are in my deck include Infuriate, Light of Hope, Stave Off, and Rile (it may be a sorcery, but trample is very relevant).
If you find your stuff is getting countered, or you need to use spells but Feather can't stay out, recursion like Dreadhorde Arcanist, Mavinda, Students' Advocate, and Past in Flames might be worth looking into.
In general, remove two-cost spells if possible, remove burn, and think about what color your mana production is. In my experience, most of the spells you want to cast multiple times are white, so red-mana production is less valuable. And Remote Farm will backfire very quickly without a way to increase its counters or blink it. There are a few other cards in here that just aren't quite good enough if you need advice on more things to take out.
If your playgroup starts to adapt, like mine did, and runs cards that don't care about your protection like Sakashima's Will, Out of Time, Extinction Event, etc., think about Eerie Interlude. It's three mana and one-time protection, but it can get you out of a rough spot that no other card can.
Dual-lands are very important in my experience. Consider Alpine Meadow, Command Tower (a must in every EDH deck), Stone Quarry, Thriving Heath, Thriving Bluff, and Wind-Scarred Crag.
Load more