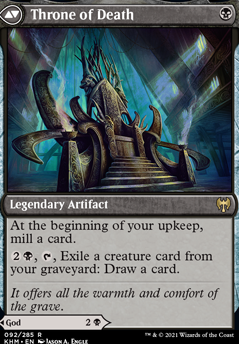 Front:
Egon, God of Death
Flip
Legality
8 months ago
I recommend Krav, the Unredeemed as a way to draw cards without dumping a bunch of mana into it. Also gains you life. Only downside is it's not a Fungus.
Liliana, Dreadhorde General is great in this deck for many obvious reasons.
And hey, since there's so much sacrifice going on, why not Mazirek, Kraul Death Priest?
Now, your graveyard. Seems to me you need more steady ways to toss Fungus in there. How about Cemetery Tampering, Crawling Infestation, Crawling Sensation, Crop Sigil, Uurg, Spawn of Turg, Deathbonnet Sprout  Flip, Nyx Weaver, Old Rutstein, Out of the Tombs, Splinterfright, and Throne of Death  Flip.
Deadbridge Chant isn't steady, but it's great explosive mill.
1 year ago
I have never played nor played against a Dredge/Delve deck before so the first time I took a look at this deck, I felt like I had nothing to contribute. However, I recently came across Egon, God of Death  Flip and thought of this deck. Does not have Dredge/Delve but it functions similar. Throne of Death  Flip would not be to shabby either as a way to get extra cards into the graveyard and provide a mediocre draw engine. Otherwise, cool, unique deck as always!
2 years ago
Take out Vinelasher Kudzu (shit card), Vulturous Zombie (Too slow), Overbeing of Myth (Too slow), Mossbridge Troll (Not a great card), Elvish Aberration (Too Slow).
Cards to consider Alexi's Cloak , Omen of the Sea , Omen of the Hunt , Plaguecrafter , Spore Frog , Seal of Primordium , Secrets of the Dead , Throne of Death , Syr Conrad, The Grim, Perpetual Timepiece , Executioner's Capsule , Nihil Spellbomb , Aether Spellbomb , Sultai Ascendancy , Seal of Removal , The Eldest Reborn , Titans' Nest