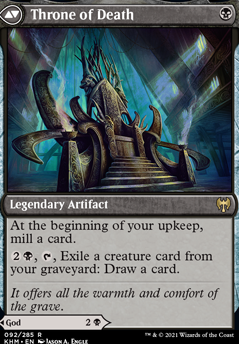 Front:
Egon, God of Death
Flip
Throne of Death
Legendary Artifact
At the beginning of your upkeep, mill a card.
, , Exile a creature card from your graveyard: Draw a card.
Latest Decks as Commander
Throne of Death Discussion
9 months ago
Take out Vinelasher Kudzu (shit card), Vulturous Zombie (Too slow), Overbeing of Myth (Too slow), Mossbridge Troll (Not a great card), Elvish Aberration (Too Slow).
Cards to consider Alexi's Cloak , Omen of the Sea , Omen of the Hunt , Plaguecrafter , Spore Frog , Seal of Primordium , Secrets of the Dead , Throne of Death , Syr Conrad, The Grim, Perpetual Timepiece , Executioner's Capsule , Nihil Spellbomb , Aether Spellbomb , Sultai Ascendancy , Seal of Removal , The Eldest Reborn , Titans' Nest