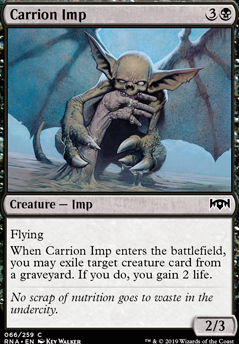 Legality
2 years ago
Spell_Slam, sorry for the delay. I stopped playing last Summer due to life, but I'm picking things back up again. Lots of good recommendations! I appreciate the depth to which you went through things.
For a few things, the spider flavour is why the card is being played, even though they might not be a great card. From my games played last summer, this deck is somewhat overpowered compared to the others, so I'm cool with having some weaker on-theme cards in the deck.
Elvish Skysweeper is awesome, but the obscene amounts of Reach I have makes it unnecessary.
Then I prefer Wander in Death over some other recursion spells because it is still usable if I've already exiled every creature from the GY, which did happen a couple times in played games. I'm big on drawing cards. That's why I play so many cantripping creatures and card-draw spells.
You're 100% right about Wildsize and Rancor. They're coming out. Overall, the suggestions and critique you gave led to me cutting 5 non-creature spells in favor of creatures. Carrion Imp coming in alongside Crypt Creeper helps me feel good about knocking out Scarab Feast (and Rancor, which is indeed weird here). Then Bushmeat Poacher is just a phenomenal new card for this deck, so I cut a card-draw spell there. I love Heart Warden and am glad you showed me the card exists.
Thanks again!