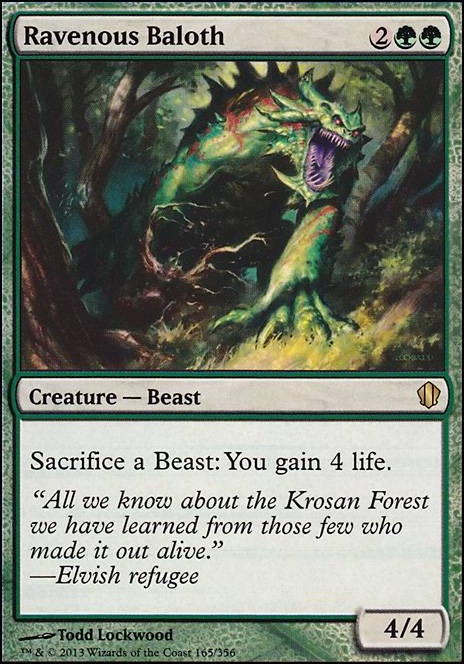 Legality
| | |
| --- | --- |
| Format | Legality |
| Noble | Legal |
| 1v1 Commander | Legal |
| Vintage | Legal |
| Casual | Legal |
| Vanguard | Legal |
| Legacy | Legal |
| Archenemy | Legal |
| Planechase | Legal |
| Duel Commander | Legal |
| Unformat | Legal |
| Pauper | Legal |
| Commander / EDH | Legal |
Ravenous Baloth
Creature — Beast
Sacrifice a Beast: You gain 4 life.
Have (11)
ironax , Lucretian , Psycheretic ,

p

s

k

i

n

n

0

1

,

H

R

1

9

,

g

o

l

g

a

r

i

g

i

r

l

, DrPopular , CAPT.Shock , Antiat , mziter501 , Unlife
Want (1)
sebek33
Ravenous Baloth Discussion
2 months ago
So, to start with, there is a lot of beast synergy.
Krosan Warchief provides reduction and the regenerate isn't bad.
Ravenous Baloth is a great way to blank removal and gain life from it, as well as being just efficient.
Beyond that, I don't know what your casual meta is like. Fog/Naturalise are still bad in the main deck. That is what your sideboard is for.
11 months ago
Now I can't help you with Legacy, or Legacy tournaments, as neither are within my realm of knowledge, but you sound like you'd enjoy EDH. If you don't know, you pick a legendary creature as you 'Commander' and build a 99-card singleton deck within their colours, it's a format full of multiplayer politics, ramp, and bug creatures!
If you're interested there are more rules you can find
So a great commander could be Gahiji, Honored One, who encourages aggressive behavior and your opponent's to attack anyone else.
Some cool beast cards you don't have on the list are Canopy Crawler, Contested Cliffs, Ezuri's Predation, Fresh Meat, Garruk Wildspeaker, Garruk, Primal Hunter, Godsire, Gruul Ragebeast, Gruul Keyrune, Naya Soulbeast,Rampaging Baloths, Ravenous Baloth, Soul of Zendikar, Spawning Grounds, Thresher Beast, and Wirewood Savage!!
Now I might not include all of these, as their mana cost can be quite high, and you can't always hit that Quicksilver Amulet, but EDH allows you to casually play a cool non-competitive tribe like Beasts with your friends and still had lots of fun.