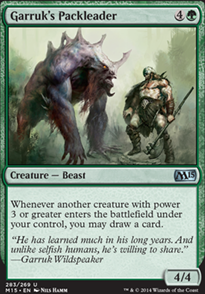 Garruk's Packleader
Creature — Beast
Whenever another creature with power 3 or greater enters the battlefield under your control, you may draw a card.
Garruk's Packleader Discussion
1 day ago
Looks like a good start. The main thing I'd add are more tutors and card draw. Worldly Tutor, Chord of Calling, Garruk's Packleader, Elemental Bond, Momentous Fall, etc. You want to be able to draw through your deck to get the cards you need at any given time. Some cards like Sylvan Library, Green Sun's Zenith and Greater Good are already in your maybeboard and ought to be added.
I'd take out tribal stuff unless you want to go more heavily into dragons. Atarka, World Render, Urza's Incubator, Thunderbreak Regent.
On a side note, sticking Mage Slayer in here is just brilliant!
| | |
| --- | --- |
| Power / Toughness | 4/4 |
| Color(s) | Green |
| Cost | 4G |
| Converted cost | 5 |
Legality
| | |
| --- | --- |
| Format | Legality |
| Heirloom | Legal |
| Legacy | Legal |
| Vintage | Legal |
| Commander / EDH | Legal |
| Modern | Legal |
| Duel Commander | Legal |
Related Questions