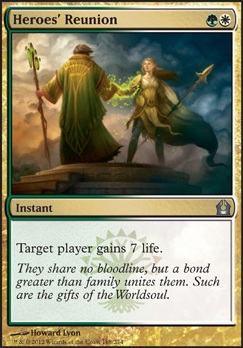 Heroes' Reunion
Instant
Target player gains 7 life.
Browse Alters
View at Gatherer
Legality
| | |
| --- | --- |
| Format | Legality |
| Tiny Leaders | Legal |
| Noble | Legal |
| Leviathan | Legal |
| Magic Duels | Legal |
| Canadian Highlander | Legal |
| Vintage | Legal |
| Modern | Legal |
| Block Constructed | Legal |
| Pioneer | Legal |
| Vanguard | Legal |
| Legacy | Legal |
| Archenemy | Legal |
| Planechase | Legal |
| 1v1 Commander | Legal |
| Duel Commander | Legal |
| Oathbreaker | Legal |
| Unformat | Legal |
| Casual | Legal |
| Commander / EDH | Legal |
Heroes' Reunion Discussion
2 months ago
I think we may just have a difference in philosophy regarding Heroes' Reunion . It was drilled into me that a card that only gains you life is bad. Incidental lifegain is great, but only if attached to an effect that helps your gameplan. If Reunion fits your playstyle and deckbuilding instincts better, go for it! But if you'll indulge me, let me attempt to present a stronger argument one last time. If you disagree, then I won't bug you about it again. ;)
Blessed Alliance's
3rd mode is good removal in this deck. You'll be swarming the board with a lot of little lifegainers, so I found in my playtests that the opponent would rather crash in with one or two bigger and/or evasive threats rather than let me gain a lot of life and put cards like
Sacred Cat
into the graveyard for additional value. In one game, the opponent had a large threat protected with
Spectra Ward
, swung in with that each turn, and kept his other creatures back as blockers. But Blessed Alliance doesn't target, so it completely bypassed his Protection, and he got 2-for-1ed! Likewise, it'll deal with Hexproof and Indestructible creatures (imagine facing down an Oketra on the other side of the battlefield). Obviously, it won't be as good against decks that DO attack with a lot of creatures, as they'll just sac their worst, but that's where your sideboard will help you — you'd side Alliance out and bring in something more effective.
Alliance's second mode is mostly useful with Pride Sovereign's Exert ability. Since he doesn't untap the turn after exerting, sometimes you're put in the bad spot of having to decide whether to generate cats to develop your board or leave him available as an attacker / blocker. What if you didn't have to decide that? Or, what if you wanted to generate FOUR cats (or even EIGHT with Procession out) by using his exert ability twice, perhaps the turn before you land a Regal Caracal ? Blessed Alliance just happens to have incidental value with Oreskos Sun Guide as well, but Sun Guide was hardly my main focus. (In fact, I'm not even a fan of Sun Guide, since, like you said, you have to attack with him to get any value out of him. I'd recommend a different card.) Finally, say you take advantage of an opening and attack, but that leaves you without enough blockers? Simply untapping two of ANY of your cats in response to a counter-attack will leave your opponent in a worse situation, since it'll mess up his calculations.
And yes, if you REALLY need it, Alliance's first mode gives you some life. But honestly, in the several games I played, I was always able to stablize with around 5-10 life left, and then from there, I started gaining way more life than my opponent could keep up with. Like I said, Regal Caracal was the key!
So that's my argument. Basically, Heroes' Reunion is, based on everything I've learned about deckbuilding, a bad card, because it has no impact on the board nor on your opponent's life total. So even if you dislike Blessed Alliance in it's place, I'd still recommend choosing something else that has more impact (like something to actually remove the threats that are dealing that damage you're trying to use lifegain to recover from).
Or if you truly desire to have a pure lifegain card, then I suggest Life Goes On — 1 mana for 4 life is already a better rate than 2 mana for 7, but you have so many chump blockers that will die (in fact, some you want to die, in order to Embalm/Eternalize later), that most often you'll be getting 8 life for that 1 mana!
---
As to your concern about needing a finisher and ways to deal with deathtouch, you actually DO have double strike from Adorned Pouncer . And after Eternalizing, Pouncer can be a finisher all on his own. In one game, I played an Anointed Procession and Regal Caracal on curve, turns 4 and 5, then eternalized an Adorned Pouncer turn 6. My opponent couldn't deal with two 5/5 lifelink double strikers, and it was swiftly game over! But even a single 4/4 double striker can be hard to deal with. And of course, you have Pride Sovereign and Ajani's Pridemate which can both get big. So between the 3, you have lots of finishers.
The danger with Oketra is that it CAN be turned off if you lose your creatures. And while yes, like you said, you plan on making lots of 1/1s with the Monument and other means, you also already pointed out that you're susceptible to damage spread across your whole team. You could easily find yourself with no 1/1s and a deactivated Oketra.
What you actually need instead of Oketra are ways to get the damage through from the above large threats. Easiest would be trample, but any type of evasion might be good, depending on the meta. Protection can be strong.
2 months ago
With Blessed Alliance and Oreskos Sun Guide , even if I use Blessed Alliance to untap two Oreskos Sun Guide , I am only gaining 8 health, which is one less than Heroes' Reunion, which only costs 2 mana of one white and one green; Im not using Heroes' Reunion for anything other than life advantage just in case I get beat up and having more life is never a bad thing, plus each time I play that card I will be able to give Ajani's Pridemate 1 counter. Also, in order to untap Oreskos Sun Guide I will have to tap them first, thus possibly having them killed in combat before I can untap them. Plus, I'll have to also have the hand that gives me two Oreskos Sun Guide and play both on at the earliest in the game in at least two turns. I'll take out birds of paradise and add two lands and one more Ajani's Pridemate. And I don't mind spending one mana on Sacred Cat, so that doesn't really count in the whole scheme of Oketra's Monument, so only 6 of my creatures are really not making use of Oketra's Monument,and don't forget, if I land Anointed Procession, and even before I do, I will be using the 1/1 white warrior token that is generated by casting creature spells with Oketra's Monument as soon as I play Oketra's Monument! So, with all this in mind, the only reason I am using Oreskos Sun Guide is because he only costs two mana which will become one mana cost with Oketra's Monument, and will generate a warrior with it. I really think I need some heavy hitting card like an Angel or Oketra the True just in case I face something large, and Oketra the True is great for my deck if I can get the mana curve in place; plus I plan on having lots of tokens with Oketra the True, which means I can play her. If I don't have a bunch of cats and Pride Sovereign , Oketra's 3/6 with double strike and indestructible is basically a game ender, and with Oketra's Monument it will cost one less to cast! If I didn't have Valorous Stance I would be very screwed if there were any behemoths I have to face if I don't have enough cats and Pride Sovereign in play, which would force me to pile in my cats attacking onto that one creature. Also, Oketra the True can deal with deathtouch; I don't have any creatures that are first-strike or double-strike or indestructible, so if I play a strong Pride Sovereign, he could be instantly destroyed by a 'destroy creature' instant. Also, if I don't buff my 1/1 cats, they are easily dispatched with with a card that deals 1 damage to all creatures as a burn (i think that's what they call those instants?)Thanks for all the advice! Keep the comments coming!
2 months ago
Oh dang! I didn't even notice that! Ha. Good catch, Beluga2017.
Honestly, I wouldn't even run Gilded Goose , since there's no other cards to support Food tokens. And the deck doesn't need ramp that much — it just needs more lands to ensure consistent land drops for the first 5 turns, in order to land Regal Caracal on time. I'd much prefer 3 more lands in the Birds' place. Or at least 1-2 more, and then maybe another 1-drop cat — I'd recommend Charmed Stray or Leonin Vanguard , mentioned above — or an increase in one of the 2-drops, like more Ajani's Pridemate .
---
@9-lives — With the addition of Oreskos Sun Guide , I even more recommend replacing Heroes' Reunion with Blessed Alliance , since then you have TWO different creatures that benefit from being untapped.
I'm on the fence regarding Oketra's Monument . It acts as passive ramp and does benefit many of your creatures. But it doesn't benefit 10 of your creatures (4x Sacred Cat, 3x Pride Sovereign, and 3x Metallic Mimic). Not counting Birds of Paradise, which need to be cut anyways, that's 40% of your creatures! I'd have to playtest with it to know whether I am always happy to draw it or not. I think if you are going to run it, then the 2x you have right now is the correct number.
3 months ago
I really like cats (both in Magic and in real life), so an automatic +1 from me! ;)
One card I don't love in here is Heroes' Reunion — lifegain for lifegain's sake isn't worth a card slot in a deck. I'd recommend Blessed Alliance in its place — still has lifegain as an option, but its other modes are useful. The second mode in particular combos nicely with Pride Sovereign . More importantly, it'll have greater impact as the game goes long, due to the ability to escalate (also useful for mana flood).
5 months ago
OLucas: Aria is actually the card that got me back into brewing this deck again! I desperately wanted to get it to work, but I was never able to come up with a shell that I liked. I think a lot of the problem stems from me having such a heavy B/W core.
I'm still convinced there is something solid there, especially having access to Grove of the Burnwillows (which is hilarious), Heroes' Reunion , Knight of Autumn , and so many others.
8 months ago
Stream of Life originates from Alpha. Back then, "White is undisputedly the best color in this game at gaining life" simply wasn't true. In fact it was quite a while before white caught up to green's level of lifegain.
Fruition , Rejuvenate , Wellwisher , Nourish , and so on. It wasn't until Soul Warden that white got anything even resembling efficient lifegain imo. Maybe Spirit Link , but that's still a single outlier among plenty of efficient green lifegain cards.
Lifegain is one of those things that shifted on the color pie as the game matured. It started as a primarily green thing that white did on occasion. If anything, I'd argue that White has become too efficient at it, to the point that Green rarely even bothers with it anymore, effectively robbing Green of what was once a defining characteristic.
And it would seem to me that Sanguine Sacrament makes Stream of Life look terrible. I don't see how Stream could possibly be "too efficient" in the face of that.
Finally, I feel like pointing out that in general, the best lifegain cards tend to be ones that are both White and Green. Vitalizing Cascade , Heroes' Reunion , Dawnglow Infusion , Oracle of Nectars , Ajani, Mentor of Heroes , Pledge of Unity , etc.
10 months ago
I know what you're saying, but having to be able to hardcast all of the instants would really make it very difficult to get a mana base going and that also really narrows the range of instant cards that I can use. It would be nice to be able to cast them all without relying on the scepter, but it's a lot of extra work that the scepter already takes care of, IMHO. In this deck, the key feature of the scepter is not having to pay the specifically colored mana cost of the imprinted instant (as well as the repeatability of casting). Ideally, I want to imprint three or four instants that would work together to destroy creatures or permanents, counter spells, cause damage and gain life. Boros Charm is especially useful considering that I can choose to give permanents indestructible. Supporting spells like Opt and Anticipate would be nice because they are straight blue and help me draw into either a scepter or an artifact fetch card. There are four scepters and six cards to fetch the scepter, so the quicker I can draw into any of those 10 cards, the better. Heroes' Reunion is in there just as a way to keep me in the game when players start singling me out with damage, while it doesn't provide an offensive advantage, the ability to keep me in the game and the fact that it still removes counters from Thing in the Ice Flipseems worth it. Maybe I'm way out in left field on this one, but I believe that focusing on ways to draw into the scepter or the fetch should be the focus. I dropped Deflecting Palm in favor of Anticipate and moved the Chalice of Life Flip to the side board in favor of Voltaic Key . What do you think of Mirage Mirror ?
Load more