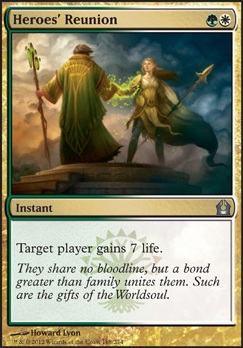 Legality
| | |
| --- | --- |
| Format | Legality |
| Pre-release | Legal |
| Noble | Legal |
| Leviathan | Legal |
| Tiny Leaders | Legal |
| Magic Duels | Legal |
| Vintage | Legal |
| Modern | Legal |
| Penny Dreadful | Legal |
| Casual | Legal |
| Vanguard | Legal |
| Legacy | Legal |
| Archenemy | Legal |
| Planechase | Legal |
| 1v1 Commander | Legal |
| Duel Commander | Legal |
| Unformat | Legal |
| Pauper | Legal |
| Commander / EDH | Legal |
Heroes' Reunion
Instant
Target player gains 7 life.
Heroes' Reunion Discussion
1 day ago
Thank you for the reply! Like I said, I'm completely up for any and all suggestions.
I think you might a problem with you decks focus. Are you attempting to gain life yourself, or hurting the opponent by giving them life?
So that's the thing with this deck. I can do either depending on which wincon is on the field. If I have a first hand draw that includes Tainted Remedy, I'm likely going to play Wall of Shards turn two, then Remedy (or bridge) turn 3 and then use my cards to "give life" to my opponent with Rest for the Weary, Heroes' Reunion or wall of shards.
If my draw includes my Chalice of Life and/or Sanguine Bond I'm going to try and boost my own health turn two with a Martyr of Sands (played turn one) and a Rest for the Weary/Heroes' Reunion turn 3 for a chalice flip on turn 4. If I have a tutor in hand or bridge, I'll always play bridge turn three and attempt to pad my health for the eventual Chalice. Tainted remedy should be extremely easy to find with this deck, so I'm expecting to turtle up and damage from behind my bridges no matter if I have Remedy, Bond or Chalice out. Now, I CAN remove my Bonds and go for an entirely Remedy/Chalice wincon or I can remove my Tainted Remedies and still tutor for a Bond/Chalice/Bridge wincon. Either way, currently both of them are supported with this deck, but I can easily specialize.
As for colors, I'm ONLY splashing green for Heroes' Reunion since it's the best cheap lifegain card I could find. I would like to stick to LOW mana (like 3 or less) black/white cards if I could.. I'd love to be able to remove the green just to make the manabase that much easier to manage.
---
So about your suggestions, I really like Congregate because it supports all three wincons this deck has, my ONLY issue with it is that it has 4 CMC and in a bridge deck, that's a bit too high since I want my hand size to be as minimal as possible. This card would likely be best if I dropped Sanguine Bond for the Congregates (probably a 3x) and went for a purely Tainted remedy/Chalice wincon. It'll also (like you said) reduce the amount of black int the deck and allow Martyr of Sands to shine.
Blessed Alliance is also a card that I looked at and I may give a shot in the future, simply because it's such a good toolbox.
Wrath of God, Day of Judgment and Fumigate are always cards that I will consider in white decks. I have a few Wrath of God cards sitting around.. I might toss a few in! The only issue I ave with them in this deck is wiping out my Wall of Shards and if I do get my bridge out with a near empty hand, I'm not worried about creatures anyways.. And if I do get a Congregate in play, I wouldn't want to have a Wrath of God type card sitting in my hand allowing bigger creatures to attack me.
Rhox Faithmender Is a very sexy card if I decide to go the Sanguine Bond route can use my lifegain as a wincon. The only issue with a Sanguine Bond wincon is that it slows the deck to a minimum of 7-8 turn win and has more expensive cards in hand, therefor hurting my Bridge defenses.
Proclamation of Rebirth - I MAY purchase this and put it on the sideboard. Right now the only thing I could return is my Martyr of Sands which could help me produce a self lifegain wincon. I'll keep this one in mind.
---
Thank you so much for the writeup and suggestions! I might actually change up the deck just a bit. Your input was much needed. Thanks again!
1 month ago
Nereid wow, that's pretty huge. You should replace Canopy Vista, because although it is a good Budget green white land, it makes it harder to turn 3 Heroes' Reunion combo.
2 months ago
The way i see it, this deck tries to control early game and ramp into huge threats late. But there are not enough early ramp stuff like Harrow or Cultivate.
If you fail to ramp early with this deck, you will be left with expensive to cast spells stuck in your hand most of the time.
So i would suggest cut down cheap creatures that don't push toward the strategy like Charging Badger and the odd life gain stuff like Heroes' Reunion.
Then try to find a strong or unique (and fun) theme to emphasize on as the main Win condition. How about adding Omnath, Locus of Mana for a start?
6 months ago
I see the reasoning in response to Oblivion Stone and Heroes' Reunion.
I would prefer to keep Prey Upon over Swords to Plowshares because fight spells give me more freedom but they don't gain life-usually.
I have reviewed the rules for cards like Glittering Wish and found that i will not need in this deck because I play very casually and probably will not use a sideboard.
Thank you very much for the suggestions!
7 months ago
Here are two cards that I designed for my own custom set that I am building, which features sun worship and a "light versus darkness" theme, although I do not wish to say too much about that at the moment, since my plan is still in its early phases.
This card is essentially Giant Growth with an additional ability, one that can be used either offensively or defensively. It provides a slightly smaller bonus to power and toughness to prevent it from being too powerful.
This card was modeled after cards such as Heroes' Reunion or Nourish, and it uses hybrid mana because I believe that such an effect can exist in either green or white alone, as well as those colors together. It protects a player from harm and also can increase their life, to further ensure their survival. Kicker shall be a prominent mechanic in my custom set, and cooperation between colors is also a strong theme, so the set shall have a large amount of multicolored cards.
What does everyone else think of these cards? Are they balanced and fairly costed, I hope?
Load more