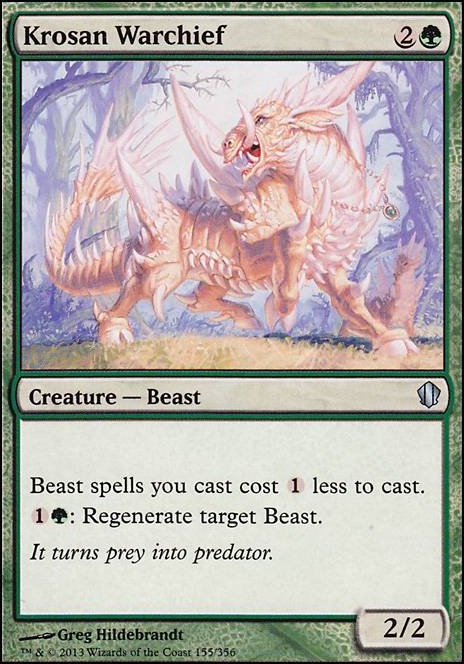 Legality
| | |
| --- | --- |
| Format | Legality |
| Tiny Leaders | Legal |
| Noble | Legal |
| Leviathan | Legal |
| Magic Duels | Legal |
| Canadian Highlander | Legal |
| Vintage | Legal |
| Vanguard | Legal |
| Legacy | Legal |
| Archenemy | Legal |
| Planechase | Legal |
| 1v1 Commander | Legal |
| Duel Commander | Legal |
| Oathbreaker | Legal |
| Unformat | Legal |
| Casual | Legal |
| Commander / EDH | Legal |
Krosan warchief
Creature — Beast
Beast spells you cast cost less to cast.
: Regenerate target Beast.
Krosan warchief Discussion
1 month ago
Love the concept! gota couple suggestions, figured I'll accordian them to keep from filling up the whole page.
2 months ago
Wow those cards were never on my radar. They are all really good cards. Vizkopa Guildmage is not that fast.
Valduk, Keeper of the Flame is fast. Voltron with Enchantment cards ones that care about power mostly.
I don't remember seeing a Viridian Longbow he uses lots of fight style cards.
Stinging Shot is in there because there are a few flying decks running around and it has cycling.
I put Darksteel Pendant in my Krosan Warchief deck and I love it, so I'll add it here.
Ulamog's Crusher is so good I should put it in every deck.
I like the first strike idea but he uses combat tricks with Vine Mare as well. Vine Mare is probably the hardest one to beat. The ways I've beaten him when he has Vine Mare was outlasting him until he was top decking.
Valduk, Keeper of the Flame I can beat with my Satyr Enchanter deck. But in the other match ups I win if I can make him get to top deck mode again.
I'm gonna add the ramp cards you suggested including some of the removal you suggested. Do you have any other suggestions?
Also what's your thoughts on blood rush effects like Rubblebelt Maaka
2 months ago
I've got a small update for you all!
updated the introduction
added Veteran section
A little late but I hope everyone enjoyed their Winter and any festivities. As always, thank you all for your submissions and support!
I really shouldn't let these submissions build up...
Decks added:
10 months ago
Hey so overall the first impressions haven't been too good, the deck sometimes works and gets off to an explosive start but its draws are always a guess to say the least, mulling into oblivion is a problem I faced repeatedly. There is much too much variation at this juncture in the way the deck feels and plays, in other words we need to streamline this a bit. And to do that one needs decide which route the deck is going to be taken, and personally i feel a mono-green stompy or devotion list would best suit what is already here.
So firstly lets get over what should be removed:
Pretty much everything, I'll save a bit of time by just saying that a lot of the one-of's and two-of's have better alternatives, the only creatures i would keep are Llanowar Elves, Kalonian Tusker, and Obstinate Baloth (and even then Obstinate is better in a sideboard); the most important cut is Krosan Warchief it just isn't modern legal unfortunately. In addition to these creature cuts I would cut all the pump spells as well as Ring of Kalonia, and i know you have built this deck around it but also Primeval Bounty, I never once resolved this card in testing, I never even wanted to.
With all these cuts in mind we have a pretty blank slate to work with: lets start with the mana a deck like this wants 24 lands in my opinion, 4 of those (if financially viable) should be Nykthos, Shrine to Nyx to generate copious amounts of mana, there is also an argument for something like Treetop Village. This leave us 46 slots in the mainboard, the vast majority of which will be creatures:
So here the decision really is yours 2 of these sets should be in the deck, you want 8 accelerators in my opinion, these are the most budget friendly options; note however that if you choose to play Arbor Elf then you also want Utopia Sprawl.
One or the other both may be too much.
In my opinion you want both of these, they provide great curving threats whilst also fueling the devotion gameplan. These are your best threats.
A resilient threat that works well with the devotion plan.
The big payoff, a huge threat that hits the board and makes an immediate impact.
The rest of the creature slots can be devoted to silver bullets so to speak, things like Scavenging Ooze or Reclamation Sage to have some mainboard hate, Courser of Kruphix for more acceleration, Tireless Tracker as just a great card.
As for non-creature spells, a few come to mind as worth it (left entirely to your discretion):
Provides much needed flexibility in combat as you can focus on curving out whilst still being able to pump.
Protection as you will go wide, this is usually a sidebaord card but can see play in the main as a one-of depending on meta.
Our removal of choice, flexible and efficient, great for getting those last points of damage in.
A must if you play Arbor Elf, with that combination of cards it is possible to make 4 mana on turn two.
I personally believe he is good enough to see play, he is flexible enough that i can see him being quite effective.
This would require lowering the curve and removing anything above 3 mana but company is an incredible tempo play in a deck like this, providing some much needed acceleration, however you sacrifice the devotion plan in favor of it, and likely play Eternal Witness to recur company.
In the end the deck is yours so these are all just suggestions, i hope they help, I really see this more as a stompy list in need of a focus, hopefully the above provides some inspiration. If i have completely missed the mark however in what you are trying to do then let me know and I'll adjust. I'd also be more than happy to help with a sideboard.
11 months ago
love the theme
some suggestions:
Good luck brewing, hope this helps
Load more
No data for this card yet.