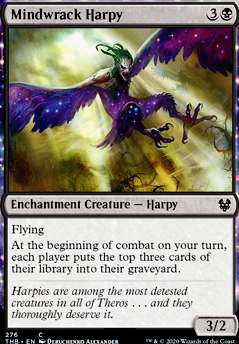 Mindwrack Harpy
Enchantment Creature — Harpy
Flying
At the beginning of combat on your turn, each player puts the top three cards of their library into their graveyard.
Browse Alters
Legality
| | |
| --- | --- |
| Format | Legality |
| Pre-release | Legal |
| Tiny Leaders | Legal |
| Frontier | Legal |
| Vintage | Legal |
| Pioneer | Legal |
| Commander / EDH | Legal |
| 1v1 Commander | Legal |
| Magic Duels | Legal |
| Brawl | Legal |
| Block Constructed | Legal |
| Standard | Legal |
| Historic | Legal |
| Arena | Legal |
| Canadian Highlander | Legal |
| Leviathan | Legal |
| Duel Commander | Legal |
| Unformat | Legal |
| Modern | Legal |
| Pauper | Legal |
| Pauper EDH | Legal |
| Legacy | Legal |
| Casual | Legal |
| Oathbreaker | Legal |
Mindwrack Harpy Discussion
2 months ago
Isn't this backwards of how these leagues normally work? I thought the winner is the only one that doesn't get the budget bump, so the most powerful deck doesn't snowball.
Anyway, Mindwrack Harpy is the most pushed intro deck card I've ever seen. That's my first add.
I also like putting in more creatures with ETB effects. It's kind of awkward that you'll want to tap mana dorks for Hogaak. Glowspore Shaman, Golgari Thug, Crow of Dark Tidings, Gamekeeper, and Mire Triton can all help get Hogaak out by turn 3 if you have a good turn 1 play.
There are a lot of good gold cards in BG graeyard stuff, too: If you have anyone that's relying on indestructibility, Drown in Filth is a good budget option to feed your graveyard. If you're built around Hogaak, I'd think it should regularly be a hard removal spell with upside. Nyx Weaver is just a great card in any graveyard deck, and cheap, too. Jarad's Orders is a good double-tutor. Underrealm Lich is worth the $2, in my opinion. I would also ask yourself whether Eternal Witness is $3.50 better than Acolyte of Affliction/Golgari Findbroker/Treasured Find. Storrev, Devkarin Lich didn't get much fanfare, but the power and price tag are there.
Animist's Awakening is good value at just over $1. World Shaper and Splendid Reclamation are a little more expensive, but higher impact than other $4-5 cards I see in the list. Lower on the ramp ladder, note that Harrow and Springbloom Druid put a land in the yard. Funeral Rites isn't a bad draw spell for this deck. Same for Winding Way, Gather the Pack and Relentless Pursuit. Syphon Mind doesn't have much to do with the theme, but I start with it in most of my black value decks. Dark Deal could be very good, especially if your draw power is maximized and you can use your yard as a second hand. Greenwarden of Murasa is just a powerful card. Same for Phyrexian Delver.
Some other general budget cards for considering: Ransack the Lab, Corpse Churn, Dead Reckoning, Grapple with the Past, Hatchery Spider, Millikin, Mindwrack Demon, Once and Future, Splinterfright, The Mending of Dominaria, Skullwinder, Blood for Bones, and Vigor Mortis.