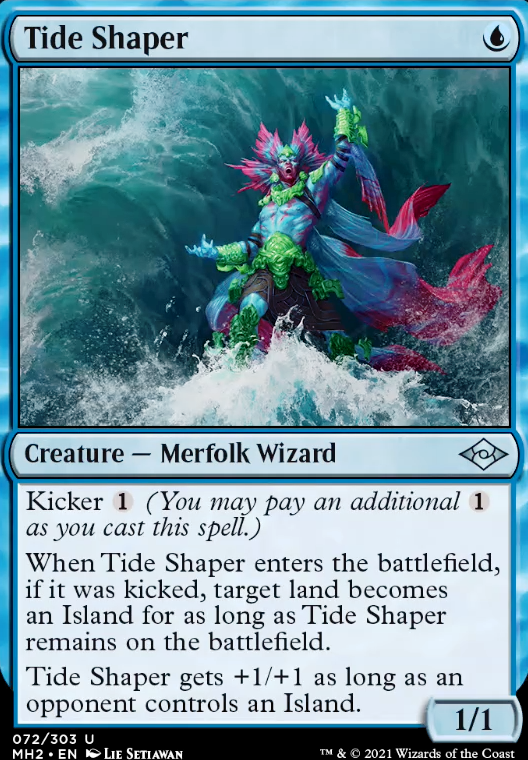 Tide Shaper
Creature — Merfolk Wizard
Kicker (You may pay an additional as you cast this spell.)
When this enters the battlefield, if this was kicked, target land becomes an Island for as long as this remains on the battlefield.
This gets +1/+1 as long as an opponent controls an Island.
Latest Decks as Commander
Tide Shaper Discussion
1 month ago
Duplicates removed - Monir's additions
2 months ago
zapyourtumor: vial isn't a guarantee, and in every game it's not drawn, counter spells become counter productive. the fact that "nobody uses" Aquitect's Will is irrelevant. Spreading Seas is inferior because it can be removed. i've won games against merfolk that i would have lost had they used Aquitect's Will instead. Tide Shaper does not make the will obsolete in the slightest. it costs extra mana and doesn't draw a card.
comparing vial to coco is irrelevant since i never said to use coco "instead" of vial. what i said was use both.
i know what Merrow Reejerey is, i can read. Phantasmal Image becomes a cheaper lord, and kopala offers better protection than svyelun. not anywhere near as good? maybe to scyelun, hence why i said use both. but kopala is leagues better than reejery.
in the future, don't comment just to argue with me. 24 lands in a coco deck would not be insane. i obviously would not suggest 24 lands in a deck where everything cost 3 or less. btw fetchlands exist to thin the deck, and Aquitect's Will offers card draw. so it's not as bad as you think.
2 months ago
Kazuhahaha Merfolk has aether vial to get its creatures in, which is why it usually plays some counterspells since it can afford to hold up the mana. The Counterspell s could maybe be cut, but Force of Negation is an important piece of disruption for a merfolk deck.
No one uses Aquitect's Will because it says "in addition to its other types," which is why most used Spreading Seas instead. But now we have Tide Shaper so both of these are obsolete.
Taking out Tide Shaper for a total of 24 lands in a merfolk deck is insane.
The reason merfolk plays a playset of vial over coco is that a lot of the merfolk have 2 cmc. There is an increase in three drops due to Svyelun but it still isn't enough to warrant playing CoCo, while vial is a lot less mana intensive.
In the three drop slot, Merrow Reejerey is a lord and lets you tap down your opponent's creatures to let your attackers through, or tap down their lands, etc. Svyelun of Sea and Sky gives some protection to your whole team, is indestructible, and generates tons of card advantage. What does Kopala, Warden of Waves do in comparison? It gives a slightly improved version of the protection that Svyelun gives, on a 2/2 without any board impact and generates no card advantage. Not anywhere near as good.
3 months ago
I recommend Tide Shaper as maybe a sideboard option, it's basically Spreading Seas on a merfolk body.
Also look into Svyelun of Sea and Sky , the Merfolk God from the Dominaria plane.
3 months ago
So, Tide Shaper , Sea's Claim , and Spreading Seas are all really good ways to deal with lands. However, Eye of Nowhere , Boomerang , and Hidden Strings are not at all.
The bounce effects of Eye of Nowhere & Boomerang will not slow your opponent down much at all, seeing as most modern decks can comfortably cast most of their spells with 2 lands in play - and they can simply replay the land you've bounced. This will often cost you more tempo than it will disrupt your opponent.

Hidden Strings being sorcery speed means that you can never tap down an opponents lands to do anything meaningful, besides maybe preventing counter-magic (they'll be untapping everything in their upkeep anyway). Any other instant-speed stuff the opponent wants to cast they can just do in response to you casting this. The Cipher effect seems even less useful, as there's even less valid targets to tap down after the combat phase, leaving you mostly having to untap your own stuff to get value.
I would suggest the following two cards instead:
Convincing Mirage is another card that will permanently turn off an opponents land, so is a lot more useful than a flicker effect.

Ashiok, Dream Render prevents your opponent being able to search their deck at all, which means if they're playing fetchlands, these lands are useless to them now.