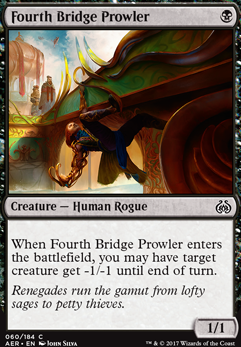 Legality
| | |
| --- | --- |
| Format | Legality |
| Modern | Legal |
| Legacy | Legal |
| Vintage | Legal |
| Commander / EDH | Legal |
| Duel Commander | Legal |
| Tiny Leaders | Legal |
| Standard | Legal |
| Pauper | Legal |
Fourth Bridge Prowler
Creature — Human Rogue
When Fourth Bridge Patrol enters the battlefield, you may have target creature get -1/-1 until end of turn.
Fourth Bridge Prowler Discussion
5 days ago
I went 3-1 at my prerelease with a sweet grixis control deck. I had 10 removal spells, not counting the Fireforger's Puzzleknot, 2x Take into Custody, Fourth Bridge Prowler, Dark Intimations, Cruel Finality, ad Leave in the Dust in the sideboard. Foil promo Gonti's Aether Heart.
1x Shock
1x Die Young
1x Gonti's Aether Heart

8x Swamp
4x Mountain
4x Island
1x Island

By far the best card in this deck is Multiform Wonder. When combined with any other energy producing card, like Gonti's Aether Heart, Aethertide Whale, or even Mechanized Production on it, it's an evasive 10-point life swing each turn.
I also had the most epic win ever. I was at 3 life, then played Mechanized Production on my Pacification Array, which let me tap out his board each turn and i got up to 8 Pacification Arrays once I was at 1 life.