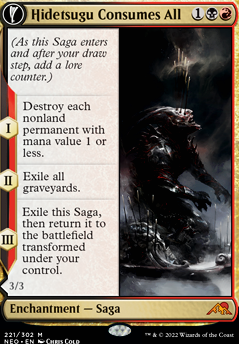 Back:
Vessel of the All-Consuming
Flip
Legality
Hidetsugu Consumes All
Enchantment — Saga
(As this Saga enters the battlefield and after your draw step, put a lore counter on this and activate and/or enable the ability of the saga tied to the required number of counters.)
— Destroy each nonland permanent with converted mana cost/mana value 1 or less.
— Exile all cards in all graveyards.
— Exile this Saga, then return this to the battlefield transformed under your control.