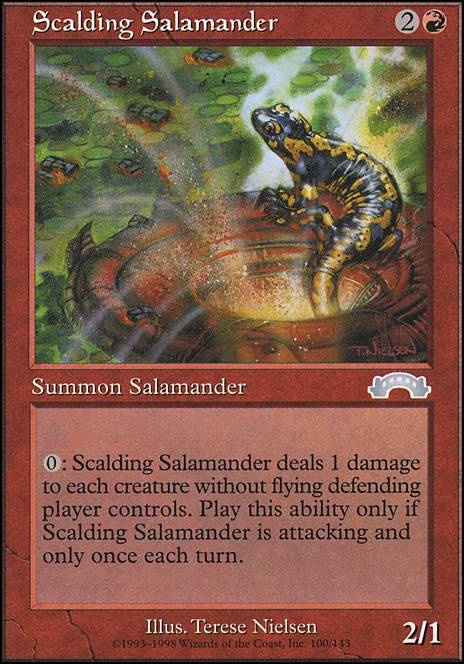 Legality
| | |
| --- | --- |
| Format | Legality |
| Noble | Legal |
| 1v1 Commander | Legal |
| Vintage | Legal |
| Casual | Legal |
| Vanguard | Legal |
| Legacy | Legal |
| Archenemy | Legal |
| Planechase | Legal |
| Duel Commander | Legal |
| Unformat | Legal |
| Pauper | Legal |
| Commander / EDH | Legal |
Scalding Salamander
Creature — Salamander
Whenever Scalding Salamander attacks, you may have it deal 1 damage to each creature without flying defending player controls.
Scalding Salamander Discussion
1 week ago
Great feedback!
The suggestion is definitely worth watching for. When I was compiling the cards for the combo, I only found a few that worked in the R/W scenario: Ronin Cliffrider, Scalding Salamander, and Shockmaw Dragon. The downside was each creature only damaged the defending player's creatures instead of every other creature.
These do exist, but in other colors.
Not that it is a bad thing though -- I can have the board wipe creature attack one opponent while the vehicles attack another opponent, or go all out one one player.
Statistically speaking, the chances of getting the combo off is in the 3-15% range due to lack of creature tutoring. I can get the Sword of Kaldra to the battlefield in a few different ways (raising the average), but getting the Ronin Cliffrider out is 1% unless I pull it in my opening hand.
I've learned not to have too many combos in a commander deck due to probability, but also not to have one wincon.
I can shortcut the process by Flickering Godo, Bandit Warlord, but that too is statistically small.
I'll keep looking at different options. Thanks again for the comment!