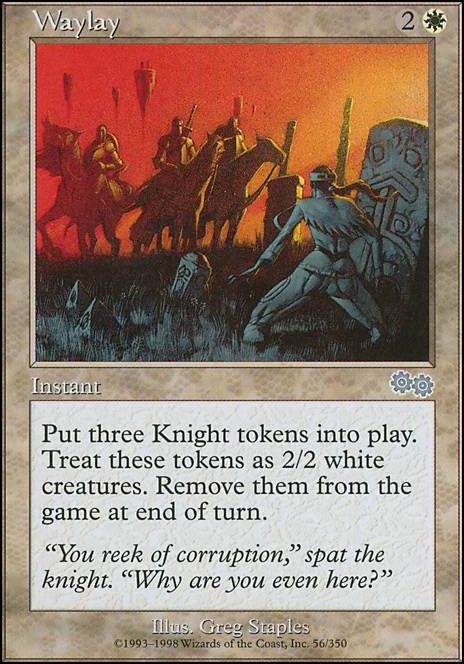 Waylay
Instant
Put three 2/2 white Knight creature tokens into play. They gain substance until end of turn. Remove them from the game when they lose substance.
Browse Alters
View at Gatherer
Trade
Tokens
Legality
| | |
| --- | --- |
| Format | Legality |
| Highlander | Legal |
| 1v1 Commander | Legal |
| Legacy | Legal |
| Tiny Leaders | Legal |
| 2019-10-04 | Legal |
| Casual | Legal |
| Vintage | Legal |
| Leviathan | Legal |
| Unformat | Legal |
| Oathbreaker | Legal |
| Duel Commander | Legal |
| Commander / EDH | Legal |
| Custom | Legal |
| Limited | Legal |
| Canadian Highlander | Legal |
Latest Decks as Commander
Waylay Discussion
1 year ago
you may be better off pretending its a mono-white deck with Khorvath Brightflame at the helm. Which isnt that far off from the list -the few bulk dragons.
It may be tedious, but adding lands will help immensely, both from a "commander decks with partner have a 98 card deck" stance, but also help you tune the manabase to fit your curve and deckoverall.
budget knights like Benalish Marshal , Kabira Vindicator , Lightwielder Paladin , Riftmarked Knight , and Valiant Knight may be taking a look at, as are some less budget like Knight Exemplar or Kinsbaile Cavalier
if you are interested in more dragons, Ancestor Dragon , Scalelord Reckoner , Sunscorch Regent , Dream Pillager , Moltensteel Dragon and Tyrant's Familiar may be a good starting point.
i would also consider cards like Sigiled Sword of Valeron , Gideon's Phalanx , Militant Angel , Waylay or cards like Changeling Hero
that all being said, best of luck in completing the deck .... i may have to built a KNIGHT deck now (with a dragon commander)
3 years ago
MindAblaze, absolutely! Do you already have a gameplan in mind, or would you like suggestions for a deck direction from me?
Because either way, I'm assuming that the idea is to flip Kytheon as soon as possible (turn 3-4) and then spam board wipes after activating his 0 or +1 to protect him or other creatures.
If that's the case, you want two other creatures by turn 3-4 to attack with so that he flips. Those creatures will probably die (this is commander, after all), but a worthy sacrifice to get a flipped Kytheon, I think. Activate his +2, and I think 5 loyalty is a good place to be for turn 3-4.
Those two creatures can be two tokens made via a 2-3 drop (4+ drops are too slow!), and I have put them here for your convenience:
Fourteen is what we need, and fourteen is what we can get.