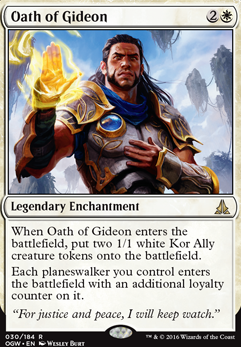 Legality
| | |
| --- | --- |
| Format | Legality |
| Noble | Legal |
| Hero | Legal |
| Magic Duels | Legal |
| Heirloom | Legal |
| Canadian Highlander | Legal |
| Vintage | Legal |
| Modern | Legal |
| Penny Dreadful | Legal |
| Block Constructed | Legal |
| Leviathan | Legal |
| Legacy | Legal |
| Frontier | Legal |
| Duel Commander | Legal |
| Unformat | Legal |
| Casual | Legal |
| Commander / EDH | Legal |
Tokens
Oath of Gideon
Legendary Enchantment
When Oath of Gideon enters the battlefield, put two 1/1 white Kor Ally creature tokens onto the battlefield.
Each planeswalker you control enters the battlefield with an additional loyalty counter on it.
Have (27)
VGJustice , Caldazar , Lucretian , Supremespeed , Zhorus_The_Bauqret , angesoir , Mousemke ,

p

s

k

i

n

n

0

1

, jhunter , jstn.mrrtt , Riku580 , electrolynx , admizell ,

R

i

d

e

r

s

_

o

f

_

B

r

o

h

a

n

, NCN946 , meowCat1234 , mziter501 ,

W

o

l

f

e

b

l

a

d

e

e

l

i

t

e

, zachi , asinausk , Lindough , TrackerD , voidruby , TehDelta ,

R

e

g

u

l

u

s

1

0

1

0

, KB2187 , machiavelli2081
Want (0)
Oath of Gideon Discussion
3 weeks ago
Nillstan: By the way, I'm thinking about removing Day of Judgment (to SB) and Tezzeret's Gambit and replacing them with planeswalkers, what do you think about this list?
Do you have any tips on the SB composition? Because right now it needs some rework.
3 weeks ago
Oh dear, looks like I need (and can't have) Oath of Gideon. Thanks for the clarification, and for the idea with Helm on Gideon.
Board the Weatherlight, I won't be able to crew much. Unless you have ideas to bring in other useful creatures.
1 month ago
Ive looked through the comments and it seems like everyone has given common answers. One opinion I had, though I dont usually run planeswalkers, is Oath of Gideon. This provides a blocker for creature decks and if you want to use more planeswalkers, it should help with an extra loyalty.
Honestly looks great, disruptive, and extremely competitive so most likely DONT use my suggestion. Good luck in tourneys!
4 months ago
cut Wall of Omens, Wall of Reverence, Archangel Avacyn

Flip, Whip of Erebos, Archetype of Courage, Ajani, Caller of the Pride, Orzhov Signet, Akroma's Memorial, Congregate, Odric, Master Tactician and Crystal Ball. Then choose a subtheme, walkers or lifegain. For walkers add 2x Oath of Gideon, Oath of Liliana, 2x Sorin, Lord of Innistrad, 2x Elspeth, Knight-Errant, Elspeth Tirel and 4x Fumigate. Alternatively go pseudo soul sisters, adding 3x Soul's Attendant, 3x Archangel of Thune, 3x Soul Warden, 2x Lingering Souls and maybe Auriok Champion
4 months ago
Ok, so I'm wanting to squeeze in Lightning Greaves, Swiftfoot Boots, Grand Abolisher, Hushwing Gryff, and Teferi's Protection.
For cuts I'm thinking Masako the Humorless, Vizier of the Menagerie, Nissa, Vital Force, Oath of Gideon, and Hua Tuo, Honored Physician.
Thoughts?
Load more