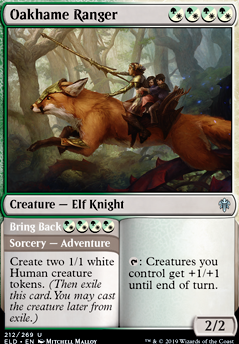 Oakhame Ranger
Creature — Elf Knight
: Creatures you control get +1/+1 until end of turn.
(You may cast Oakhame Ranger from exile if you sent it on an adventure.)
---
Bring Back
Sorcery — Adventure
Create two 1/1 white Human creature tokens.
(You may cast Oakhame Ranger for from anywhere that you have the permission to cast this, then exile it on an adventure instead of putting it into your graveyard. When you have not chosen to cast Bring Back, this card is treated only as Oakhame Ranger in whatever zone it is in.)
(Example scenarios for Bring Back: You may cast this off of Melek, Izzet Paragon. You may not target this with Snapcaster Mage. Thalia, Guardian of Thraben increases the cost of this. Electrodominance requires X=4. You may cast this from a cascade spell if the spell has a cost greater than Oakhame Ranger's cost. If you cast a Bring Back that another player owns, only you may cast the Oakhame Ranger that went on an adventure, not the owner.)
Browse Alters
Tokens
Legality
| | |
| --- | --- |
| Format | Legality |
| Pre-release | Legal |
| Tiny Leaders | Legal |
| Magic Duels | Legal |
| Canadian Highlander | Legal |
| Vintage | Legal |
| Modern | Legal |
| Arena | Legal |
| Penny Dreadful | Legal |
| Block Constructed | Legal |
| Standard | Legal |
| Pioneer | Legal |
| Leviathan | Legal |
| Legacy | Legal |
| Brawl | Legal |
| Frontier | Legal |
| 1v1 Commander | Legal |
| Duel Commander | Legal |
| Oathbreaker | Legal |
| Unformat | Legal |
| Casual | Legal |
| Commander / EDH | Legal |
Oakhame Ranger Discussion
3 weeks ago
Ah, tokens! Initiate the throng, then fulminate as such.
I have many suggestions.
Now, typically I am an advocate for running fewer lands in decks, however, this deck has an excruciatingly low amount of card draw. Either make way for lands or add a half-dozen cantrips.
Some of my favourite draw spells you could use are Once Upon a Time, Skullclamp, Adventurous Impulse, and Oath of Nissa. These dig for lands whilst having value late-game.
You have many anthems, some of which are quite lacking in my opinion. Syr Alin, the Lion's Claw, Kongming, "Sleeping Dragon", Selesnya Guildmage, Oakhame Ranger, Ahn-Crop Champion, Cultivator of Blades, Valor in Akros, Spear of Heliod, and Dragon Throne of Tarkir are all quite mana-hungry and little impact. They depend on a board state to work, and without one they verge on useless. I would like to call out Call for Unity in particular as being incredibly slow and capricious.
Haazda Marshal, Recruit the Worthy, and Oakhame Ranger are quite halacious in the aspect that they do not much.
Avoid Fate is interesting, but it doesn't do a lot. Many of the cards in here are restrictive depending on board state, thus I would cut this.
Painter's Servant is cute with your effects that care about colour, but I believe this to be rather inconsistent. Without Lifeforce or Order of the Sacred Torch, it's a two-mana 1/3.
I am unsure as to why Reito Lantern is even here. If you seek graveyard hate, Ground Seal replaces itself, Relic of Progenitus is awesome, as is Remorseful Cleric. Night Soil is on theme.
For what I would include, Rootborn Defenses defends the board, Druids' Repository adds far too much mana, Aura Shards and Aura Mutation shatter and batter, Hour of Reckoning kills many things, Increasing Devotion allows for rebounding eftsoons wrath, Master of the Wild Hunt is one I particularly enjoy, Sprout Swarm is difficult to interact with, Sigarda, Heron's Grace has early and late-game potential, and Devout Invocation creates tokens abound. Triumph of the Hordes can just wipe out an entire table.
This deck has almost no card draw. Mentor of the Meek, Skullclamp, and Huatli, Radiant Champion can draw many, many cards. When you get to it, Sylvan Library is fantastic. Harmonize, Slate of Ancestry, Shamanic Revelation, Collective Unconscious are ways to refill in preparation of a board wipe.
Beast Whisperer is just good value.
Swords to Plowshares, Kenrith's Transformation, and Path to Exile get problematic permanents out of the way at an excessively cheap cost.
I would recommend far more ramp. Llanowar Elves, Avacyn's Pilgrim, Fyndhorn Elves, Elvish Mystic, and/or Birds of Paradise. Incredibly quick if you get them out turn one, and oft set you far ahead enough that it doesn't matter when you get wrathed.
That shall be all from me. If you so wish, I have two swarm decks that you could reference for honing your build, each of which have tested well for the years I have had them.
The decklists: Eladamri, Leader of Skyshroud Beseeming Perfection
May fortune betide you, and the tokens your enemies. Farewell!
2 months ago
I think you have a strong base for a Selesnya token deck but, I am not sure if Emmara, Soul of the Accord is the best choice for your commander. Emmara wants you to tap her and I don't see a lot of ways to tap her in this deck. Maybe consider switching your commander to Trostani, Selesnya's Voice which might work better to get out tokens.
If you want to use Emmara maybe you could look to add a few vehicles to this deck. Personally I think a card like Smuggler's Copter would be a great addition to this deck because, it gives you card filtering and a tap outlet for Emmara. Citanul Hierophants could also help you ramp and will give an additional tap source for Emmara. Nature's Chosen is an older card but would work really well with Emmara. I see you have some cards with the convoke ability which I think is strong in this deck. Maybe consider adding some more convoke cards like, March of the Multitudes , Chord of Calling , Scatter the Seeds and, Conclave Tribunal ?
This deck seems really light on card draw / card advantage, consider using some of these cards to help you draw. Skullclamp which will draw you an insane amount of cards off Emmara alone and, is almost an auto include in a token deck. Idol of Oblivion , Freyalise, Llanowar's Fury , Huatli, Radiant Champion , Season of Growth and, Ohran Frostfang are all really good cards that will give you card advantage and synergies with your token theme. One last card you might consider is Well of Lost Dreams especially if you find yourself gaining a lot of life off the Emmara tokens.
Lastly, I would consider removing these cards, Eidolon of Blossoms , Evangel of Heliod , Oakhame Ranger , Worldsoul Colossus , Banishing Light and, Collective Voyage . While I don't think these cards are bad I don't they they are impactful enough in this deck.
I would consider adding these cards, Parallel Lives , Doubling Season (if you can afford it), Castle Ardenvale , Beastmaster Ascension , Collective Blessing (maybe consider removing some of your smaller anthem effect like, Honor of the Pure for bigger anthem effect like these), Eladamri's Call , Eternal Witness , Champion of Lambholt , Generous Gift and, Beast Within .
Hopefully some of these suggestions helped but, I think you are off to a really good start with your deck!