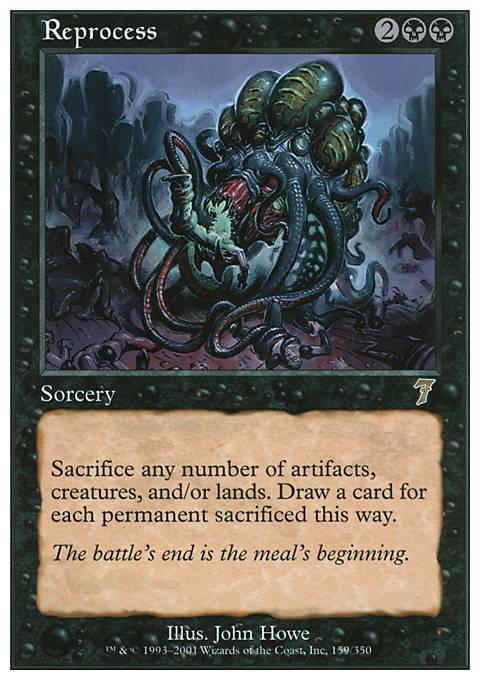 Legality
| | |
| --- | --- |
| Format | Legality |
| Pre-release | Legal |
| Noble | Legal |
| Leviathan | Legal |
| Tiny Leaders | Legal |
| Magic Duels | Legal |
| Vintage | Legal |
| Casual | Legal |
| Vanguard | Legal |
| Legacy | Legal |
| Archenemy | Legal |
| Planechase | Legal |
| 1v1 Commander | Legal |
| Duel Commander | Legal |
| Unformat | Legal |
| Pauper | Legal |
| Commander / EDH | Legal |
Reprocess
Sorcery
Sacrifice any number of artifacts, creatures, and/or lands. Draw a card for each permanent sacrificed this way.
Reprocess Discussion
5 days ago
In that case...
2 weeks ago
Life's Finale, Phyrexian Rebirth, and Black Sun's Zenith are all good board wipes, the first one especially if you intend to run reanimation effects (like Reanimate or Phyrexian Delver, two other flavor cards). Engineered Plague is good if tribal is big in your meta, and Reprocess isn't bad either. Less played options that can be okay are Phyrexian Infiltrator and Phyrexian Etchings. Phyrexian Metamorph is an all-around good card. Phyrexian Totem is, frankly, a bad mana rock, but hey, it's Phyrexian. Torpor Orb is also Phyrexian, but I would not add it if it hoses you. Soul of New Phyrexia is pretty good in EDH.
2 months ago
Thank you for the compliment! This beast has turned into my favorite deck. Rain of Filth has been in and out a few times - it works very well, but it's dead-in-hand until the turn you go off, so it got cut in favor for things that can be dropped beforehand. Reprocess would fill my hand, but only after I've comboed - and I don't plan on having a 'next turn' at that point. I cut out other draw-on-sac mechanisms as well with that in mind.
2 months ago
VesuvanDoppelbanger Really awesome deck idea! I love seeing unusual themes executed well. I stumbled on this from the front page after seeing a few cards that aren't usually found in EDH decks; I run a lands deck that sacrifices lands so it caught my eye. Have you considered Rain of Filth and/or Reprocess at all?
3 months ago
Cool deck, I'd definitely suggest adding some tutors, draw and mass recursion.
Tutors(mainly for Thrumming Stone): Demonic Tutor, Vampiric Tutor, Diabolic Tutor, Beseech the Queen, Diabolic Intent, Dark Petition etc.
Draw: Skullclamp/Reprocess(work great with commander), Necropotence, Phyrexian Arena etc.
Mass recursion: Living Death and/or Patriarch's Bidding.
A Sol Ring, Expedition Map, Dark Ritual and/or Cabal Ritual might be good too. Hope this helps!
4 months ago
De un, tu as trop peu de lands. Monte le nombre total 37. a serait ma premire suggestion.
Deuximement, tu joues vert; o donc est le ramp? Tu veux avoir un dbut un peu plus explosif pour avoir Meren sur le board le plus tt possible, ou du moins, t'assurer d'avoir assez de mana pour toujours la caster. Je ne te dis pas de mettre toutes les cartes, mais deux-trois a ne serait pas mauvais. Golgari Signet c'est quasiment un must pour te corriger dans tes couleurs si jamais tu fais une btise.
Ramp/Mana Fix : Nature's Lore, Skyshroud Claim, Cultivate, Rampant Growth, Kodama's Reach, Explosive Vegetation,Garruk Wildspeaker, Golgari Signet
Il y a des meilleurs sac outlets qu'Altar of Dementia. Personnellement je runnerais plutt Carrion Feeder ou Yahenni, Undying Partisan. Ce sont des cratures gnantes/para-tonnerres et c'est dj plus synergique.
Living Death je l'utilise comme un anti-wipe. Si je viens de me faire clear le board, a me permet de tout ramener, Meren incluse, tout en liminant le board d'un autre (potentiellement). N'importe quel reanimator deck devrait le jouer selon moi.
Mimic Vat c'est juste fun. a te permet de ramener non seulement ton stock, mais aussi celui des adversaires, sans pour autant nuire Meren. Je pense toujours des cratures comme Avenger of Zendikar, Craterhoof, Hornet Queen qui ont des gros ETB. a te permet une certaine flexibilit si jamais Meren n'est plus sur le board.
Sac/Utility : Eldritch Evolution, Carrion Feeder, Viscera Seer, Living Death, Mimic Vat, Jarad's Orders, Hangarback Walker
On en parlait d'ETB. Je mettrais dfinitivement les 3 ici. Acidic Slime te permet de controller le board de l'adversaire, mme chose pour le Gearhulk, quelque chose que ton deck ne fait pas assez selon moi. En 1v1 c'est pas trop grave, mais en multi, a va te manquer ne pas avoir rien pour grer tes adversaires. Mycoloth te permet de trigger Meren tout en gardant un board impressionant. Pas MVP, mais il peut faire des dgts en pompant Meren, ou mme juste seul.
ETB Effects : Acidic Slime, Noxious Gearhulk, Mycoloth
Control. Grer le board state pour qu'on vienne pas dtruire le tien. Quelques cartes qui peuvent faire la diffrence en empchant un joueur de devenir trop gros. Tu as besoin de flexibilit, Putrefy que tu as dj est un bon exemple.
Control : Krosan Grip, Sudden Spoiling, Naturalize, Ruinous Path, Hero's Downfall, Unravel the Aether
L on tombe dans de quoi que j'adore avoir en tant que reanimator. Des mass draw. Tu veux que ta main soit pleine en tout temps. C'est pas grave si tu as trop de cartes, tu discarderas tes monstres pour les ramener avec Meren de toute faon. a te permet d'avoir tes rponses si jamais quelqu'un tente de prendre le dessus notamment. Quelques uns l-dedans ont une particulirement bonne synergie avec Meren. Momentous, un instant, magnifique, je l'utilise gnralement pour en profiter du fait qu'on vient de dtruire mon commander. 4MC pour 4 cartes si tu sac une Meren qui s'en va dj au cimetire, pas un mauvais trade. Reprocess te permet de trigger Meren. Greater Good te permet de trigger Meren en plus d'alimenter ton graveyard avec des cratures. L'ide c'est d'avoir de la synergie avec ce que tu joues.
Draw : Soul's Majesty, Rishkar's Expertise, Greater Good, Reprocess, Phyrexian Arena, Ob Nixilis Reignited, Momentous Fall, Sylvan Library
L on tombe dans le malheur d'avoir un deck qui est trs focus sur un commander troublant. On a deux choix, soit tu dvies de Meren en jouant plus de cartes qui reanimate (ex. Animate Dead, Rise from the Grave, Dance of the Dead,etc) ou tu joues plus de protection. Si tu peux faire les deux, tant mieux.
Protection : Heroic Intervention, Darksteel Plate, Swiftfoot Boots
Je pense a couvre pas mal toutes les ides que j'avais pour ton deck. C'est sr qu'il y a plein de cartes que tu pourrais rajouter, mais c'est quoi enlever qui finit par tre le problme.
Moi j'ai quelques cartes que j'enlverais de ta liste :
Sensei's Divining Top
Mulch
Triumph of the Hordes (drle quand a marche, mais il y a mieux selon moi).
Altar of Dementia
Evolutionary Leap (y indiqu 2 fois)
Song of the Dryads (cool quand tu joues contre quelqu'un qui ne run pas du anti enchantement, ce qui est trs rare. T'as accs du noir. Joues un vrai anti-crature tant qu' y tre)
Vow of Malice (mme chose que Song).
Load more