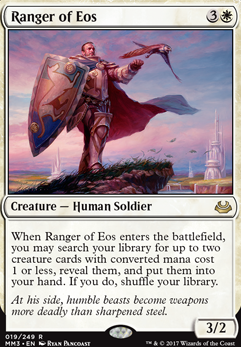 Legality
| | |
| --- | --- |
| Format | Legality |
| Vintage | Legal |
| Duel Commander | Legal |
| Commander / EDH | Legal |
| Legacy | Legal |
| Modern | Legal |
Ranger of Eos
Creature — Human Soldier
When Ranger of Eos enters the battlefield, you may search your library for up to two creature cards with converted mana cost 1 or less, reveal them, and put them into your hand. If you do, shuffle your library.
Have (12)
tragic_slip , hobbes131 , ZombieFood , Jareht ,

K

i

l

l

D

a

t

B

U

G

,

p

s

k

i

n

n

0

1

, jrschnoebelen , TheAlmostHero , Chandelier ,

f

a

i

l

u

r

e

c

h

i

l

d

8

8

, Big-Foot ,

j

h

T

h

e

M

a

n

9

9

Want (4)

N

e

m

e

s

i

s

,

D

a

w

n

s

l

y

, sonnet666 , MouseyWolf
Ranger of Eos Discussion
1 week ago
DISCLAIMER
I am particularly hard on this deck because I know the builder in person, and he has asked for some help. This is not a comment on a random deck tearing it a new one.
1 week ago
Tidehollow Sculler might be a creature that can help you around. iv played some variants of soul sisters before and it works wonders for me atleast. Ranger of Eos is kinda above you're curve but its a tutor and a creature all in one so maybe you could find use of it. theres also a white card, from new phyrexia god i forgot the anme but it works like Blood Artist but its white i believe
1 week ago
Maybe if you are worried about getting mana flooded you can play fetch lands such as Arid Mesa? I was going to comment on your other land choices as well - Battlefield Forge is quite painful for you since only 18 out of 42 nonland cards in your deck has a colorless mana symbol; Temple of Triumph comes into play tapped unconditionally and Temples usually only see play in decks that need to search for a particular card (combo), or control decks.
And yeah sure, you are definitely right in saying that the combo in a self labelled combo deck is not the only way you can win. You only play 2 of each card, it's more like a gotcha! if you happen to draw them.
You sound like you place more stock in going down the aggro route hitting with weenies, maybe you'd want to try Champion of the Parish? He should grow pretty fast with the majority of your deck being Humans and with the Norin triggers. He can be Pridemate 5-8. Otherwise, the rest of your deck are 1/1s who are probably not getting through in combat. Wall of Omens seems odd in this deck - I'd imagine you can gain enough life without having to chump with it. Manamorphose is redundant if you can fix your colours through fetches - it is only a card draw since it replaces itself.
Felidar Guardian and Restoration Angel are good ideas for this deck. They also trigger Ranger of Eos for more card advantage. I'm going to try some number of those cards in my list. Cheers!
2 weeks ago
Ranger of Eos to fetch your soul sisters (they easily provide the most lifegain triggers in the deck).
4 weeks ago
Thanks for the suggestions, GabeCubed, I really appreciate you taking the time to look this deck over and make so many suggestions.
Path vs Journey/other lesser white removal: Sure, Path is good. But I don't think it's $6 good. Giving opponents an extra land is, IMO, an understated disadvantage. The CMC isn't the issue with Journey, it's that it's an enchantment and therefore subject to removal. All things aside, I've chosen Journey because the CMC is bearable, it doesn't cost that much to buy (This is a budget deck; also, I've had a full set for years now anyway), and it doesn't give opponents any huge advantage. Believe it or not, that free land Path grants can turn out to be really bad.
18 lands is good here. If you look at the curve, you'll see there are very few cards over 2CMC. This deck can work surprisingly well with just 2-3 lands out. I don't usually have as much land out as opponents, but it wins anyway. Running fewer lands here means more slots for 1 drop creatures.
Angelic Overseer fits because all my creatures are Human (not Soldiers). Having a hexproof, indestructible flyer can be a fun nail in the coffin, but I don't expect to draw it often or play it often, or even need it at all. It's pretty much in there for fun because there are no other high CMC spells in the deck.
Yes, the theme here is +1/+1 counters. All the creatures here have a way to get counters on their own. If/when Abzan Falconer hits, the deck usually wins. Even without the Falconer, this deck consistently puts out 4-5 creatures that all exceed 4/4 by t4-t5, and that's usually fast enough to out-big opponents turn after turn.
Ordeal of Heliod would probably be the first card I'd consider dropping. I like it because I can cast it on a creature with 2 +1/+1 counters already on it, add an extra counter and get 10 life all in the same turn. That gives this deck that extra staying power that can mean the difference between winning and losing. It's also good for sideboarding out, which is great. I see a lot of decks with all their removal in the sideboard, but nothing in the mainboard that can easily be taken away. Celestial Flare is great because it gets around hexproof and indestructible, which in my tiny circle, is clutch. It also sees a lot of back and forth in and out of the sideboard. Since almost the entire deck can be played for 2CMC or less, I end up top-decking pretty quickly. Tezzeret's Gambit is absolutely amazing here. Adding a +1/+1 counter to each of my creatures (think about that with Mikeaus, the Lunarch!) and drawing 2 cards is just sick.
Honor of the Pure is okay, but I see it as weaker than things that give permanent counters. For example, Mikeaus, the Lunarch gives each creature I control a +1/+1 counter. Even if Mike is removed, the counters stay. With Honor, if it's removed, all my creatures suffer. Add in that Honor doesn't have a body, and it doesn't look so great. When Mike hits, Champs and Lieutenants get pumped on the spot because of their tribal effects. Honor, being an enchantment, is not as good.
Metallic Mimic gets removed almost every time I play it. I added 2x in because having 2 Mikes in hand sucks. My real issue with the Mimic is that it only works when it gets out early. Late game it doesn't do much. I've considered running Adaptive Automaton, but I don't really like the its CMC. The other creatures I've been considering is Hanweir Militia Captain Flip or Ranger of Eos - both would equate to major pumps for my other creatures, tho Ranger's CMC would require a larger land base.
I've looked through a lot of cards judiciously for this deck. The weakest points are Hada Freeblade and Kazandu Blademaster - I don't want to go full on Allies - there aren't enough that fit the theme - but there aren't better low CMC creatures that generate their own counters. It's not great when A Blademaster hits but then stays stuck at 2/2 while other creatures get larger around it. For that reason, sometimes I make Mimics Allies instead of Humans, which also isn't ideal, but often works out anyway.
1 month ago
This advice is for going full Human Tribal, so no soldiers and spirits.
1 month ago
Are you still looking for card draw? If so, try Thraben Inspector. If you're open for suggestions or want to try other soldiers, I'd say give Kytheon, Hero of Akros Flip and Ranger of Eos a chance. Kytheon is very useful in a deck like yours. The Ranger provides a huge boost in terms of drawing.
In my deck Thalia and her white Army I started off as Soldier tribal but somehow drifted into a Human/Soldier deck. I think I want to try Infiltration Lens. How did it work out for you so far?
Load more