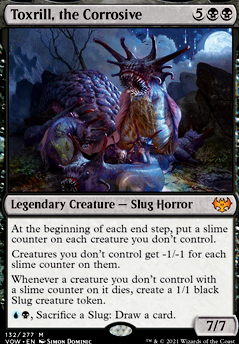 Tokens
Legality
Rules Q&A
Toxrill, the Corrosive
Legendary Creature — Slug Horror
At the beginning of each end step, put a slime counter on each creature you don't control.
Creatures you don't control get -1/-1 for each slime counter on them.
Whenever a creature you don't control with a slime counter on it dies (is put into the graveyard from the battlefield, tokens are put into the graveyard before they cease to exist), create a 1/1 black slug creature token.
, Sacrifice a Slug: Draw a card.