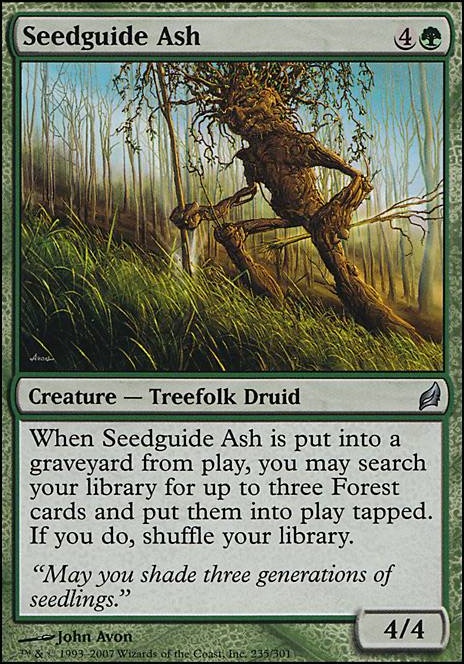 Seedguide Ash
Creature — Treefolk Druid
When Seedguide Ash is put into a graveyard from play, you may search your library for up to three Forest cards and put them into play tapped. If you do, shuffle your library.
Latest Decks as Commander
Seedguide Ash Discussion
2 months ago
Part 2
Other Cards that you could consider cutting
Other Cards that you could consider adding
This is where the fun begins and your wallet cries
That is all I can think of at the moment. I'm sure I'll have more la
7 months ago
Thanks for the upvote Grind!
I really like the look of Sylvan Awakening ... I'm going to have to test that out. Wish it was instant but that's too much to ask haha.
What are you recommending Thelonite Druid and Seedguide Ash be used for?
1 year ago
Yo bro thanks a lot I like your list and it helped me learn some new tech (like Seedguide Ash). Ill send you my own list when it gets finalized
1 year ago
Cool deck! I love insects.
I would look at Decree of Pain over or in addition to in garruk's wake.
Also some cards feel kinda underwhelming, like Undercity Informer. Check out Viscera Seer instead.
And if you want to make it more competitive, try removing some high CMC cards and adding more ramp. Seedguide Ash is one of my favorite ramp cards for a creature recursion deck. Cheers and have fun!!
Load more